Hey ladies!! I hope everyone had a good Friday. I know i did :) After work, I met up with some friends at a bar/restaurant at Hermosa Beach Ca. for some grubbin'. The bar was literally next to the beach so it was really nice. All the girls brought their bfs except for me :( My bf had to work so he couldn't make it. On the other hand I still had a chill time. I got to meet new friends we stuffed out faces with Turkey burgers!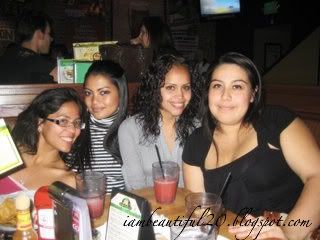 Karina, Me, Mon and Amy. Amy is pregnant and you cant even tell in person. She was too cute. It was so much fun getting to know her.
I used my only eye shadow palette, the Urban Cecay Ammo Palette. It's an awesome palette because you have a lot of colors to choose from.

I did a smokey black and purple-y burgundy eyes


eye shadows:
Urban Decay e/s in Last Call all over the lids and a little above the crease.
Urban Decay e/s in Oil Slick on the crease and blended with Last Call.
Mac e/s Yogurt on the brow bone for high light



Thank you for stopping by my blog!