I had some free time so I decided to play with makeup lol. I remembered a look Risa
http://www.youtube.com/watch?v=U06SZ_zCFGc&feature=channel_page
did and I wanted to re-create it. It didn't come out anything like it (because I suck!) and I didn't even use the same colors she used lol. But I still like it because it still cam out pretty! By the way, Risa is my new favorite makeup guru on youtube. She's a makeup artist and she's really good with makeup! I'm learning so much from her tutorials. Go subscribe to her youtube channel!
I used a matte black, shimmery apple green, and matte light blue eye shadows using my 120 Manly palette I got from ebay. I use this palette all the time whenever I experiment with my eye makeup because it has all the colors I need. It's not the best eye makeup ever but I still hope you like it.

I used false lashes to add some drama. They're from the 99cents store!



The lighting on this one is better as you can see the apple green a little more.


The light blue was brushed over the natural crease. It seriously got lost when I applied black on the crease and blended the two. I should've used a brighter blue huh?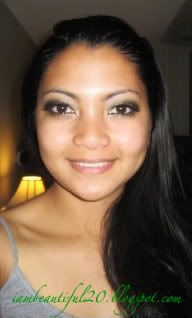 I was only playing with eye shadows so I didn't bother to put makeup on the rest of my face so don't get scared lol. I'm so silly!


Thanks for reading this lame post lol.