Hey ladies, I'd like to share some beauty related things I picked up from my local
Ross
last week. In case you didn't know, Ross is a discount department store here in the U.S. They sell brand name clothes and other things like home goods, toys and even beauty supplies for a really cheap price. I always find something cool whenever I go.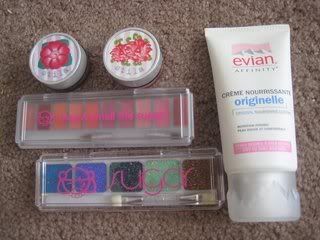 So the stuff that I got are:
2 Stila lip pots

,

Sugar glamazon eye palette

,

Sugar lip palette

and

Evian nourishing lotion.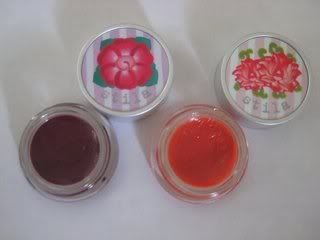 Stila lip pot in Mure
(plum color) and
Fraise
(peachy orangey).
The color looks bright and scary in the pot but it's sheer once you apply it on the lips. It used to retail for $17.00 but I got it for only
$3
each.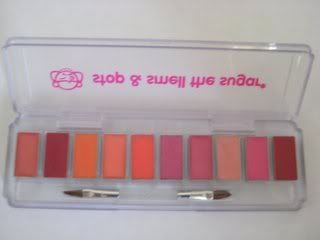 Sugar Perfect 10 lip gloss palette
. This lip gloss palette is super fun! You get 10 beautiful shades to play wit and it's compact so it can fit your purse and take it with you wherever you go . The shades from left to right are P
ink with gold shimmer; Wine with gold shimmer; Peach shimmer; Warm pink with iridescent shimmer; Sheer dark pink; Warm lavender shimmer; Rasberry shimmer; Pale pink; Mauve shimmer; Wine.
These shades are sheer so don't be scared if it looks to bright in the palette.
This retails for $24.00 but i got it for
$1.99.
What a steal!
Sugar Glamazon eye palette
. It comes with 5 glitter colors in blue, purple (its just washed out), blue green, mint green and gold with black and brown. The colors looks better in the palette than in person. It was difficult to swatch these on the skin and it was very sticky, not creamy. This use to retail for $12.00 but i got it for
$1.99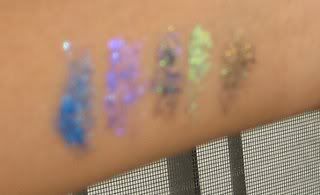 I need some tips on how to adjust my camera for a better swatch photo :(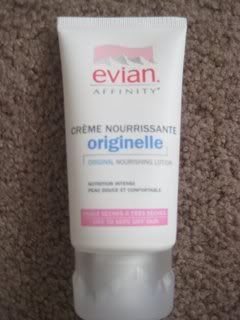 Evian Affinity Original Nourishing lotion
. Dry to very dry skin.
I never knew Evian has a line of skin care. It's supposed to be a good everyday moisturizer if you have really dry skin. I have oily skin so I don't think I'll be using this. Maybe I'll give it to my mom because she has dry skin. I'm not sure how much it retails but i got if for
$3.99
!!
So that's it for my tiny Ross haul. Thank you so much for stopping by and I'll see you in my next post.