The gorgeous Rubey of Me, Myself and Makeup is holding a makeup contest to create a look inspired by your favorite pair of shoes. http://jussjamwithme.blogspot.com/2009/05/my-contest.html. I thought the concept is pretty awesome, so I quickly grabbed my overused pair of shoes and eye shadow palette and started with the look.
The Inspiration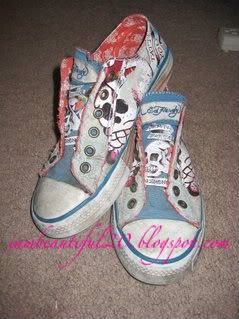 These are my favorite and worn out Ed Hardly shoes. I wear these bad boys almost every day to work. It never match my clothes but I still wear them because they are sooo comfortable. I just dont care like that lol...
I created a look with my 120 Manly eye shadow palette that I got from ebay. I used a red orange all over the lids and a black and blue shadows on the crease.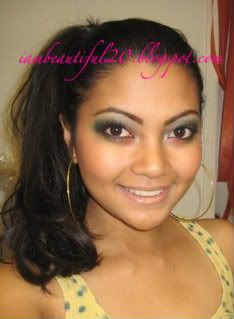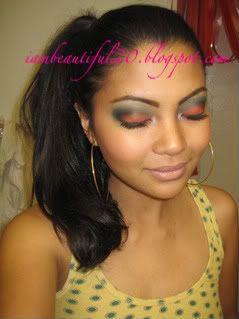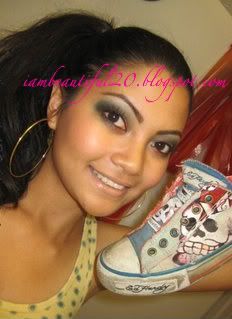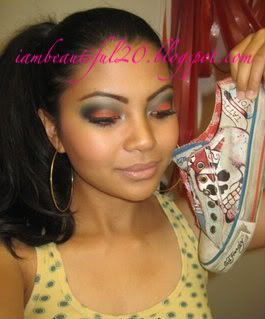 120 Manly palette from ebay
Concealer as a base for the lids
Maybelline Define A Lash mascara in black
Urban Decay 24/7 liner in zero
Sheer Cover loose mineral foundation in Almond
Mac blush in Melba
Sugar bronzer for contour
NYC Sun 2 Sun for highlight
Wet and Wild liner in darkbrown for brows
Wet and Wild lip liner in Willow
NYX r/l in Herades
Bonebelle lipgloss in clear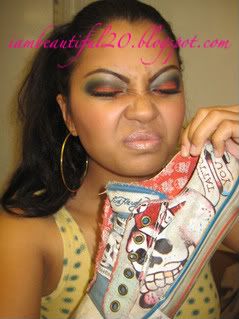 I suggest that you grab your favorite pair of shoes and enter her contest too! It ends June 4th. You still have time.
Good luck ladies!!