I'm really excited about this post. I did someone else's makeup for the first time. I asked my best friend Monica or Mon as I call her, if I could do her makeup and she was brave enough to say yes lol. She's my first guinea pig. so before makeup I tell you what I did, here is a little background about her. She's been my friend for 6 years now. We met during freshman year in college. In general, she doesn't really wear makeup. The only makeup you will see her wear is a black eye liner on her upper and lower lash line, a cherry chapstick on her lips and thats it! She has beautiful skin so she doesn't even need makeup.
Her Angelina Jolie pose :)
I created a smoky black eye makeup. I've always wanted to try this on her because I know it would compliment her pretty eyes. It made her eyes look sultry and sexy! For her cheeks, I used my NARS blush in Orgams because it goes great with anything! It's a pretty peachy pink shade with gold specs. I used a very light hand to apply this color because it's so pigmented. And for her lips, I used Mac lip stick in Velvet Teddy which is a natural matte nude shade. The eyes were dramatic so going nude for the lips was the safest way to go.




unblended eye shadows



The finished look after it was blended with a fluffy blending brush. It looks so much better right?
The most difficult thing I had to do was curl her lashes. It took me awhile to curl them because she kept laughing lol. I even pinched her lid by accident lol. Sorry Mon ;P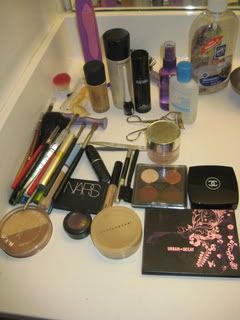 Thank you so much for stopping by!