I mixed the colors pink, purple and black to create a night time look. Its perfect for going out with your friends at the club or a party. Enjoy!

Smokey Black, Purple and Pink
Layering and blending the colors is key to create the smokey effect that you want. I applied
black
e/s (which is the darkest color)
on the lids,
purple
e/s (which is lighter than black obviously)
on the crease
and
pink
e/s (which is a more brighter color)
above the crease.
Dont foreget to blend for a smooth transition of the colors.



line smoothing concealer by Almay
120 e/s palette from ebay
shimmery black e/s by Urban Decay Ammo palette
black mascara by Maybelline
cheeks
lips

Skinlite Makeup Cleansing Tissues in Green Tea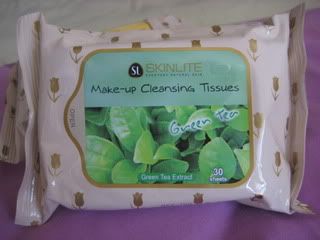 I found these makeup wipes at my local Korean Home store for $1.29. It was on sale. Ofcourse i got a bunch. These smells so good and It does a good job in taking off my makeup on my entire face but not really on the eye area. So what I would is take off my eye makeup with an eye makeup remover then i use this to clean up the excess mess.
Have a great weekend!!!