I was able to do my best friend Monica's hair and makeup a month ago because she celebrated her 2 years anniversary with her boyfriend. He was going to take her somewhere nice so she wanted to get all dolled up :)

I like doing her makeup because she always lets me do whatever I want. Now, that's a cool friend right? Anyway, I did a subtle smokey gold on her eyes. I used NYX e/s in Yellow Marigold on her lids, a brown e/s from my 120 eye shadow palette on her crease and outer V and MAC e/s in Nano Gold on the brown bone.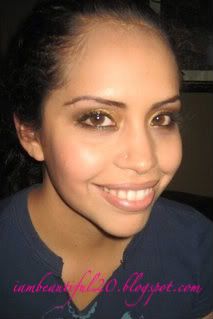 NYX' e/s in
Yellow Marigold
is such a pretty color. See for yourself.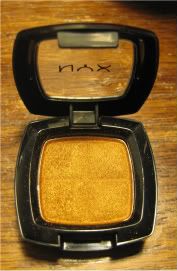 Moving on her hair, I did something a little elegant but not too over the top. She said she wanted her hair up but not on a pony tail. To be honest, I don't know the name of style I did. I just made it up along the way lol. Bare with me as I describe everything I did for its not that easy to put them in words.
Ok so I first applied mousse all over her damp hair. I was very generous since Monica has thick and curly hair.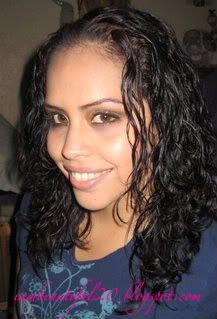 Next, I parted her hair on the left side (you can part it in the middle too if you want), then I twisted outward the hair surrounding the temples of her head starting from one side. I told her to hold it for me then I twisted the other side. Once its all twisted, I connected both sides and tied it with a black rubber band. It should look like a half pony tail. Then I tied the rest of her that was left with a rubber band in a low pony tail. It should look like the photo below.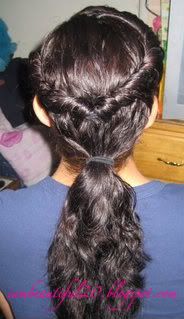 I applied more mousse on the bottom of the hair for a more wet look and, I finished everything with hairspray all over for strong and long lasting hold.
TIP:

Layer the hairspray for a maximum hold.
The finished look. She was very happy with the outcome so I was happy as well :)
Oh and the hairspray I used on her hair which I am loving at the moment is
Suave's professionals shaping and finishing spray in freeze hold.
I got this bad boy for $1.50 at Big Lots. The product does what it says. It gave an extreme hold for superior style and Its comparable to
Sebastian's super shaper plus hairspray.
for only
$1.50-$2.00
vs
$19.75
(depends on what website you go to)