Hey everyone! I just wanted to make a quick post to let everyone know that I've changed my blog title. Its now called, "Every Day Makeup with Becky". I know Its not very creative but I feel like It is appropriate for the things I talk about in my blog. Expect to see me more looks that wll hopefully inspire all of you, more reviews of product I like to use and more beauty tips and tricks that are helpful. The banner is simple for now. A new and improved one is in the process, thanks to my bestfriend's boyfriend :).
with that being said..I'll leave you guys with a photo of my favorite neutral look from last summer 08'. Sorry for the poor quality of the photo. It was taken with my web cam.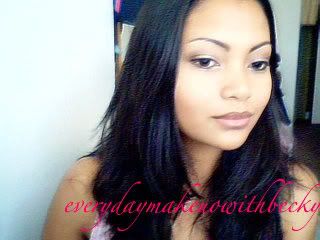 I'm so happy that summer is almost over. Im sorry guys but I've never been a big fan summer. I dont like being hot. I'd rather be cold that hot.
Have a great day!!