Hello readers! Eye makeup is the most exciting part of makeup application. This is the first thing everyone wants to learn when it comes to makeup. So I created a basic eye map to show different parts of the eye and where to apply the eyeshadows. This is for beginners, and I hope this helps!
Before we jump into application, I highly recommend that you first study the parts of your eyes and figure out where is the crease, lid, brow bone and etc. It may sound silly, but trust me, it will be much easier to apply colors if you know where to place them.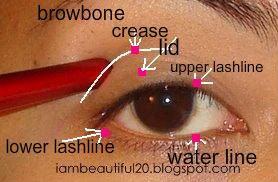 Keep in mind that we all have different eye shapes. Obviously, my eyes are not the same as yours. We may have the same parts but where they are located may be different. For example, finding the crease can be a little tricky. Some people have defined crease which is very visible, while some people doesn't.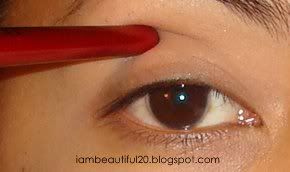 A little trick to find your crease is use the end of your brush and gently poke around your eye socket. The hollow of your eye socket is the crease.
Basic Eye Shadow Application Map
This is just an example on where I usually apply eyeshadows.
I used a shimmery white eyeshadow to highlight brown bone
A Contour color such as a black eyeshadow is applied on the crease to add definition. I applied it heavily so you can see it.
I used a

grayish/greenish eyeshadow

all over the lid area.
I used the same eye shadow I used on my crease to darken my Outer V. I like to do circular motion with my crease brush and drag it on the crease. I do this several times until I get the desired intensity.
A black liquid eye liner is applied on the upper lash line to frame the eye.You can use a pencil instead for an easier application.
The same eyeshadow used on the lid was brushed lightly on the lower lash line. (this is optional)
A black eye liner pencil is used on the water line.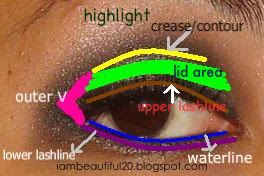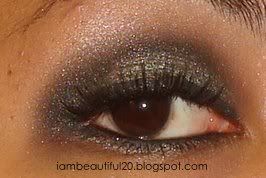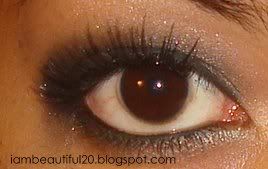 The steps I mentioned is just a basic way to apply colors on your eye. You can substitute whatever color you like.
A simple tip you can follow is always use a darker color on the crease and lighter color on the lid.
This will define your eyes. There are other ways to apply eye shadows on the eye but I'll get into that in another post.
Thank you to all my new followers and new blogger friends. You are all wonderful. Thank you for reading my blog. Your honest opinions and comments matters to me.