NYX is currently having an "Autumn Sale" on these 3 sets of mega shine lip glosses, mascaras, liquid eyeliners, and eyeshadows for $25 bucks and $10 bucks. I love it when NYC cosmetics would have this type of sale from time to time. It is an awesome way to save a lot of money.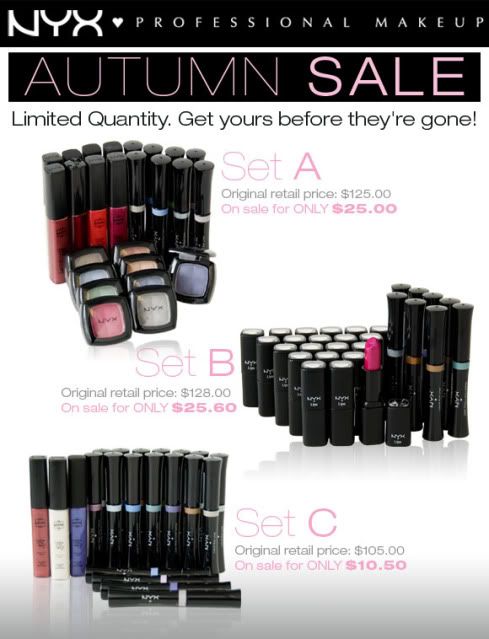 There is no doubt that these are good buys but keep in mind that they come in a set so you don't have the luxury to mix and match the items. You only have 3 sets to choose from. They are final sale items and non-returnable. In other words, if you ended up not liking alot of the products in the set, you cannot return them.
I'm liking

Set A

which includes:
-9 Single Eyeshadow colors
-8 Mega Shine Lipglosses,
-4 Mascara and
-4 Liquid Eyeliner colors.
click on the site below to purchase
http://nyxcosmetics.com/index.php?m=Sale
happy shopping!!!!