One of my favorite bloggers is hosting an awesome giveway. She hit 250 followers and counting!!
Congratulations LIVIA!!!
Go check out her blog. I love her reviews, fotds and she has the most beautiful eyes.
http://princesa-livia.blogspot.com/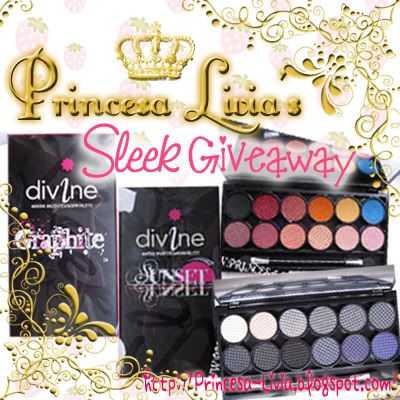 3 Rules of the giveaway:

1. You must be a follower of http://Princesa-Livia.blogspot.com
2. Comment on HER post saying 'I want in!' with your e-mail address (where she can contact you in-case you win). Only 1 comment per person, otherwise your entry will be disqualified.
3. Blog about this giveaway and link HER back your post on the comment from #2!
This giveaway ends on December 7, 2009 at 11:59PM GMT and is open internationally. Two (2) lucky winners will be chosen at random via random.org. If you win, she will send you an e-mail, and you must reply within 48 hours of receiving it otherwise your entry will be disqualified and another entry will be chosen.
So what are you waiting for??
http://princesa-livia.blogspot.com/2009/11/princesa-livias-first-giveaway.html