Besides reading about makeup and beauty related things, I also enjoy reading food post or recipe post from fellow beauty bloggers. I love food. I love to eat. I get excited talking about food as much as makeup!
I have my own favorite recipes up my sleeves that I like to make from time to time, and I call them "The Ultimate Grub". They are no doubt unhealthy, extremely fattening, and will possibly give you heart burn but the 15 minutes of heaven I feel when I eat them is incredible. One of them is...
The Ultimate Grub#1

Carne Asada Fries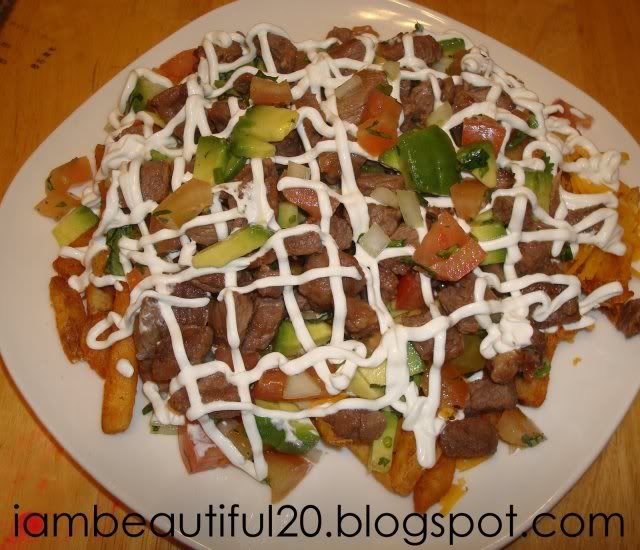 This food is very dear to me. The first time I had it was during my senior year in college. A new Mexican 24 hour food place just opened not too far from campus. Everyone was talking about these bad boys. It sounded weird at firs. but I had to try it. OMG! It was the bomb!! meaning, who the heck invented this, so I can give him a big hug. Ever since then I learned how re-create it, and its easy!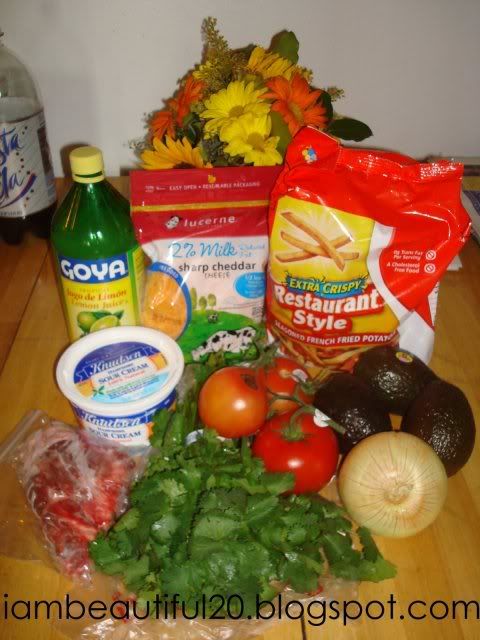 1. Pre cut seasoned french fries. I prefer these because It makes my life easier unless you want to be hardcore and cut your own
2. Carne Asada meat. I used a left over steak
3. Sharp shredded cheddar cheese
4. Sour cream
5. Cilantro or Chinese parsley or Wansoy
6. Ripe plump tomatoes
7. Avocados
8. Onions
9. Lime juice
10. Salt to taste
I don't have the exact measurement of ingredients. Just wing it or estimate how much you need depending on how many people are going to grub. Also, you can even add some other ingredients you can think of like jalapenos or whatever. Make It your own.
Steps:
1. Prepare the simple salsa. Dice the tomatoes, avocados, onions and cilantro and place them in a bowl with the Avocado seed. Mix the all together. (The Avocado seed with prevent the avocado from truning brown quickly). DON'T SEASON IT!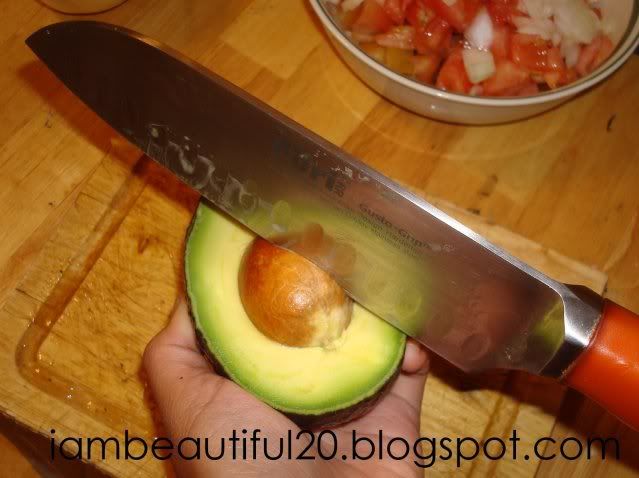 quick tip:
for an easy way of taking out the Avocado seed, hit it with the knife then twist and lift. It works every time.
2. Chop the meat in bite size cubes.


3. Season the meat with salt and lime juice.


4. Fry it in hot oil. I use canola oil because it's what we have. They will cook quickly becase they are small. Make sure you don't over cook the meat. No bueno!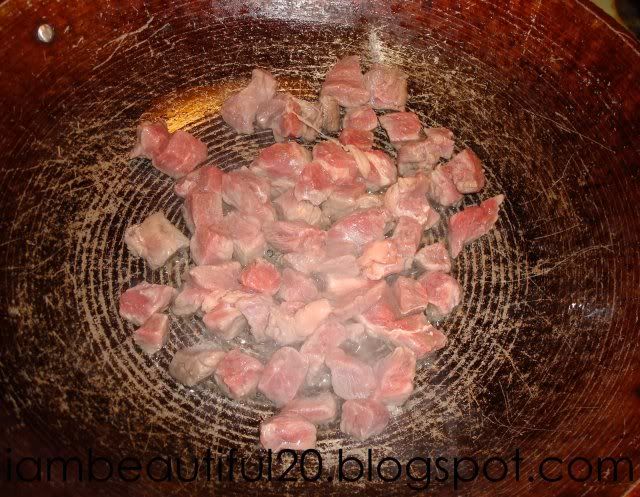 5. Once its cooked. Put it aside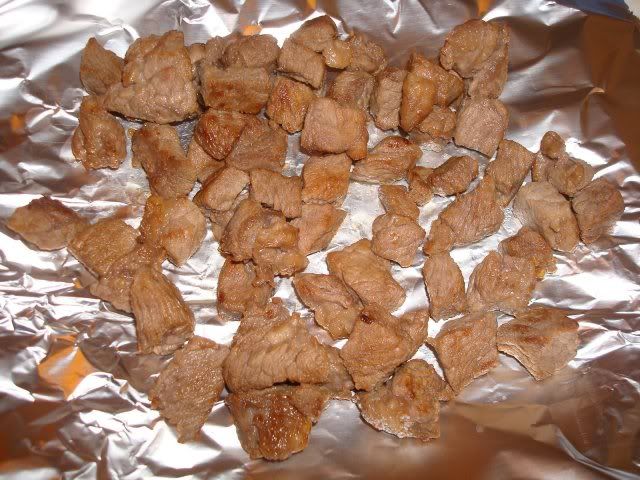 6. Time to cook the french fries. I do the double frying method so the fries will come out crispy on the outside and soft inside. (cook the fries in oil with medium heat for a few minutes, take it out, crank up the heat up to high. Place the fries back into the oil to flash fry.)
7. Sprinkle with shredded cheese.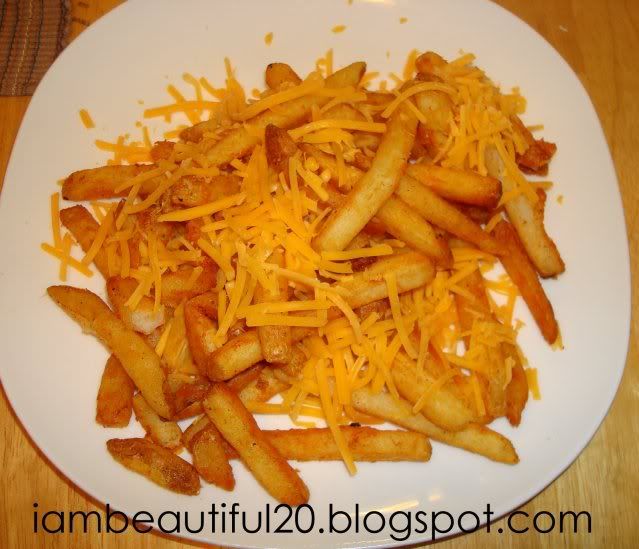 8. Top it with sour cream. I placed the sour cream in a small ziploc bag, squeezed it down to the bottom corner, cut a small hole on the tip. Fancy right?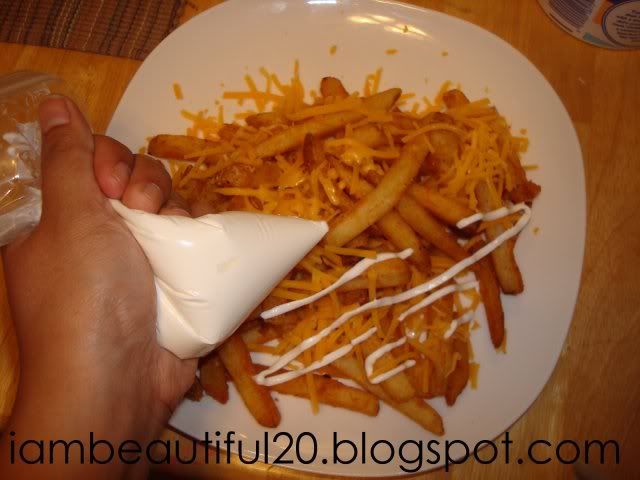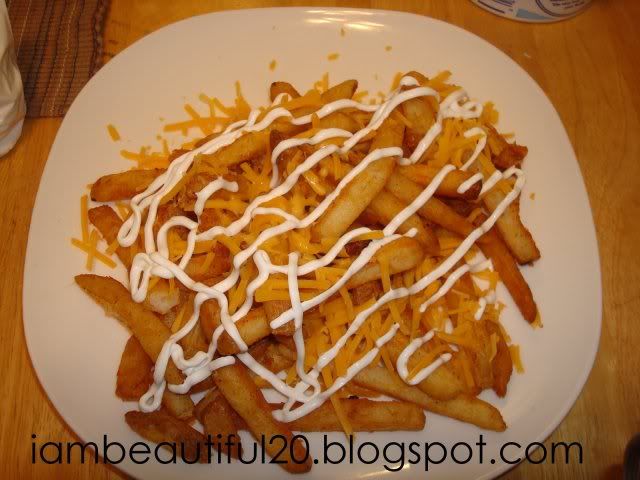 9. Put the simple salsa on top. Its beautfiul already!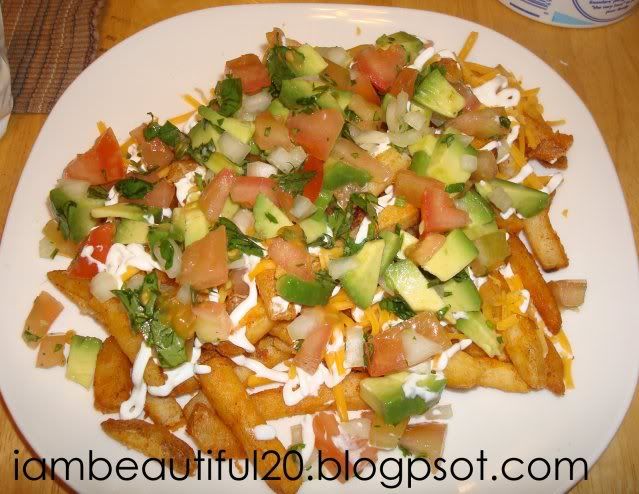 10. Then place the meat. Mmmm....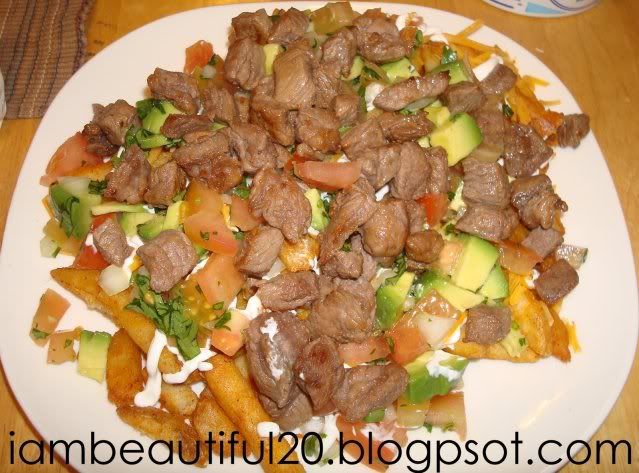 11. Then top it off with sour cream again, and you're done!!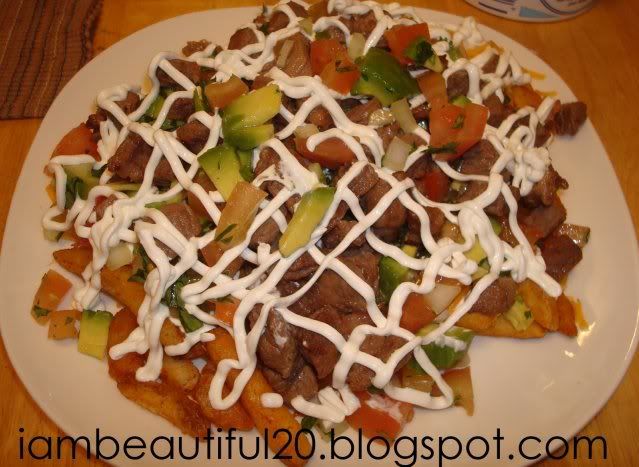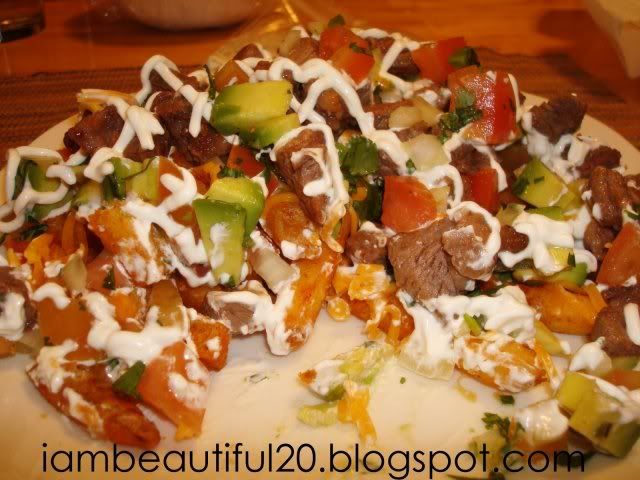 I hope you guys enjoy this post as much as I did. Try it out and I guarantee you will be happy ^_^