This is not really my skincare routine post. I've been getting a lot of request to do a skincare routine because for some reason my face appear to be smooth and flawless in photos or videos and everyone wants to know what I use. Heck, I wish my face is flawless but it's really not. I promise to make a formal post/video on my skincare but for now I'll do a review on my
Dermalogica Skin Kit in Oily.
I've been strictly using this kit for about a month and a half now along with other products that I'm not going to mention (I'll save that info in another post) and it's just amazing! It helps control the oil on my face and it prevents my face from breaking out and I seriously can't think of one negative thing to say about it.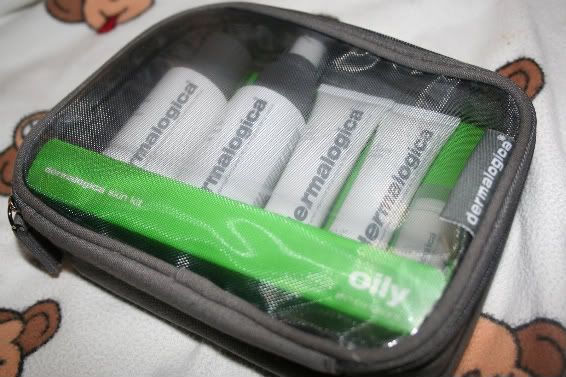 I don't have sensitive skin and I find that a lot of skincare products works for me. I hardly ever break out...wait, I do breakout! I breakout a little whenever I get my period lol. However, I do have a problem with my oily skin. My face gets oily with or without makeup through out the day especially on my t-zone area. I find it gross and annoying because I have to constantly blot my face with a blotting paper to get rid of the excess oil. All that problems went away after I discovered Dermalogica Skin Kit in Oily.
I got this at
Apothica.com
for only
$35
. Apothica.com is a sponsor of my blog and they provided me a gift card to use on their website and this kit was one of the things I got. It's a travel size full regimen skincare kit for oily skin. It also comes in other skin types like dry, sensitive and normal. The kit may look small but a little goes a long way so they will last you for a while. Also, Dermalogica full sized products are very expensive so trying out this kit was is a great deal. You get 5 products in one, what more can you ask?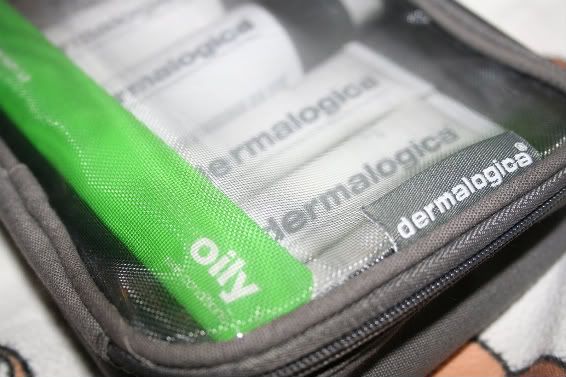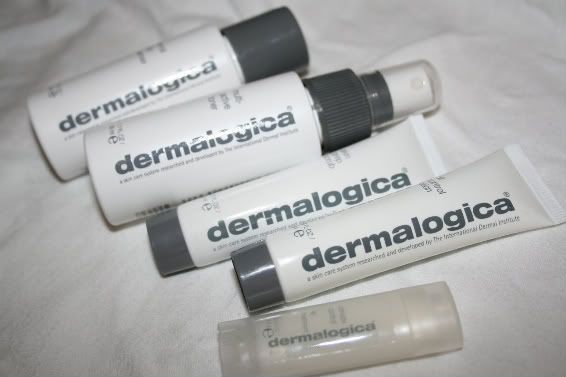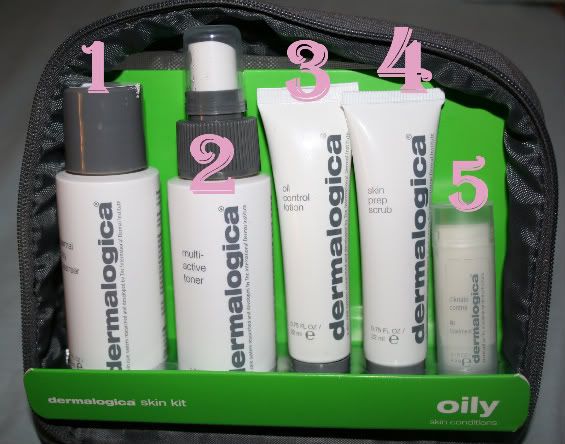 You don't have to fuss and stress with this kit. You get 5 products that matches your skin type.
1. dermal clay cleanser
- It's perfect for skin that produces excess oil. It's made with water-soluble Bentonite and Kaolin clay combined with menthol and botanical extracts. It's supposed to remove excess oil and refine skin's texture. I apply it to a dampen face and neck and I massage lightly with my fingers. I love how it leaves my skin feeling so refreshed and smooth. It has a cooling sensation at the end that I really like. It also does a great job in removing excess dirt and makeup on my face. (amount: 1.7 fl oz/50 ml)
2. multi-active toner-
It's supposed to hydrate, smooth and prep the skin for moisture. It has Aloe, Lavander, Balm Mint and Arnica to help soothe the skin. I spritz it on my face and neck right after using the dermal clay cleanser. I always have to make sure I aim it on my face because I tend to miss at times lol. I love the tingling sensation that it leaves my skin and it feels really refreshing. It also has a scent that is hard to describe. I think it's more like a clean citrus-y smell. It contains no artificial fragrance or color. (amount: 1.7 oz/50ml)
3. oil control lotion-
Perfect for acne and breakout prone skin. It has active sebum, Enanthia Chlorantha, Bark extract that helps control shine and prevent breakouts. I simply apply a small amount on my finger and apply it on my t-zone or other parts of my face that gets oily the most. OMG! It instantly mattifies my face and it does an awesome job in controlling oil/shine all day...no joke! It also works well under my liquid foundation. On the other hand, it works to well that I find it too mattifying at times that it dries out my cheeks. So now I make sure I only apply it on my t-zone and I use a different moisturizer for the rest of my face. (amount: 0.75 fl oz)
4. skin prep scrub-
It's a skin polishing exfoliant with natural corn cob meal that helps exfloliate and get rid of dead skin cells on the surface of the skin. I really enjoy this scrub which I use 2 to 3 times a week to give my face a little pick me up! I'm surprised how it didn't made my skin red because the grains are really visible and you can really feel the scrubbing action. It actually made my face really smooth like crazy! I can't stop touching my face whenever I use it. I don't mind spending a lot to buy the full size once this small bottle runs out. (amount: 0.75 fl oz. 22 ml)
5. climate control lip treatment

-
This is not your average lip balm. It's formulated with Anti-Ozonate complex that helps reduce dryness and helps prevent chapped lips. This is another love for me like OMG. This stuff feels so light and it sinks in right away on the lips
I recommend Dermalogica products to everyone! They are expensive but they are great products that works. I suggest starting with their skin kit. It's an affordable way to try their products and I promise you will be pleased! Go to Apothica.com to get your kit!!!
rating:
5 of 5
availability:
Apothica.com
price:
$35
"I don't like standard beauty- theres is no beauty without strangeness"-
Karl Lagerfeld