I got this
Essence of Beauty Deluxe Duo
at my local
CVS/pharmacy
for
$14.99
. Beauty and makeup bloggers/vloggers raved about them, and the price was awesome for what you're getting, so I didn't think twice when I bought it. I got it about a month and a half ago and yes, I waited this long to do a formal review because I had mixed feelings about it. I absolutely hated it in the beginning. It shed on me, it had this weird chemical smell on the bristles and it shed and shed some more lol. I didn't want to bash it on my blog and give a poor review, so I gave it another chance. Heck, I gave it lots of chances until I finally learned how to love it.
I've always loved these duo type brushes because you get 2 brushes in one which means you get more for your money. (
Stila cosmetics
also makes awesome duo brushes but they're more expensive)With this brush set you're really getting 6 brushes plus a free bonus eye shadow brush which makes them 7. It's an amazing deal.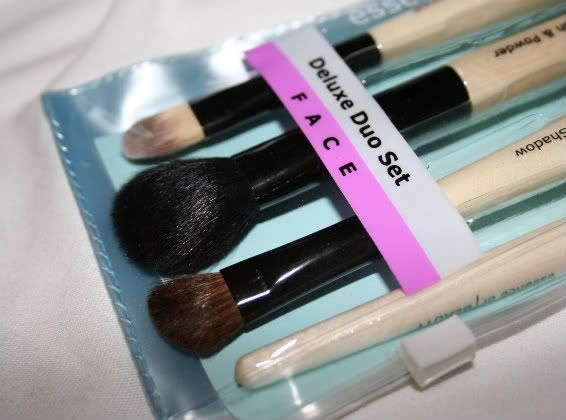 foundation and concealer brush duo
and my favorite of them all. No shedding and the slight chemical odor went away after a couple of washes. The bristles were very soft and felt really nice against the skin. It also blended my liquid foundation and concealer nicely.

The blending and eye shadow brush duo. The blending brush used to shed a lot every time I washed it. The chemical smell took many washes for it to go away...so annoying! Also, I didn't like how the bristles fanned out and it was way too big to blend eye shadows. It's better for applying a light wash of colors on the lids or highlight powder on the cheekbones.

blush and powder brush. They used to shed like crazy and the chemical smell took forever to go away. The powder brush was way too small to use on the face. I won't use it for powder foundation or blush. No way! Instead, I use it to apply a highlight powder on my face. But I must point out that the bristles were very soft. It didn't prick my skin, and it applied powders very nicely.

This was the free bonus eye shadow brush but I'm calling it a blender brush because I used it to blend eye shadows. The bristles used to shed too, but eventually went away.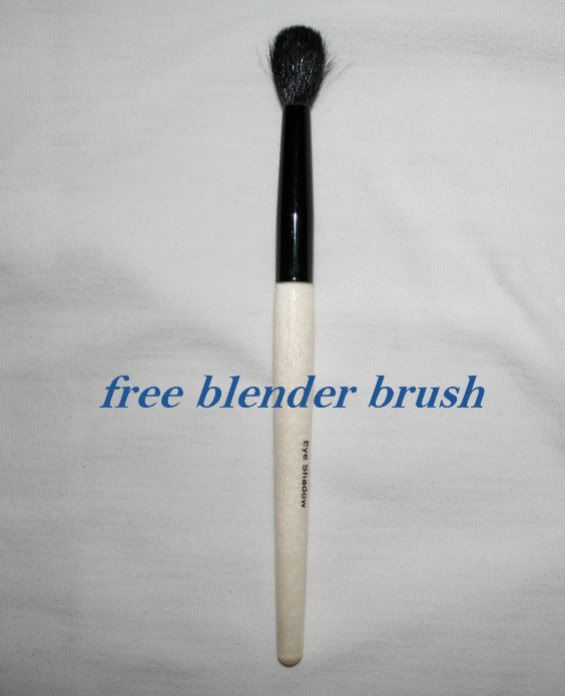 Overall, I like this brush set. It wasn't the best in the beginning, but it was able to win my heart in the end. It just took a little patience on my part. Also, the price was awesome for what you're getting so I couldn't complain.
Availability:
CVS pharmacy
Price:
$14.99