I went to my local CVS pharmacy to kill time...again! I was looking for the
EOS
(Evulotion of Smooth) lip balms. I've been wanting to get them since last year because of it's cool egg shaped packaging...I mean look at it, it's so cute! And everyone in the beauty blog world has been raving about them so I really had to get them.
It took me forever to find them in the store. You would think it would be next to the other lip balms at the beauty section but noooo...I found them next to Pepto Bismol at the medicine aisle...random! They only had 1 flavor available which was Summer Fruit so I got 2 of them. One for me and my best friend Monica. I paid at the register and the guy cashier was like..."You like these balls lip balm?" hahahahha what a weirdo! I just simply replied, "NO! They're egg lip balm homie!"
PACKAGING:
I could not get over the cuteness of the packaging. It's very unique and nothing I've seen in the market before. It's like a mini
ped-egg
looking thing with a flat bottom. You twist it open and you see the product right away ready to be applied on the lips. It's also a conversation starter whenever I whip this out in public. One time on the train, this old lady gave me a weird look and asked, "what the heck is that?" I said, "relax ms. lady, it's just a lip balm" lol. It was really funny. The only thing I didn't like about the packaging was the bulkiness of it. It fits in the back or side pocket of my jeans but it was weird walking with a ball bulging out of my butt lol. But no biggie, I just put it in the pocket of my purse.
TEXTURE, SCENT, PERFORMANCE:
Ok enough about the packaging. The important question is did it really moisturize? Yes! It's winter and I need extra moisture on my lips and this product was awesome. It glided on the lips very smooth and I instantly felt my lips got softer. It didn't have a sticky yucky texture but it gave my lips a bit shine. The staying power was impressive too. It stayed on my lips for a long time and, I didn't feel the need to re-apply every minute. Oh and I could never forget the succulent scent that always made me me want to eat it!
Ingredient List (* denotes organic, 1 denotes natural flavor): Olea Europaea (Olive) Fruit Oil*, Beeswax (Cire D'abeille)*, Cocos Nucifera (Coconut) Oil*, Simmondsia Chinensis (Jojoba) Seed Oil*, Natural Flavor, Butyrospermum Parkii (Shea Butter)*, Stevia Rebaudiana Leaf/Stem Extract*, Tocopherol, Helianthus Annuus (Sunflower) Seed Oil*, Vaccinium Angustifolium (Blueberry) Fruit Extract*, Fragaria Vesca (Strawberry) Fruit Extract*, Prunus Persica (Peach) Fruit Extract*, Linalool1.
It's 95% organic and 100% natural.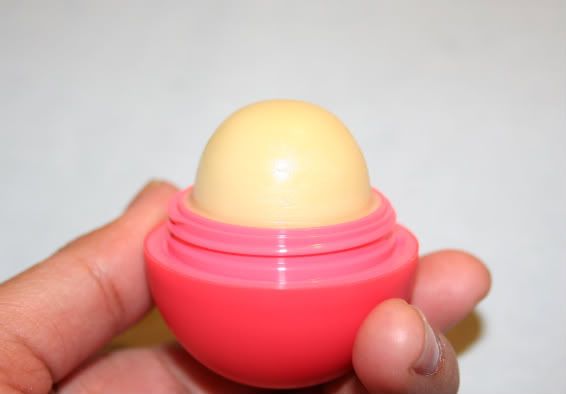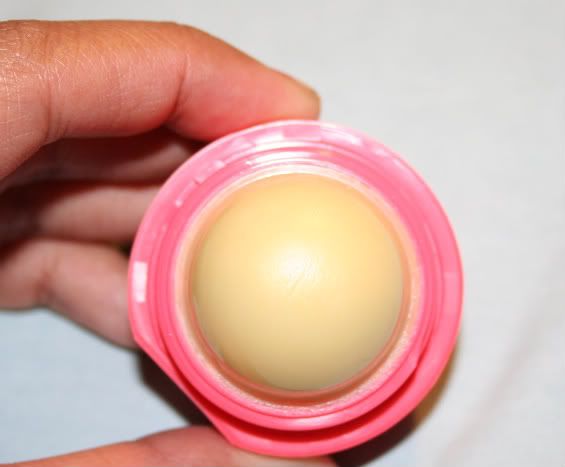 OVERALL THOUGHT:
I highly recommend The EOS lip balm to everyone. It really moisturized and softened my lips and the lasting power was amazing. It has100% natural ingredients and the packaging is super cute!
price:
$3.29 to $3.99 depends on where you get them
availabilty:
at drusgtores,
EOS website
, amazon.com,
Target
"Just because you want to be glamorous, don't be a sheep about your eye makeup"
Loretta Young