One of my favorite makeup gurus on youtube under the username
Pixiwoo
(sisters makeup artist Samantha and Nicola from the UK) did a makeup tutorial inspired by the "Trend: Summer Acid Brights". The makeup look was so bright and beautiful on Nic that I was immediately inspired to do the same look. She did an extremely bright lime green eyes and coral orangey lips. It looks crazy but I LOVE it!
I just want to point out a couple of things. Whenever I do an inspired makeup look, I try to incorporate my own thing or style...you know, tweak it a little here and there to make the look my own. So my version from Nic will be a bit different. Also, there is no way I'm trying to look like Nic. I'm just a really big fan of her and her sister's makeup skills...they're amazing!
haha..uneven false lashes..oh nooo!
Inspiration video tutorial by Nic
You can use any bright lime green eyeshadow you have. I used NYC City Duet eyeshadow in Bowling Green. It's only $2.99 at your local drugstores.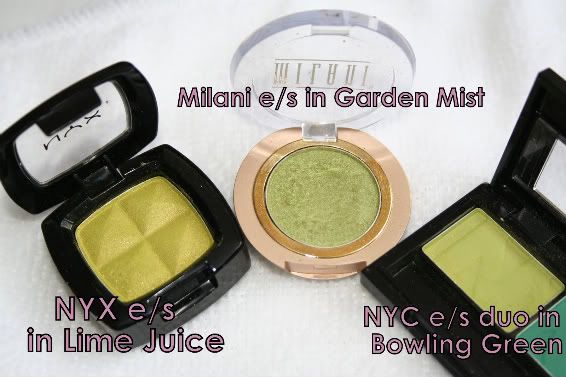 Other options are NYX e/s in Lime Juice and Milani e/s in Garden Mist
face:
-Yes to Tomatoes Daily Balancing moisturizer
-Revlon Colorstay liquid foundation in Golden Caramel
-Almay Line Smoothing concealer in medium
-Mac Mineralized Skinfinish Natural in Medium Deep
eyes:
-Urban Decay Primer Potion
-NYC in Bowling Green (the bright lime green shade)
-Sonia Kashuk gel liner in Ebony
-Select false lashes from the 99cents store
brows:
-Milani e/s in Rich Chocolate
-Mac e/s in Cork
cheeks:
-Nars blush in Orgasm
-Milani Mosaic blush in Afterglow
lips:
-Yes to Carrots lip butter in Melon
-Wet and Wild nude l/l in Willow
-Revlon Matte l/s in Pink About it
Watch my tutorial to find out how I did this look.
I know this look is really bright and crazy but I would totally rock this out in public. But I may have to wait for the summer to do it since I feel like I can get away with wearing loud and bright eyeshadows in the summer lol. Thanks for stopping by ^_^