I wore this makeup look last week at Lupe's birthday dinner. It's a fresh, defined and natural makeup that looks like I don't have a lot of makeup on. But I do. It actually takes a lot of makeup to create such look, and I will show you how to do it.
face:
For a fresh and natural looking face, use a wet sponge to apply Revlon Color Stay foundation all over the face. I like this application because it feels light on the skin. Apply Almay Line Smoothing concealer in medium under the eyes and blend it with the same wet sponge. This will lightly conceal dark circles, making the eyes look bright and awake. Then, dust Mac Mineralized Skin Finish Natural in Medium Deep all over the face to set the makeup. This will make the face makeup last for a long time.
brows:
For a natural looking eye brows, fill them in lightly with Wet n Wild brow pencil in taupe and Chattecaille Eye Pencil in Bark (dark brown) and use a spooly to blend the colors by brushing the brows following the natural hair growth. Using a spooly to blend will give the brows a more natural look.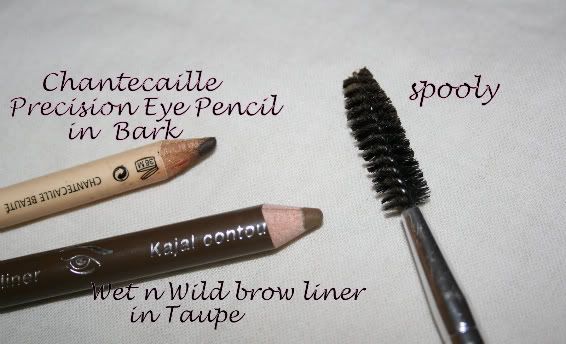 eyes:
To create a slight definition on the eyes, contour them by applying Milani Powder Mosaics in AfterGlow (bronzer) on the crease with
Sigma SS224 (a fluffy blending brush). If you don't know where your crease is located, tilt your head back a little and feel where your eye socket sinks in. That's your crease! Then, with an angled liner brush, line the upper lash line
with Stila Smudge Pot in black. Curl the lashes and apply a generous coat of NYX Doll Eye Long Lash mascara.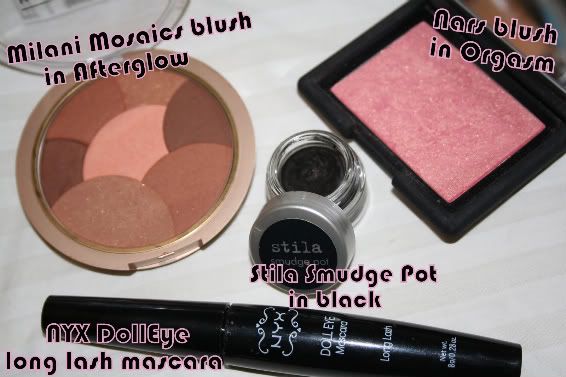 cheeks:
Apply Nars blush in Orgasm (peachy pink with gold specs) on the apple of the cheeks with Essence of Beauty blush/powder brush duo, using the angled brush. Dab and blend, and make sure you apply with a light hand because this blush is so pigmented, it's very easy to go overboard. You don't wanna look like a clown right? Then, contour the face with Milani Powder Mosaics in AfterGlow with
the same Essence of Beauty blush brush/powder brush duo, using the other end (medium fluffy round brush), and apply
it under the cheekbones sweeping it upwards towards above the ear. This will create an illusion of a defined cheek bones and a slimmer face.
nose:
This is optional, but lightly define and high light the nose. First, apply
Milani Powder Mosaics in AfterGlow (the same bronzer used to contour the eyes and cheeks) on the side of the nose using a small angled shadow brush. M
ake sure you apply with a light hand. You don't want the shadow to be too obvious. Then, apply a small amount of Almay Line Smoothing concealer in light/medium on the bridge of the nose all the way down to the tip using your ring finger. Dab and blend.
lips:
Apply EOS lip balm in Summer Fruit and let it soak into your lips. Lip balm will keep your lips moisturized. Using a wet sponge, dab Revlon Color Stay liquid foundation on the lips to create a pale nude color. Top it off with ELF Minty lip gloss in Los Angeles, and dab Milani single eye shadow in Peach Peach on the cupid's bow and the bottom center of the lip. This will make the lips appear fuller.
Revlon Color Stay liquid foundation on my lips with E
It may look like a lot of steps, but it's really easy and quick to do. It look me about 10 minutes and I was out the door.
A photo with my friends wearing this makeup.
And if you're interested, click
here
to see the outfit I wore that night ^_^
XOXO,
Becky