It makes me so mad when I lose my photos! I took a lot of photos of my April
Birchbox
package. I remember editing and storing them in my Picasa, but now I can't find them anywhere O_o Anyway, I took new photos and here they are.
This month's Birchbox is honoring Earth Day which was last Friday (I know I'm so late). To celebrate, they included Eco friendly products that helps the environment and will make us look good at the same time. This is pretty exciting because I will get to try a lot of organic, eco-friendly products that I've never heard before.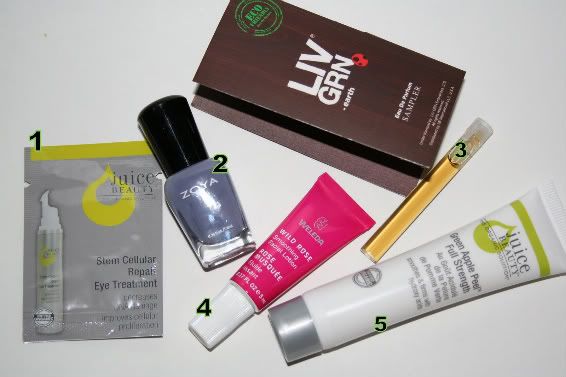 1. Extra: Juice Beauty Stem Cellular Repair Eye Treatment- I was happy to see Juice Beauty included in this month's Birchbox. I tried one of their face wash a long time ago and I remember loving it. Hopefully, this eye repair will be a good one.
2. Zoya nail polish in Caitlin- I'm not a nail polish person at all, but this shade is soo pretty. It's a purple gray with a glossy finish.
3. LIV GRN-Earth Eau de Parfum- According to Birchbox, it has hints of Jasmine and Sandalwood. I'm so bad at describing scents, but I can say that it smells really nice (sorry I suck!).
4.Weleda Wild Rose Smoothing Facial lotion- Organic lotion rich in anti-oxidants and vitamin A and E, which soften and protect the skin.
5. Juice Beauty Green Apple Peel- An organic peel consist of natural fruit acids which gives a brighter and smoother complexion.
6. Extra: Bloomin Seed Paper- I've never seen a seed paper before. I didn't even know it existed lol. Plant this paper in soil, give it a little bit of water and watch it grows into wildflowers. Now that's cool!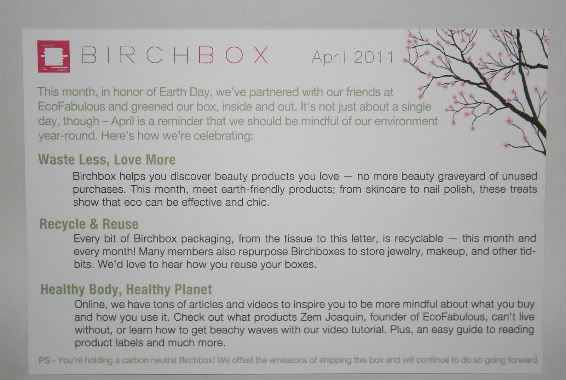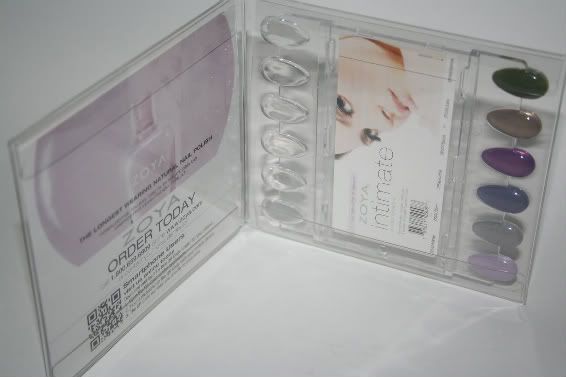 Zoya nail polish in Caitlyn. I tired it on my niece's nails and it's sooo pretty! I think I'm just gonna give it to her lol.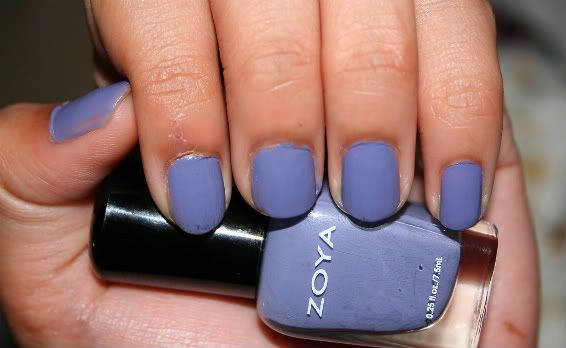 I'm so happy with all the products I got. I'm not big on the whole organic and Eco-friendly products, but I'm sure glad I was able to help the environment even just a little bit by purchasing this month's Birchbox.
Get your own Birchbox
HERE
.
Check out my past Birchbox packages:
March 2011
- Dr. Denis Gross, Pangea Organics, Alchimie Forever and Marvis,
February 2011
Be Fine, Bare Minerals, Nars, Pomega5 and Sweetriot Chocolate
January 2011
- Ahava, Oscar Blandi, Ernie Laszio, MyFaceWorks and Coconut Chai
December 2011
-Stila, Serge Lutens, Jouer and Blow
November 2011
- Cargo, Too Faced, Perricone MD, Laura Mercier andThe Face Shop