Can you believe it? I finished a whole bottle of Revlon Color Stay liquid foundation. OMG this is so exciting. It's my first time to finish a whole bottle of foundation and I'm pretty proud of myself lol. It's such an awesome foundation, and it's what I reach for whenever I do my makeup. It's great for everyday use because it looks natural and it really stays on my face for a long time. It's love!
Here is my little review...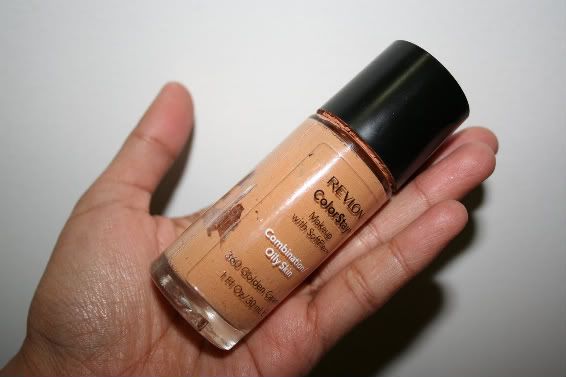 Product:
Revlon ColorStay Makeup with SoftFlex for Combination/Oily skin.
Product claim from
Revlon.com
:
"ColorStay makeup with SoftFlex provides light weight comfort, so you feel like you're not wearing makeup. Looks fresh up to 16 hours".
shade:
Golden Caramel. What I love about the Revlon ColorStay foundation line is the wide range of shades to choose from. You're definitely going to find a perfect match for your skin tone. Just be patient in finding the right shade. Golden Caramel is a perfect match to my MAC NC42-44 skin tone.
skin type:
Combination/Oily skin. I have oily skin and this foundation works great IF I apply a face primer underneath. It doesn't matter what brand of primer. I just notice it makes my face oily if I forget to apply primer. Does anyone else have this problem?
packaging:
Standard foundation bottle without a pump. This was a bit annoying at first because you are more likely to pour out too much product. But you're gonna get used to it. Just make sure to pour slowly.
finish:
It dries to matte finish then later turns dewy after 3 hours (not oily). My favorite way to apply it is with a wet sponge for a more natural finish.
texture:
It's quite thick at first, but once you blend it on your skin it feels light weight.
coverage:
The coverage is medium. Few of my blemishes still shows a little bit underneath but it's nothing a concealer can't fix.
longevity:
The product claims it last for 16 hours. Now, I don't recommend wearing makeup for that long, but I can tell you this foundation lasted me a whole day without any fading at all. It's seriously is ColorStay!
price:
$12.99. It's reasonable drugstore price, but I suggest to use a coupon or wait for a BOGO (BuyOneGetOne) sale to get a discount.
availability:
drugstores.
Here's what it looks like on my face (
Defined and Natural Looking Makeup look
) I like to use a wet sponge to apply and blend all over my face. This application gives a natural looking finish. If you want more coverage, I suggest using a foundation brush.
PROS:
-Stays on all day!
-Inexpensive
-Looks natural
-Easy to blend
-Decent coverage
-Wide range of shades available
CONS:
-Poor packaging. No pump
-Makes my face oily without a primer.
FINAL THOUGHTS:
Whenever someone ask me what good foundation to use, I always recommend Revlon ColorStay. I've tried a lot of foundations (not all) from high end to drugstore and this is far by the best in my opinion. It blends in nicely onto the skin that sets to natural looking finish and it stays on all day. It's also very affordable which makes my wallet very happy. Will I re purchase? Definitely!