Finally, here is a review on my all time favorite concealer, the
Almay Line Smoothing concealer.
I've been a fan of this concealer ever since I used it back when I was a noob. I own one in light/medium and medium. It's supposed to smooth the line under the eyes, but since I don't really have fine lines (yet!), I use it to conceal slight dark circles and eye base under eye shadows. It's light weight and blends into my skin nicely, and it works great!
WHO: Dry skin and slight dark circles.
WHAT: Line Smoothing Concealer
product name: Almay Line Smoothing Concealer
product claim taken from Almay.com: "Gentle to the under-eye area with SPF 10, this creamy formula hides imperfections, conceals dark circles and fine lines while boosting your skin's hydration levels. Infused with hydrating cucumber and caffeine to help reduce the look of under-eye puffiness.

Potent blend of green, red and white teas provides triple antioxidant protection, while aloe conditions the delicate eye area

.

Hypoallergenic. Dermatologist tested."

shade: light/medium and medium with pink undertone.
finish: matte
texture: liquid with a slight creamy consistency.
packaging: like a lipgloss tube
applicator: doe foot (just like a lip gloss)
price:

$10-11
WHEN: Permanent.
WHERE: Drugstores, Ulta, Amazon.com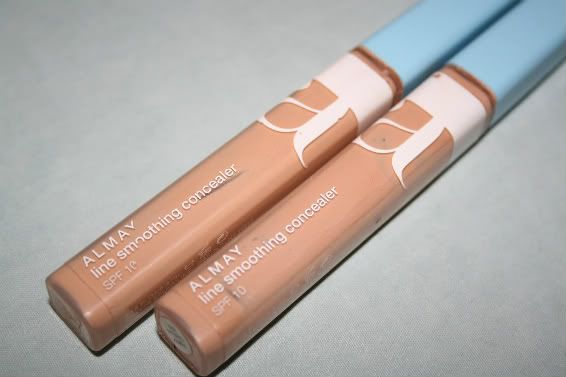 Medium
is one shade lighter than my skin tone. I use it for everyday concealing because it looks more natural, while
Light/medium
is 2 shades lighter than my skin tone, which is better for night time to make the under eyes bright.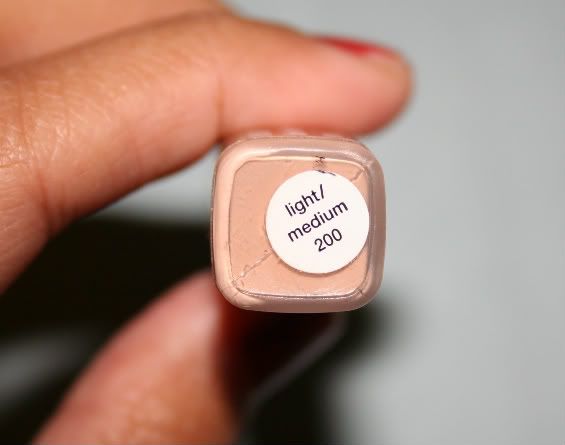 I love the doe foot applicator.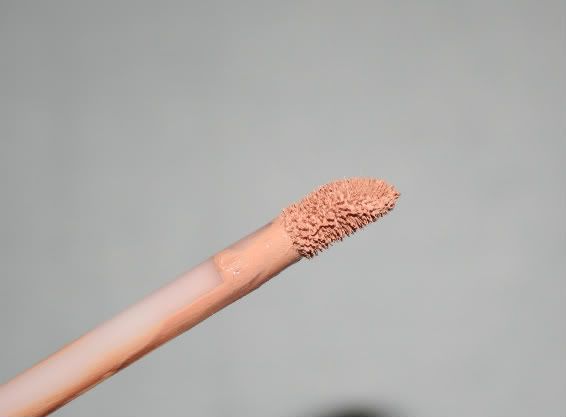 As you can see in the photo(below), I don't need much concealing under my eyes, but I still need to brighten that area to prevent myself from looking tired.
HOW: I use it to conceal slight dark circles under my eyes. I apply it under the eyes and inner corners, blend with finger or a cosmetic sponge, then set with a loose powder.
As an Eye Base:
Apply a small amount on the eye lids and blend it with finger or cosmetic sponge all over the lids up to the brow bone, then set with a loose powder. See my ultimate crease free eye shadow primer/base
HERE
.
What I like:
-Texture. The creamy liquid texture is great under the eyes. It's light weight and easy to blend. You don't need to tug and pull. Just dab with your finger or sponge to blend.
-It doesn't cake and crease into fine lines.
-Doe foot applicator. It makes application easier. I swipe the concealer, the blend.
-It's long lasting.
-Does the job in concealing slight dark circles.
-Feels moisturizing under the eyes.
-Great as an eye base/primer and prevents eye shadows from creasing.
-Affordable.
What I don't like:
-Shade selection. There's only 3 shades to choose from. Luckily, the shade medium and light/medium works well with my NC42 skin tone.
-Not great for concealing severe under eye circles. I tried it on my best friend Mon with bad dark circles and it looked ashy.
-SPF 10 is really nothing. I wished they bumped it up to 15.
I can't say much about the line smoothing claim of this concealer because I use it for other purposes. I highly recommend it if you want to conceal slight dark circles and brighten your under eye area. It's light weight, easy to blend and doesn't cake.
Have you tried this concealer before?