The fashion trend this Summer is
"Color Blocking"
. It's a combination of two or more solid colors that compliments each other in an outfit. Now, I may not have all kinds of bold and bright colors in my closet to rock a cool color blocking outfit such as
ReallyPetite
and
LoveLifeFashion
, but I can always do it with makeup. I can mix and match any bright eye shadow/lip colors to create a fun
"Color Blocking"
makeup look.
For example, I created this makeup look using bright yellow all over the eye lids, aqua teal on the lower lash line, then paired them with some pink lips. It's a fun look to sport this Summer. I think anyone can rock it as long as you have the confidence. I wore this look last night to the L.A. Film Festival and got a few compliments from younger women and the rest were weird "wtf" stares from guys haha...
All the colors I used on my eyes are by MAC.
Partylicious pigment
(aqua-teal with green/teal shimmers),
Primary Yellow pigment
(matte true yellow) and
Shroom
(satin champagne beige) eye shadow. Man, I don't even remember the last time I used all MAC on my eyes lol. You know me, I like to mix high end and low end, but I have these MAC pigments that I haven't tried, so I had to give it some love. It was my first time using them and they were amazing. I just had to be really careful when I opened the container because it can get messy.
False Lashes are
ES A24
provided by
KKCenterhk.com.
These criss cross lashes are fun and dramatic. They are optional, but I like using them because it completes the look.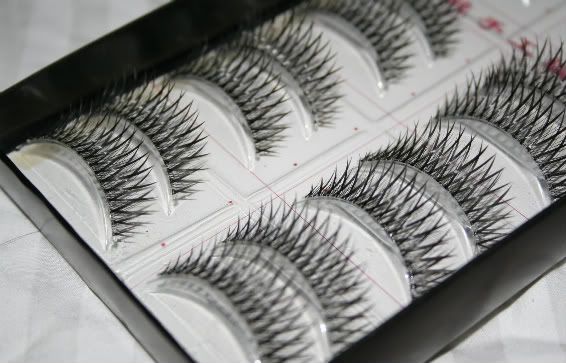 -MAC pigment in Primary Yellow
-MAC pigment in Partylicious
-MAC eye shadow in Shroom
-Prestige liquid eye liner in Black
-Sonia Kashuk gel liner in Ebony
-ES false lashes A24
-MAC Studio Fix Fluid in NC 42
-Almay Line Smoothing concealer in Medum. Review/Swatch
here
.
-Milani single eye shadow in Rich Chocolate
-Milani Mosaic blush in Afterglow. Review/Swatch
here
.
-MAC blush in Gingerly. Review/Swatch
here
.
-Milani Mosaic blush in Afterglow. Review/Swatch
here
.
-EOS lip balm in Summer Fruit. Review
here
.
-Wet n Wild lip liner in Willow. Review here.
-Revlon Matte lipstick in Pink About It. Review/Swatch
here
.
Revlon Matte
lipstick in
Pink About It
on my lips
I hope you like this look.
Don't forget to join our Summer Beauty Tour Giveaway to win some cash. Open international!!!