If you remember, I blogged about the press release on the limited edition Milani Color Streaks. They are available exclusively at select CVS drugstores only for this month of June. I've never heard of such product before, but upon learning about it and playing with them with my niece, I found that they're actually pretty cool!
Milani
says,
"

Milani
Cosmetics gives a new meaning to summer-streaked hair
Paint your hair from tip to tip with

Milani

's Limited Edition Product---

Color

Streaks. Adding a fun pop of

color

and sparkle to your hair has never been so easy. With five exciting colors,

Color

Streaks will take your hair from boring to bold in a flash! The mascara-like precision applicator gives you desired

color

where you want it in less than 30 seconds and then simply wash it out and start again!"
*Contains Keratin, which helps rebuild and restore hair.
Limited Edition Product Available

ONLY

the month of

JULY

at select CVS drugstores.
Available Shades:
Fun in Red

,

Solid in Gold

,

Cool in Blue

,

Awesome in Purple

, &

Dramatic Shimmer

. Retail,

$6.99
It's more of a bright burgundy than red in the tube and fuschia in the swatch. It has lot of red glitters.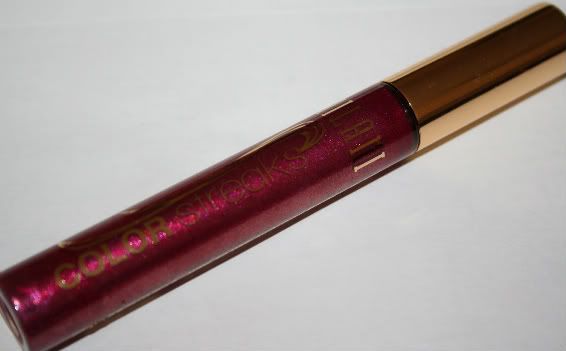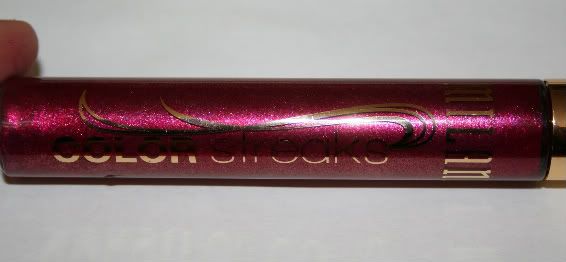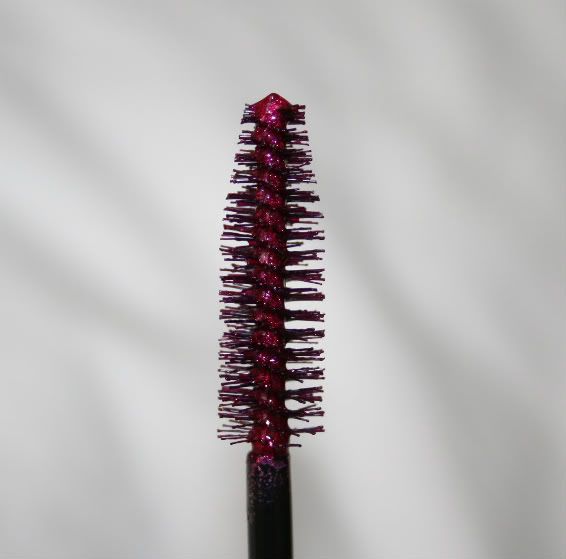 Cool in Blue
Bright blue with blue and silver glitters.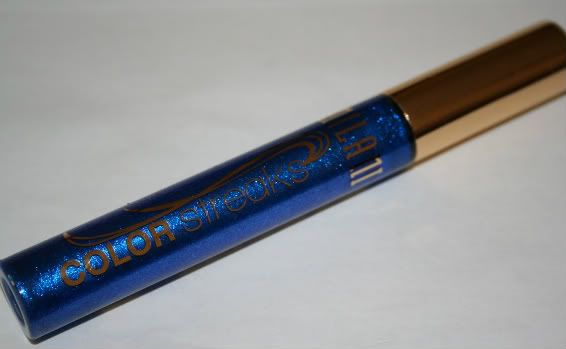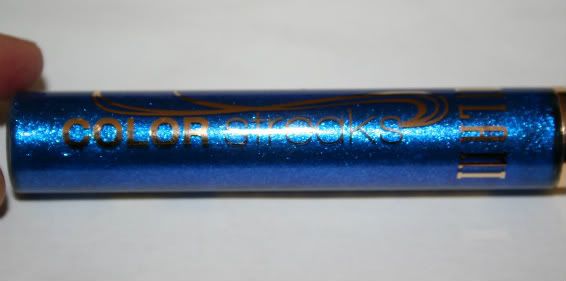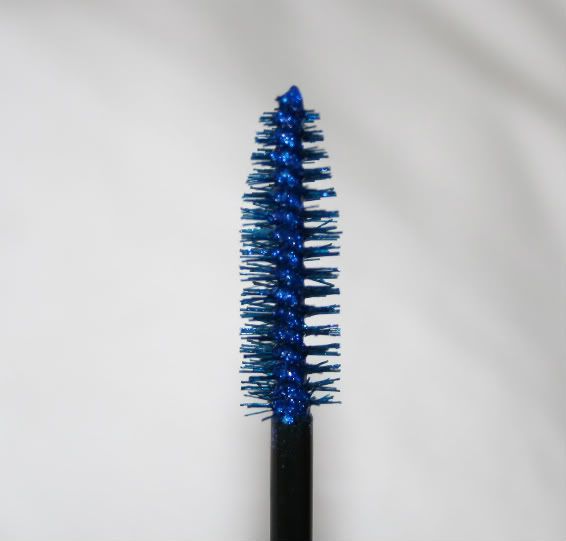 Swatches on my arm. You can't really see the glitters in these photos, but I promise you there's glitters. They are sparkly and pretty!

I used it on my neice's hair. The last time I dyed my niece's hair was with cool-aid. Yes, you can dye your hair with cool aid. It's very messy and sticky, but it works! These Milani Color Streaks are a step higher from the cool aid of course. No mess and very easy to apply. All I did was I get a small section of her hair, held the ends tight, pulled it down and swipe the mascara wand starting from the roots down to the tips. I repeated the process many times until I got the desired color. One swipe is not enough, so don't be afraid to build up the color.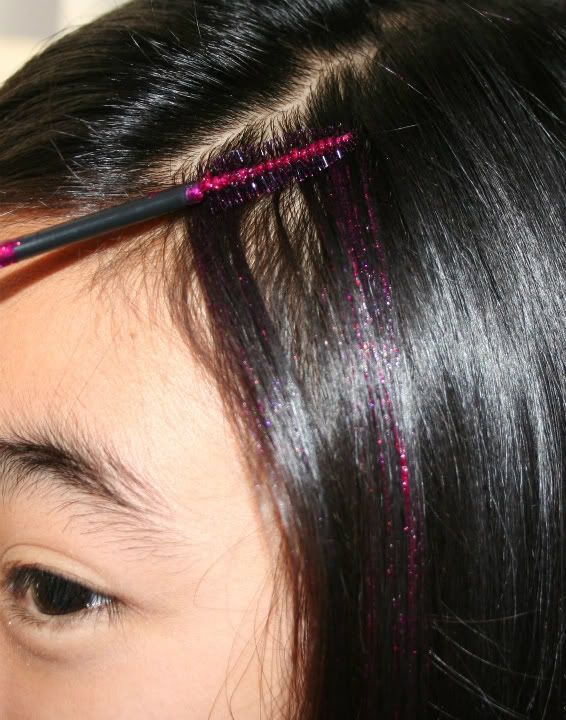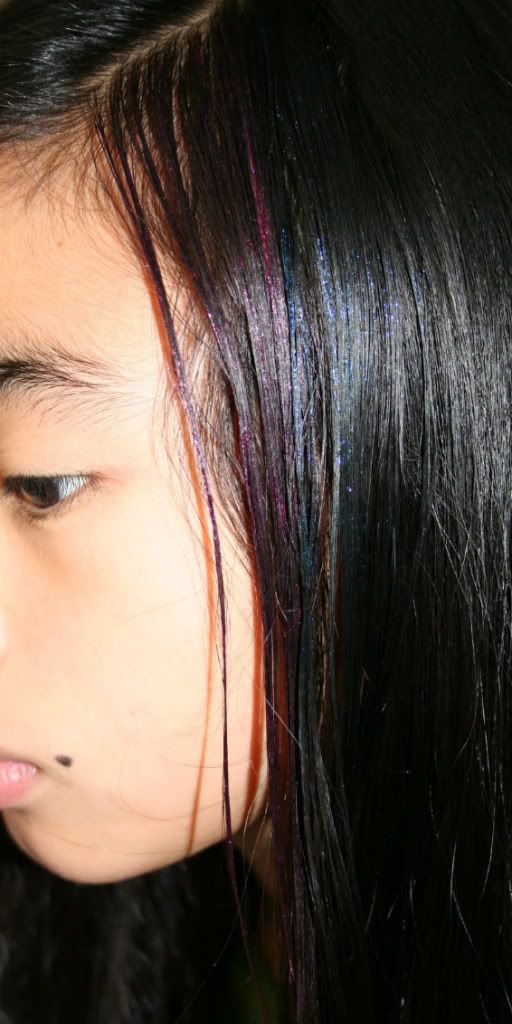 It took about 20-30 minutes for it to completely dry. Try not to mess with it too much while drying. The color transferred on my finger tips because I kept on touching every minute to see if it's dry. But it can be easily washed off with soap and water, so it wasn't a big deal.
As you can see in the photos, the colors did show up, but not as bright as I was expecting it. My neice's jet black hair made it difficult for the color to show. Also, her hair didn't turn crunchy or stick and I was able to style it.
The colors lasted the whole day and removal was easy. My niece took a shower and it came off just like that!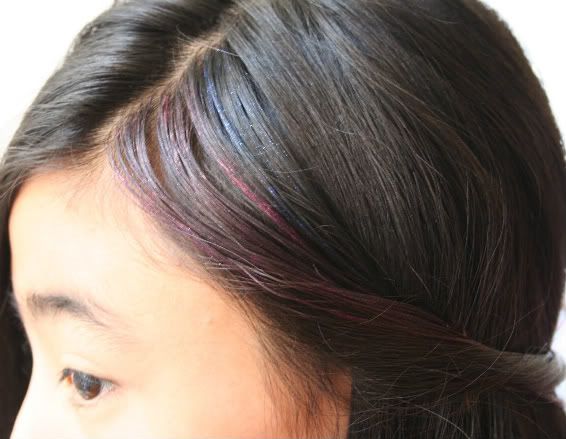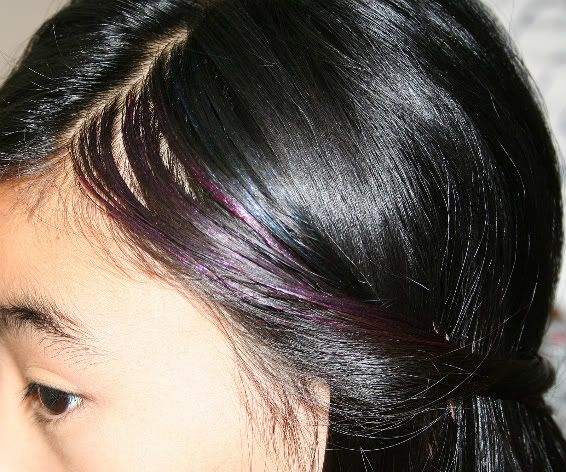 Milani Color Streaks are a fun way to add temporary color to the hair. It's very easy to apply as well as remove it. Just keep in mind that the color pay off will vary depending on your hair color. The darker the hair, the more difficult the color is going to show. These are only available for a limited time, so if you want to get your hands on them, go to your CVS drusgtore now!
availabilty:
At select CVS pharmacy
DISCLOSURE
:
A sample of this product was given to Everyday Makeup blog for editorial purposes, either directly from the manufacturer or from the agency that works on behalf of the manufacturer. All reviews on Everyday Makeup blog are the honest opinion of its author and editorial samples do not, in any way, affect the outcome of product reviews.