The other day, I got dolled up for no particular reason. I was at home the whole day and didn't really go anywhere, but still wanted to look pretty. I woke up early, took a shower, had a light breakfast, then did my makeup and hair, wore my favorite dress ever and cleaned and organized the house...What a day lol.
I did a neutral eye makeup using my Chanel eye shadow quad in Winter Nights
$56
. It's actually my very first eye shadow palette and I rediscovered how much I love it. It consist of 4 neutral shades: taupe (crease), light pink (lids) light peach (highligh) and black with gold specs (definer), and can be used to create day and night makeup.The shadows are soft and silky and the shimmers in it are so fine that it gives a nice sheen on the eyes , especially when the sun light hits it. So gorgeous!
This is not my photo. I got it from google. My quad is so old and beat up that I'm a bit embarrassed to post a photo O_o.
I applied a light pink eye liner on my water line to make my eyes look bigger.
I used Benefit Eye Bright
$20
. You can buy it
here
.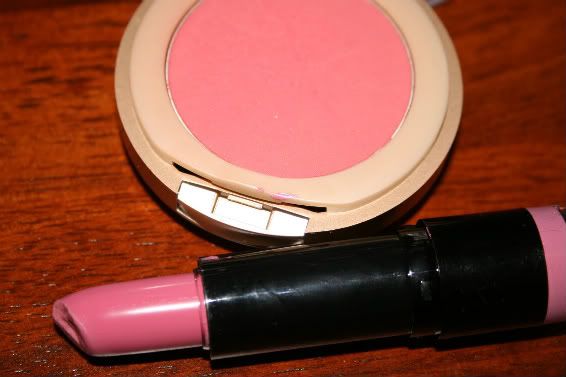 I used
Milani Mineral blush in Mai Tai
$6.49
for my cheeks. Buy it
HERE
. I've been reaching for this blush a lot lately. Its a gorgeous bright coral. For my lips, I used
NYX round lipstick in Paris
$1.99
. Buy it
HERE
. It's a pale pink with purple undertone. I haven't used this lipstick much because I think it's too light for my skin tone, but I managed to make it work buy adding
E.L.F. Minty lip gloss in Los Angeles
$3.00
, which is sheer fuschia. It tones down the paleness of the lipstick. Buy it
HERE
.
Products used:
eyes:
-NYX Eye Base in skin tone
-ELF Eye Primer
-Chanel Winter Nights Quad
-Benefit Eye Bright
-Stila Smudge Pot in black
-Maybelline Volum Falsies mascara
face:
-ELF Mineral Face Primer
-NYC Skin Matching foundation in medium to deep
-Almay concealer
-Mark Powder Buff foundation in Golden
cheeks:
-Milani Mineral blush in Mai Tai
-Milani Mosaic blush in Afterglow (Review/Swatch)
lips:
-EOS lip balm in Summer Fruit (
Review
)
-Wet n Wild lip liner in Willow (Photos)
-NYX round lipstick in Paris (Review)
-ELF lip gloss
I'm back on Youtube. I posted my "come back" video yesterday talking about my favorite products of July. Hope you guys check out my channel and subscribe ^_^