I have been keeping a little secret from you guys for almost a month, but now I can finally announce it. I'm so excited to tell you guys that NYC or New York Color Cosmetics has partnered with Everyday Makeup Blog for an awesome giveaway. This is for all of you guys, my lovely friends and readers. Thank you for showing so much love and support. You guys are awesome!
And thank you to NYC for sponsoring this amazing giveaway. I've always been a fan of their makeup, and I was able to try a lot of their products (which you can find a lot of my product reviews, swatches and makeup looks
HERE
), and I can honestly say that they are one of the best makeup drugstore brands. They prove that you don't have to sacrifice beauty just because you're on a budget. NYC is affordable and good quality makeup.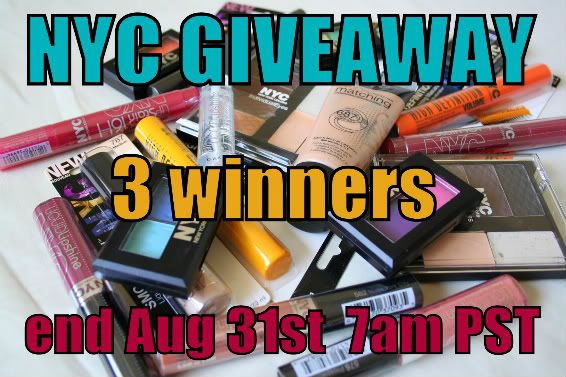 There will be 3 lucky winners
#1 First Prize Winner

$75 worth of NYC makeup
1. 2 Individual Smoky Eyes Palettes
2. 2 Liquid Lip Shines
3. 2 Smooch Proof 16HR Lip Stains
4. Smooth Skin Liquid Concealer
5. High Definition Volumizing Mascara
6. Show Time Volumizing Mascara
7. Metro Quartet Eye Shadow
8. Eye Lash Curler
9. Sun2Sun Bronzing Powder
10. Color Wheel Mosaic Face Powder
11. Lippin' Large Lip Plumper
12. Skin Matching Foundation
13. Cheek Glow Blush
#2 Second Prize Winner
$25 worth of NYC makeup
1. Individual Eyes Smoky Palette
2. Liquid Lip Shine
3. Smooch Proof 12 HR Lip Stain
4. City Curls Curling Mascara
5. Sky Rise Lengthening Mascara
6. Skin Matching Foundation
7. Classic Eye Liner Pencil
8. Cosmetic Sponges
1. NYC Branded Tote Bag
It's so easy to enter. Please read the rules carefully.
2. Like NYC on Facebook
HERE
(
+1
)
Additional entries:
3. Follow me on Twitter
HERE
(
+2
)
4. Make a post on your blog (
+5
)
5. Post it on your side bar (
+5
)
After you do all of the above, comment down below with your email and it should look something like this...
1.GFC username: ___________ (or type how you follow blog)
2. Facebook username:_________
3. Twitter username:__________
4. Blog link where you posted the giveaway:________
5. email address:_________
This giveaway is open to U.S. residents only. Sorry, I will have another giveaway open internationally next time.