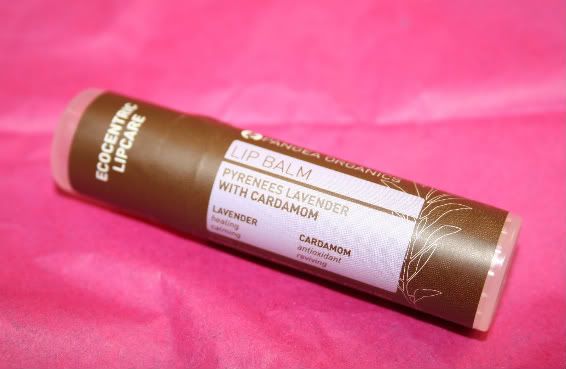 You probably know that I love my EOS lip balm in Summer Fruit. I used it up so much over the Summer, and I'm almost out. But lately, I find myself using Pangea Organics Lip Balm Pyrenees Lavander with Cardamom almost every single day. I love it. I think I love it more than my EOS. I got it a while back in my
March 2011 Birchbox
.
According to Pangea Organics...
"THE BALM. Our lip balm is the balm. It features deep-moisturizing, organic oils that offer tremendous staying power without that unwanted waxy feel. Nourishing and protecting, our lip balms have high bioavailability (easy for the body to use), absorb well into the skin and are long-lasting. Rich in vitamins, nutrients and essential fatty acids, each lip balm contains powerful healing properties that are good for you, good for your lips." (Taken from PangeaOrganics.com)
They have several scents/flavor available, but the one I got is Pyrenees Lavender with Cardamom. Cardamom in lip balm?I wasn't sure about it in the beginning. Cardamom is a spice, usually used in Eastern and Arab cuisines. It's a bit peppery and minty. So I was a bit weirded-out to see that ingredient in a lip balm.
What I like..
- It's very moisturizing and I don't feel the need to re apply through out the day.
- The stick is wider than regular lip balm, which means you get a lot of product.
-The Lavender Cardamom scent is very light.
What I don't like...
-I would say the price. It retails for $7-12 depends on where you get it. Yeah, I know, it's more expensive than your regular drugstore lip balm, but I say it's worth it!
If price is not an issue, I would definitely recommend this lip balm!