Thanks to everyone who left a comment on my
Walking On Eggshells After Christmas FOTD.
You guys are always sweet. As promised, here is the makeup and outfit I wore on Christmas. I went for a sophisticated glam look.
For my makeup, I just had to go bold and do red lips. What's more "Christmasy" than red lips right? It's festive, fun and very sexy! I kept the eye makeup minimal to compliment bold lips by using browns on the crease, a shimmery champagne on the lids, lots and lots of mascara and winged liner. I currently have a thing for wing liner, and I find myself doing it in a lot of my looks.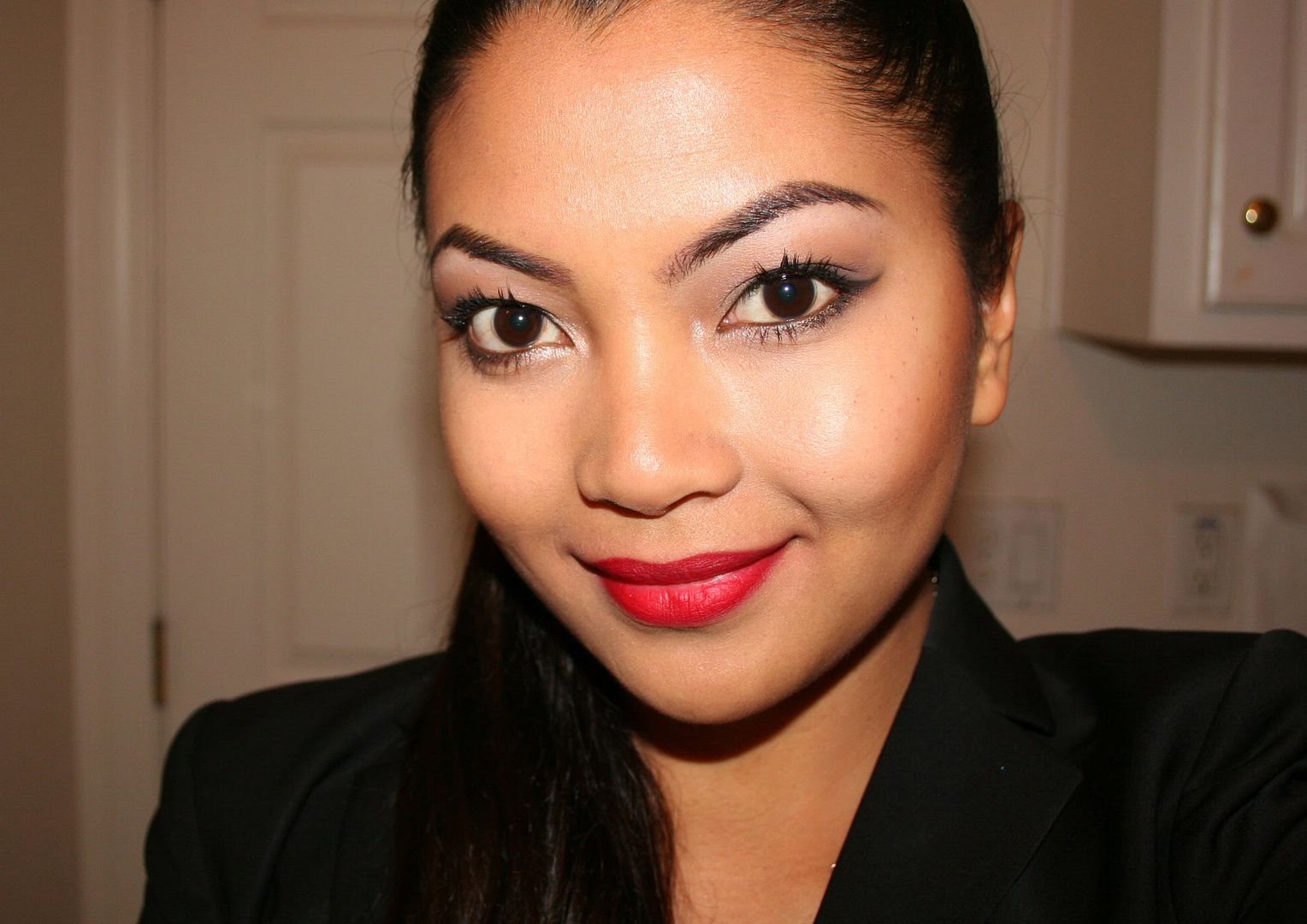 I'm not sure if you notice, but I'm not wearing any blush. I skipped it and just went straight to bronzer and applied it under my cheekbones to contour my face. I love doing this little trick because it gives the illusion of defined cheekbones, making my face look slimmer....yeeeaah!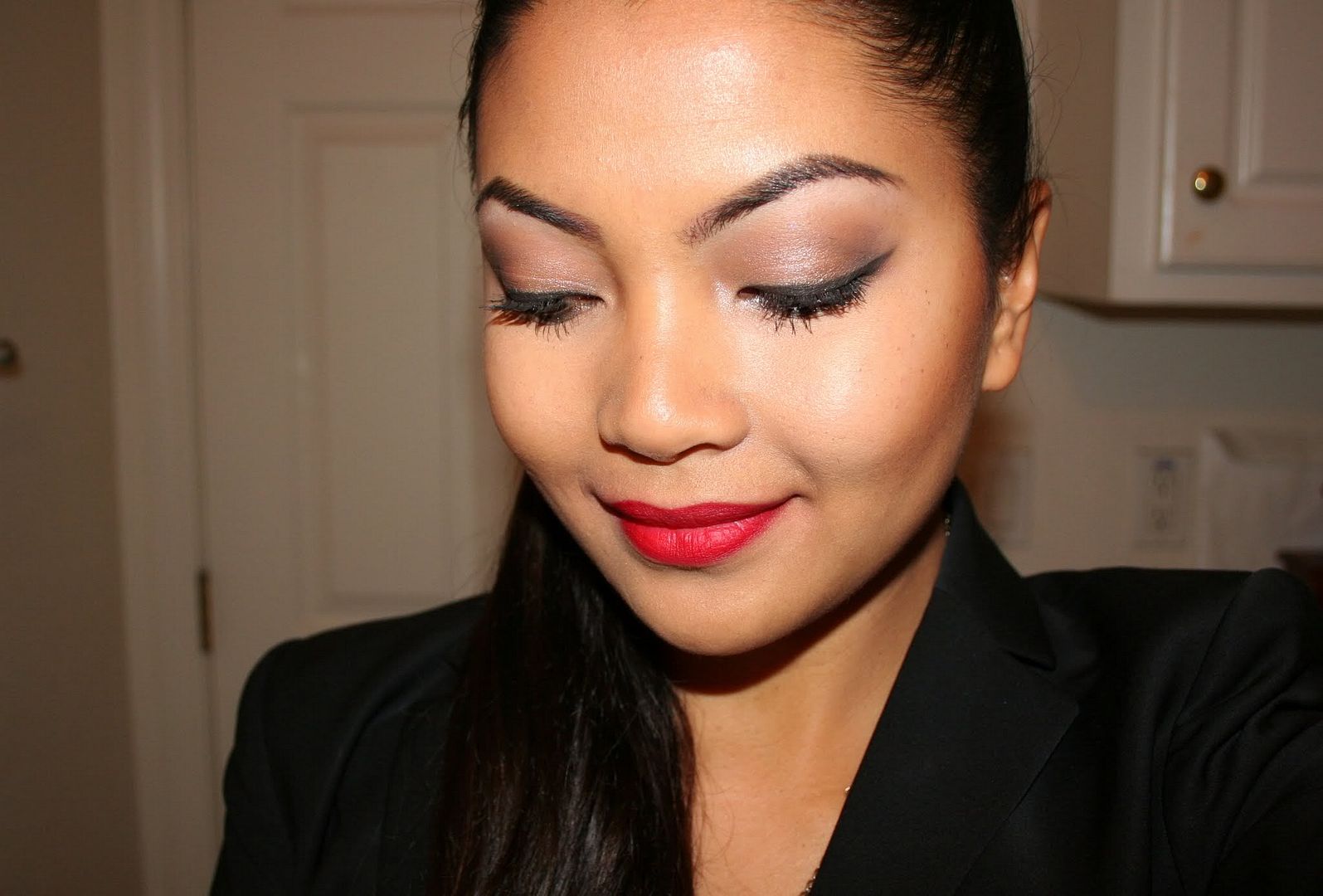 For a long lasting red lips, apply NYC New York Color 16Hr LipStain in Rock on Ruby on the lips, top it off with MAC lipstick in Ruby Woo, then set it with a powder.

Products used:
face:
-MAC Studio Fix Fluid in NC 42 (blended down to my neck)
-Avon Anew liquid concealer in Medium (under the eyes)
-MAC Mineralized Skin Finish Natural in Medium Deep (to set the makeup)
eyes:
-Wet n Wild I Heart Matte (flesh, brown on the crease and outer corner, beige on the brow bone)
-Urban Decay eyeshadow single in Sin (lids)
-Stila Smudge Pot in Black
-L'Oreal Million Volume Lashes
cheeks:
-Milani Mosaic blush in Afterglow (under the cheek bones)
lips:
-NYC New York Color in Rock on Ruby
-MAC lipstick in Ruby Woo
Now for my outfit, I wore a tank dress with metallic gold bronzey top with a dark grey skirt and my Ann Taylor blazer over it. I love wearing this blazer. It looks great on anything, and It makes any outfit look sophisticated. And I also love this dress. It has a stretch waist that gives my body an instant shape.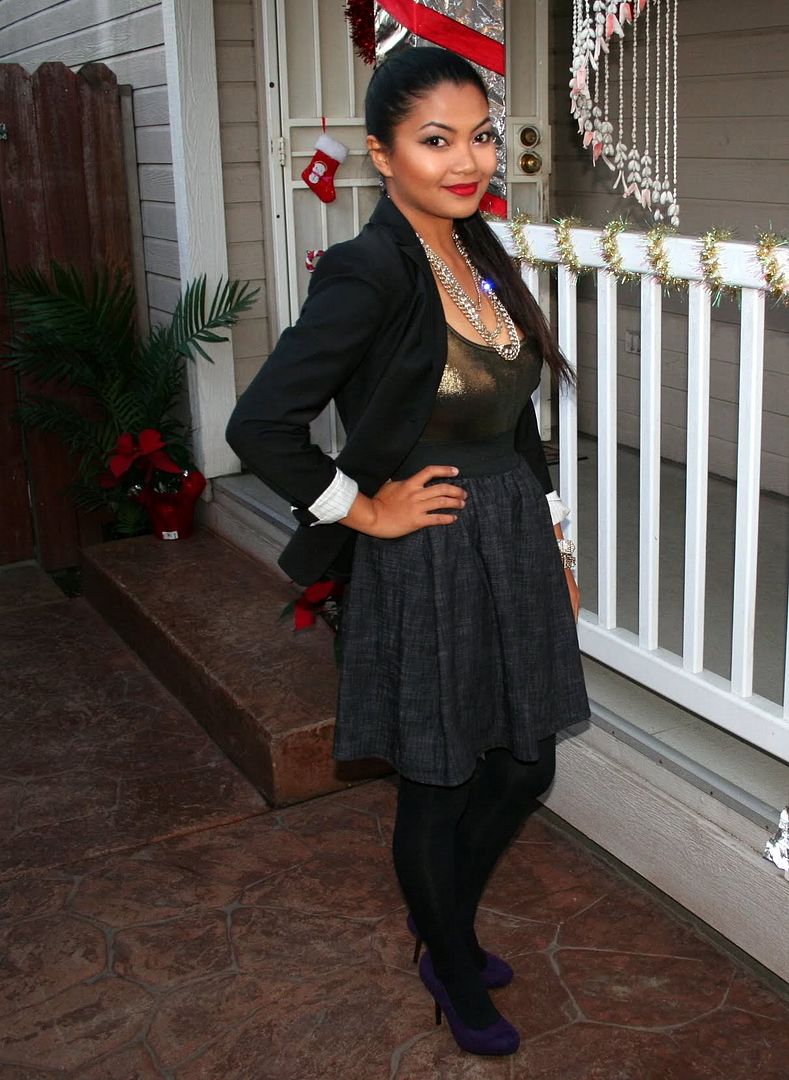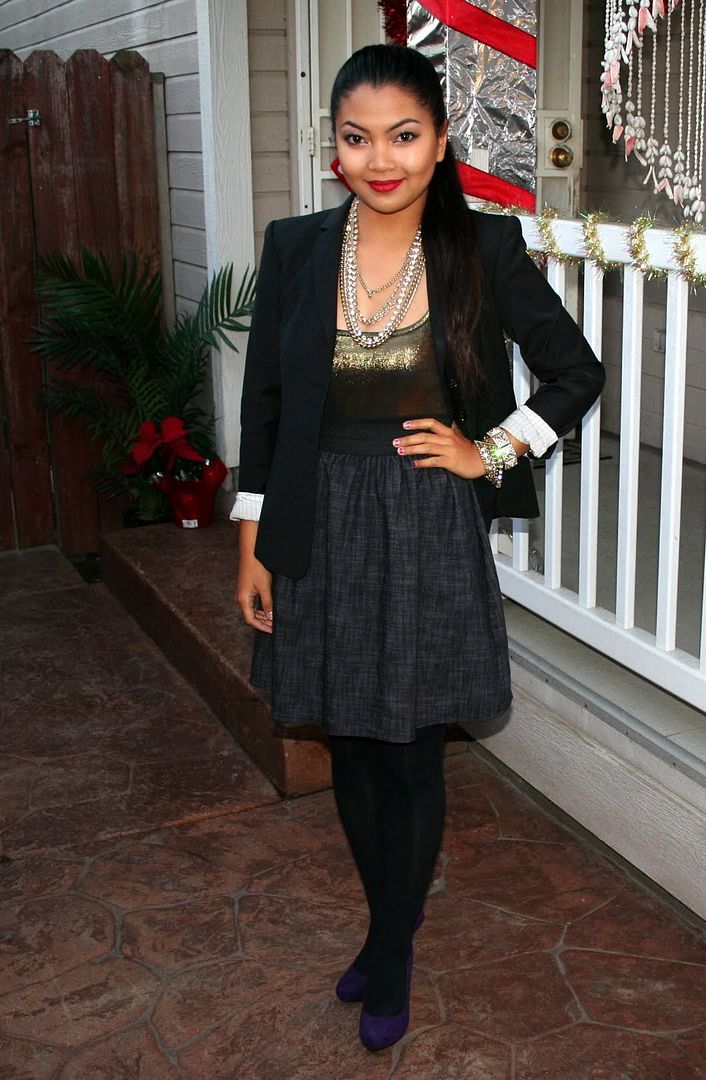 Lots of "bling" for accessories. I wore my Ann Taylor layered necklace and bracelet.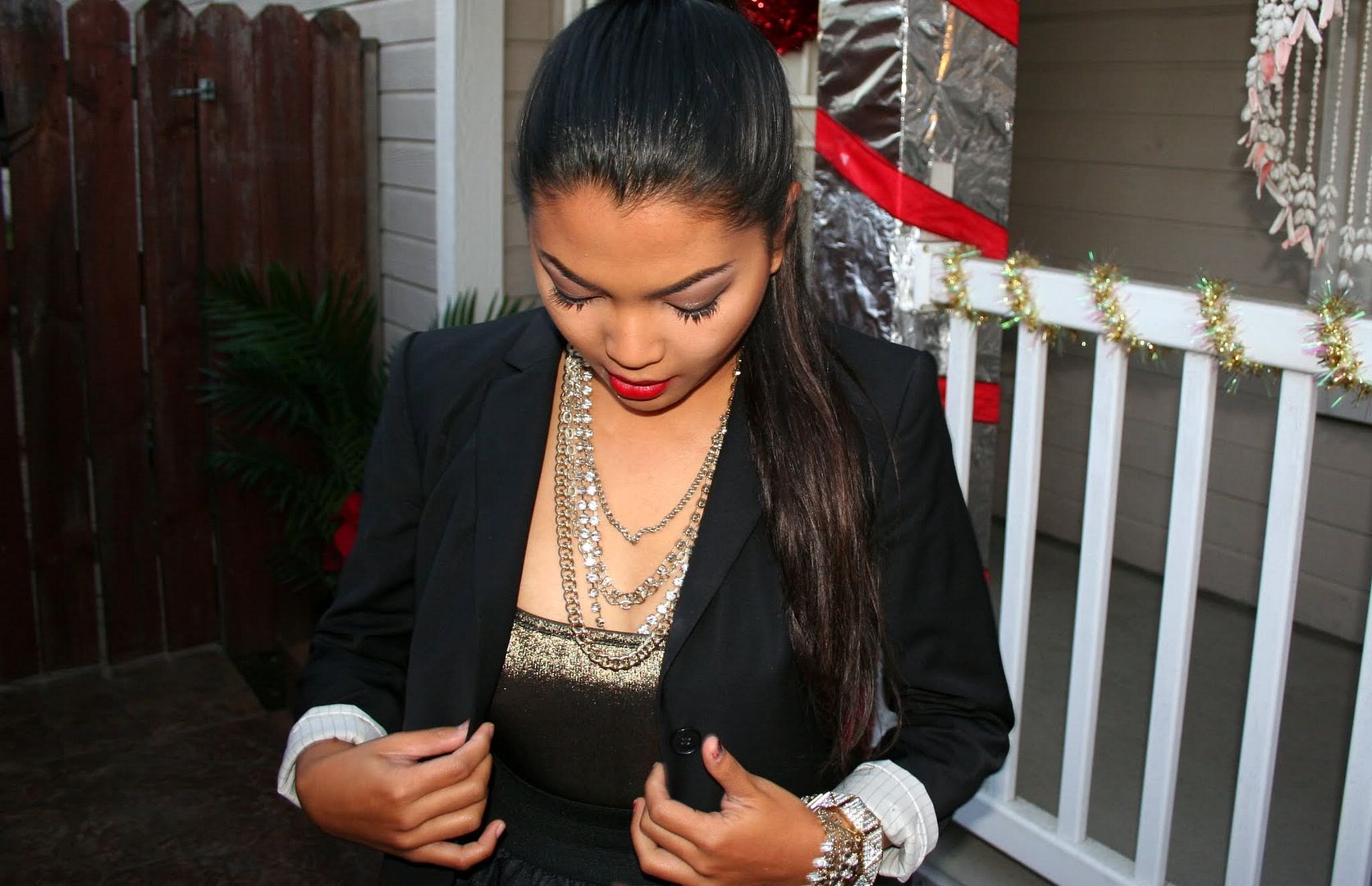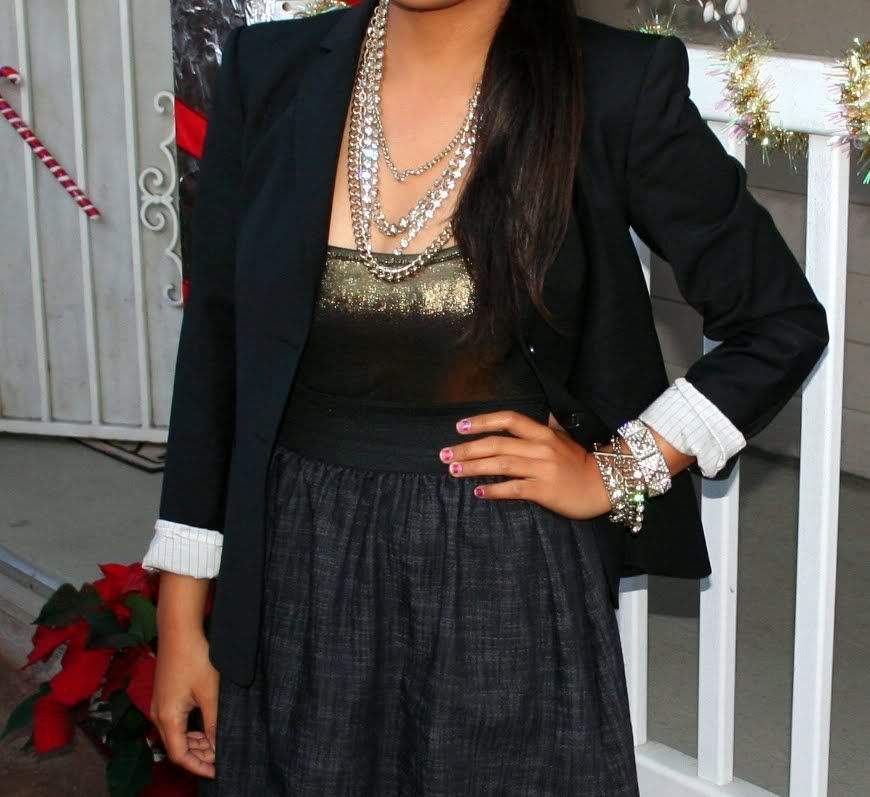 I like this photo. You can see the contour under my cheekbones very well.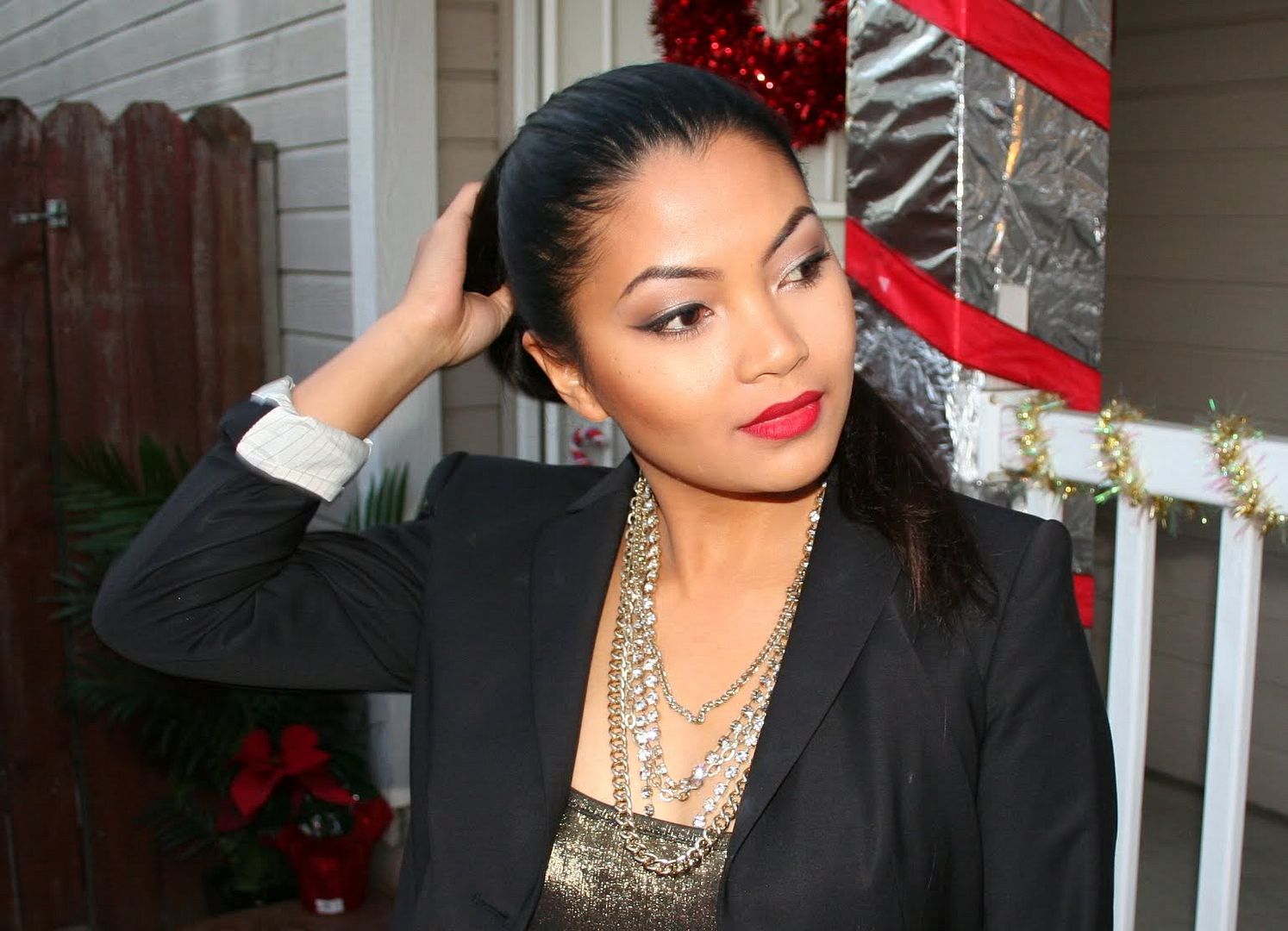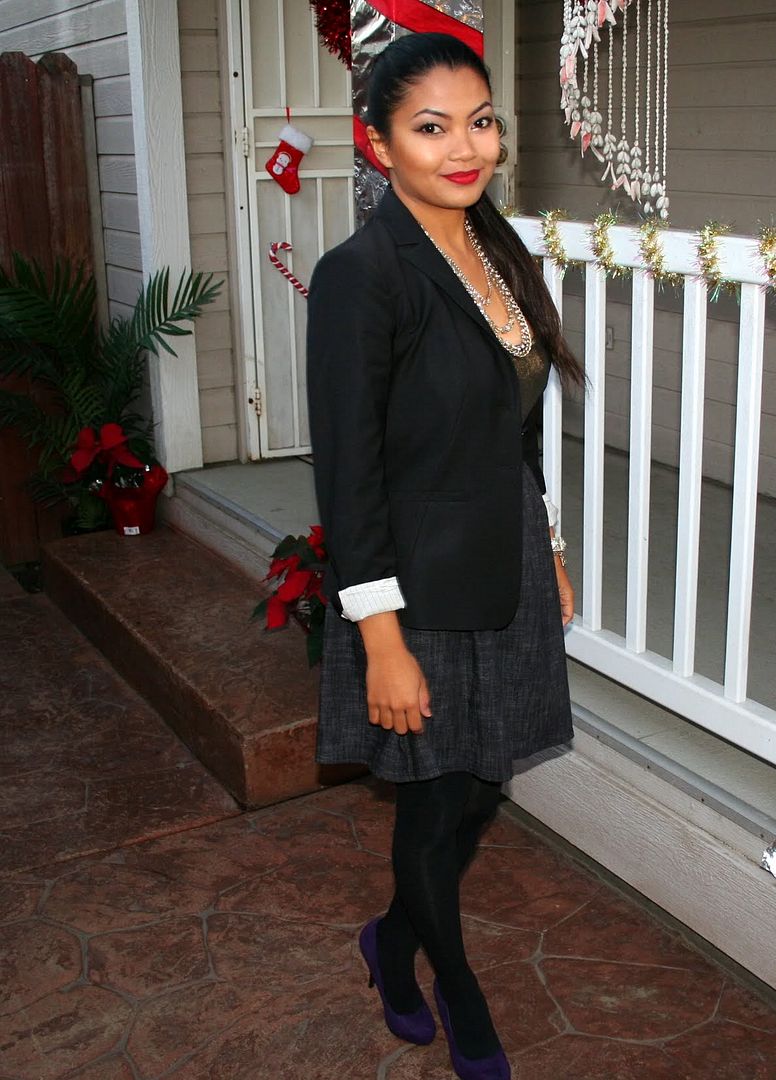 These are my $10 purple faux suede pumps from my
Downtown L.A. Fashion District haul
. I take back what I said about them being uncomfortable. I was actually able to walk in them all night and surprisingly didn't hurt my feet. No kidding!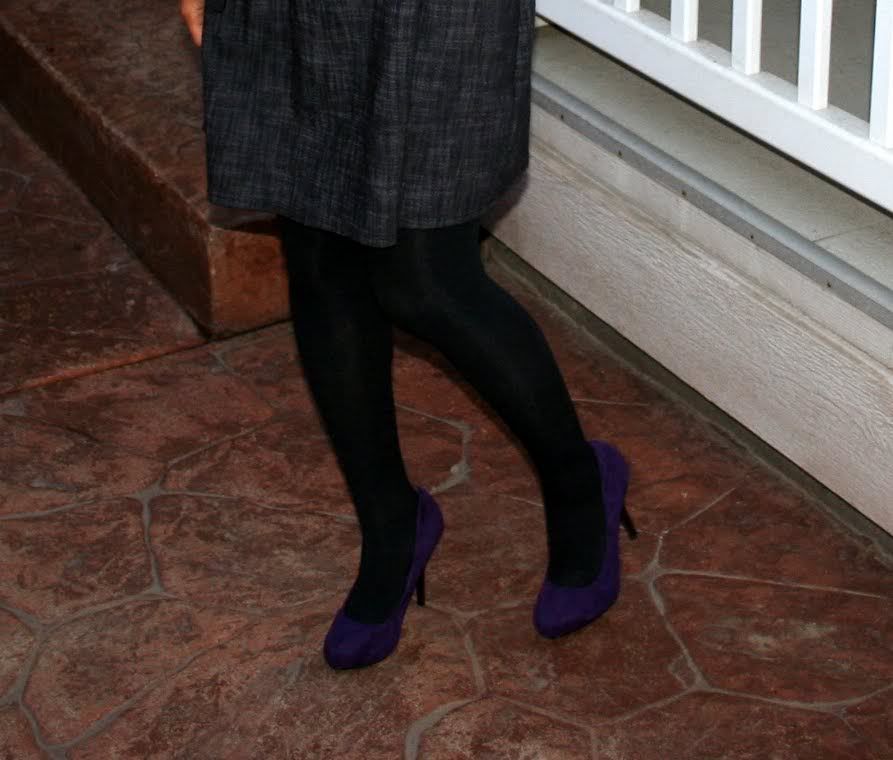 Now, onto Food Porn...Lets start with
Christmas Eve
dinner with my family. My cousin cooked everything with the help of my aunt. I'll let the photos speak for themselves.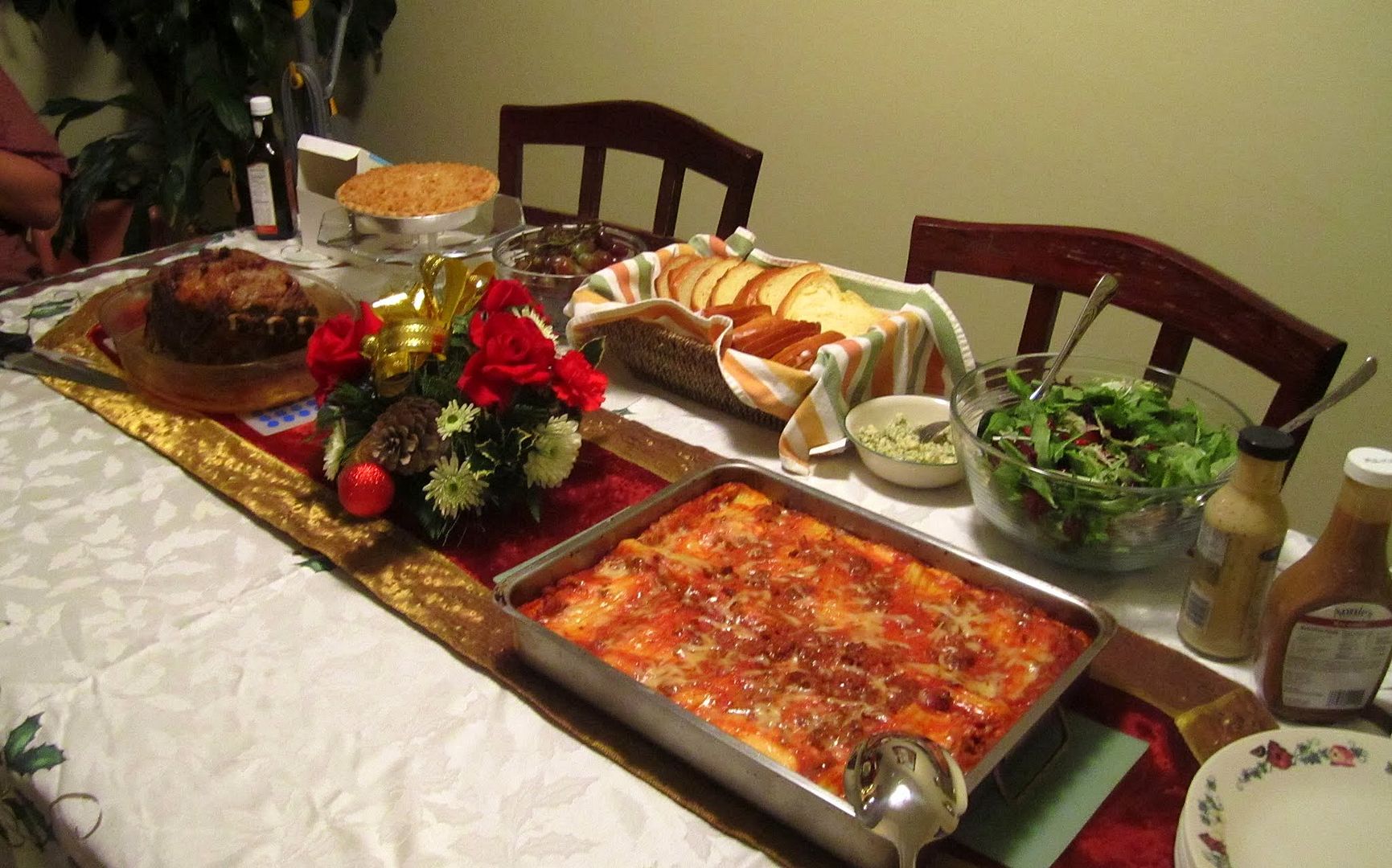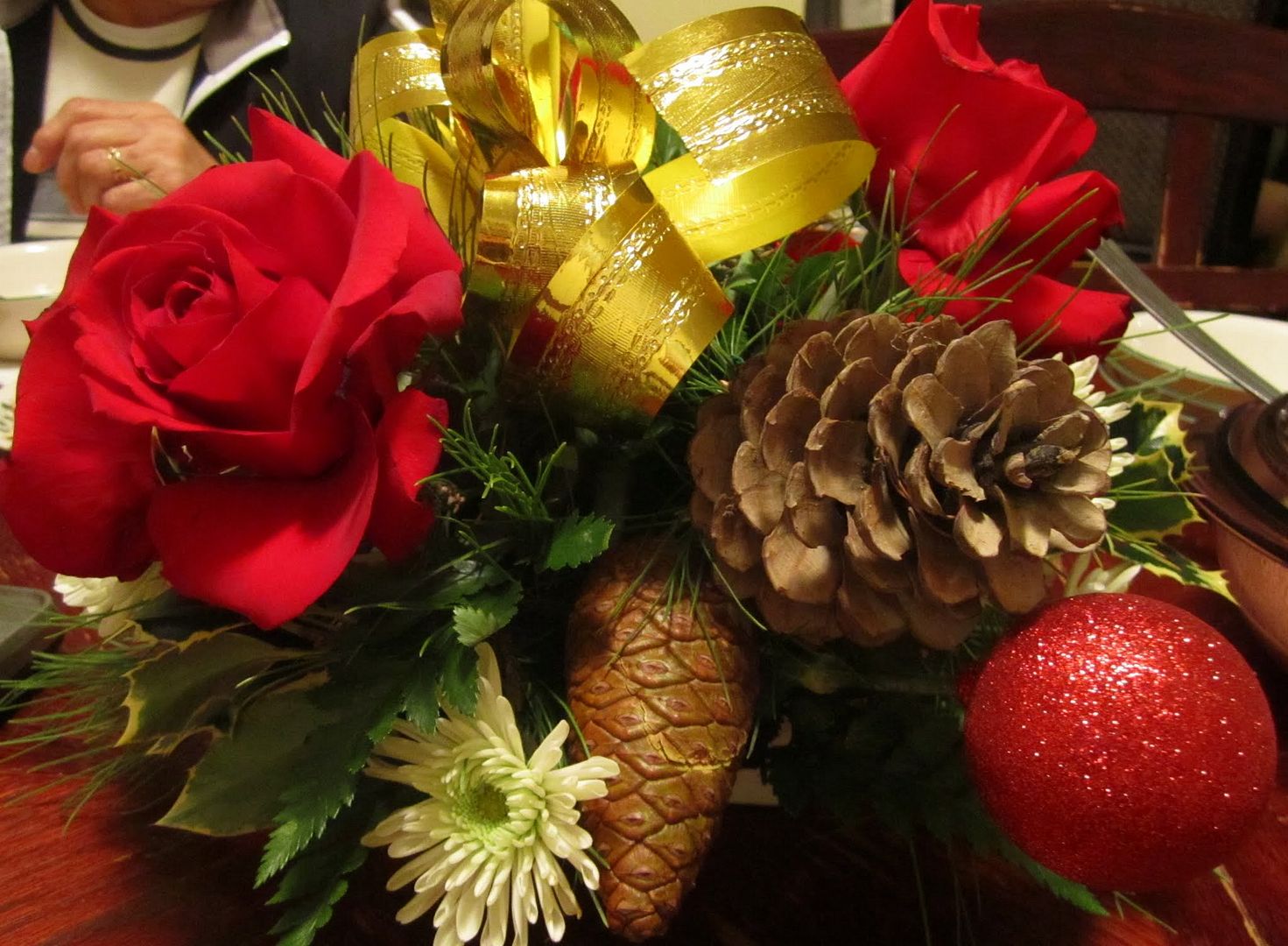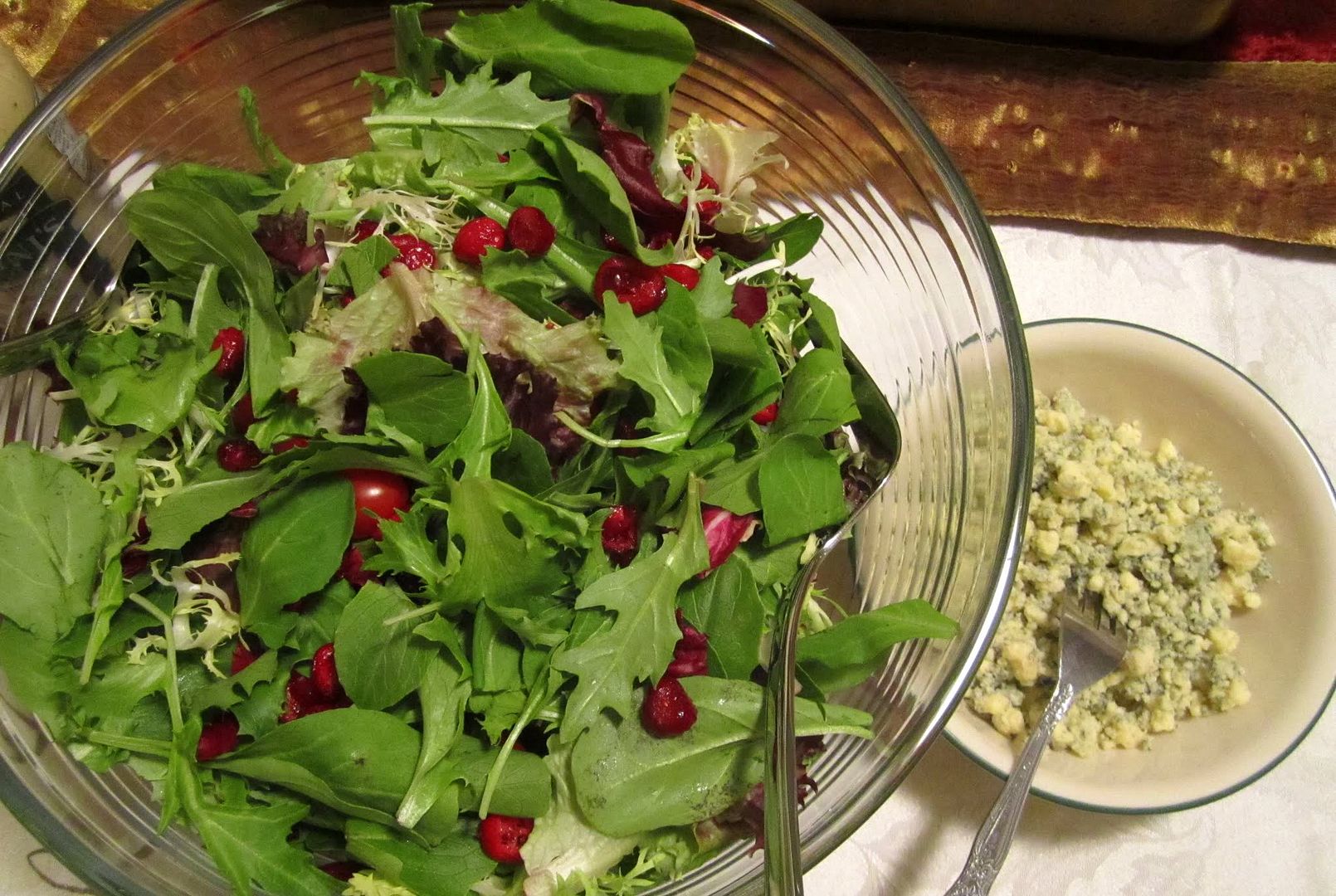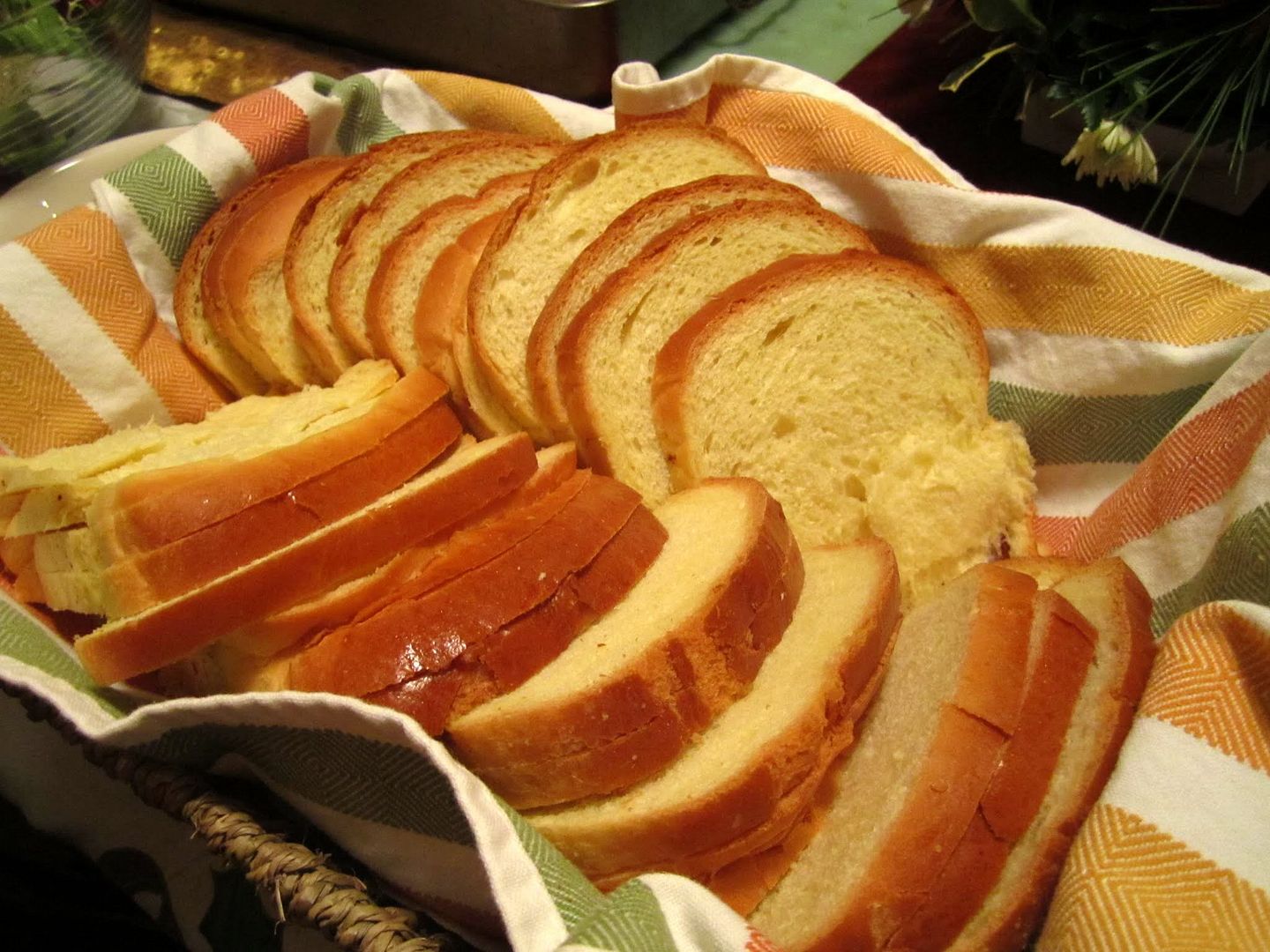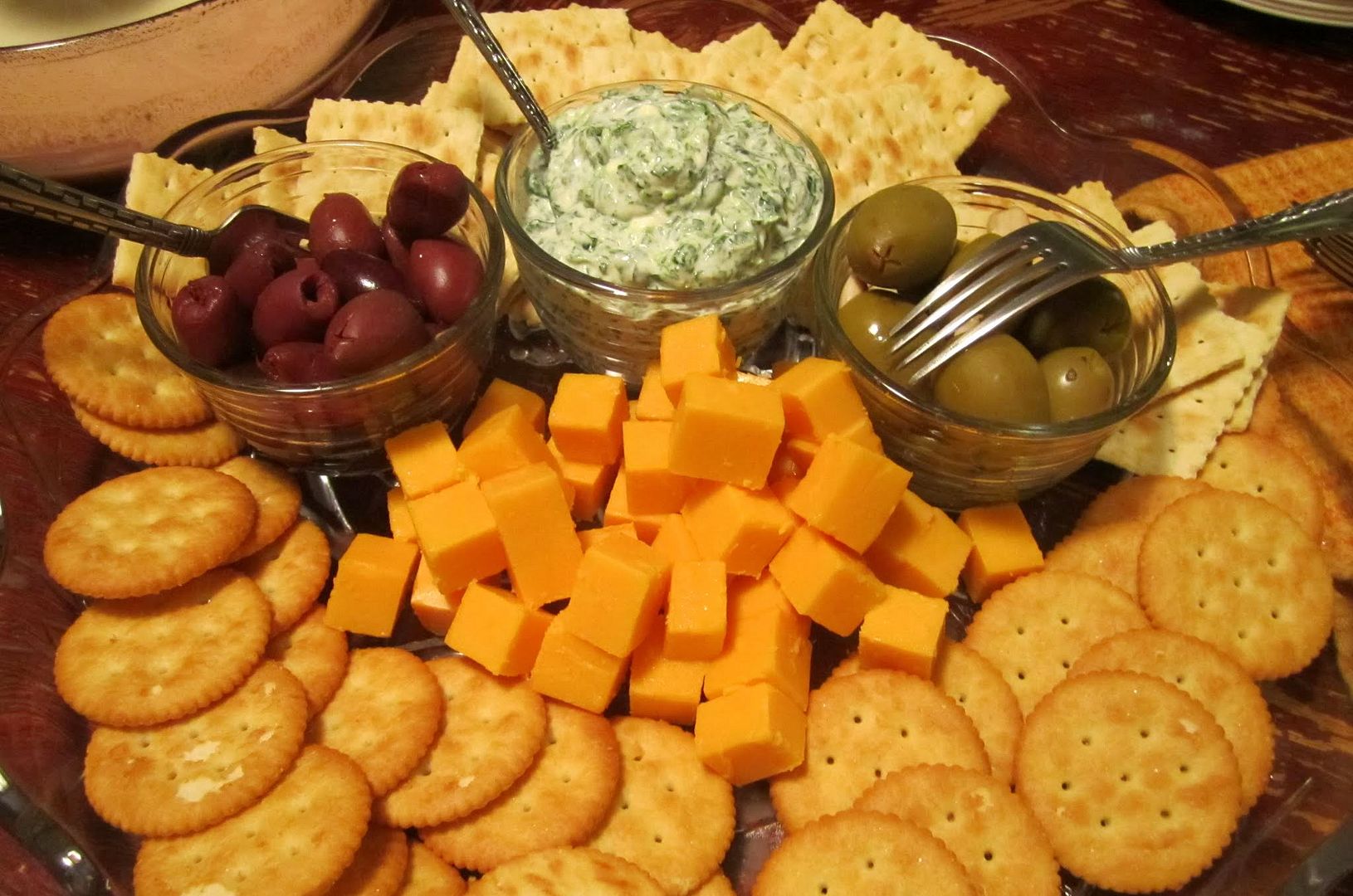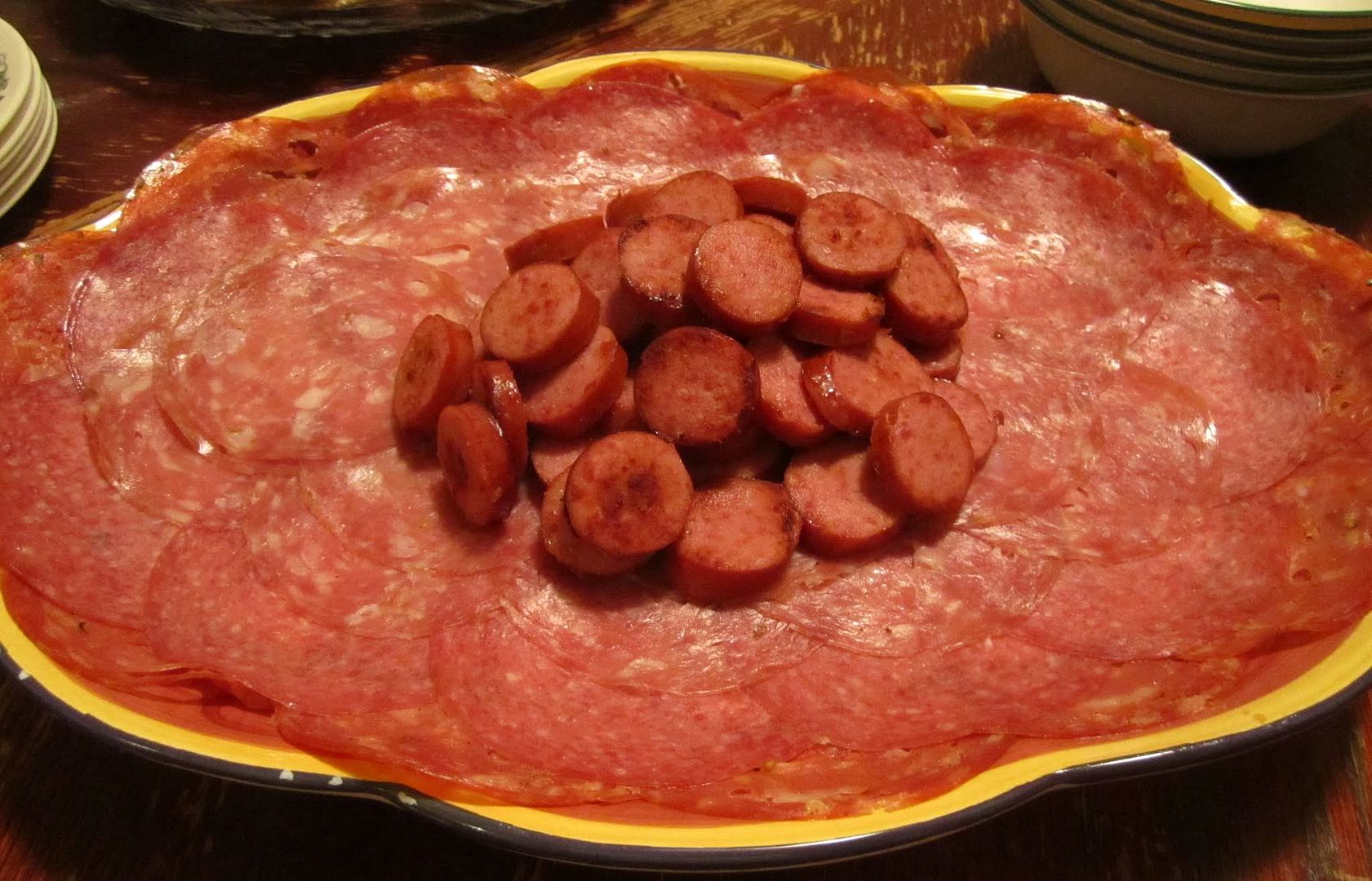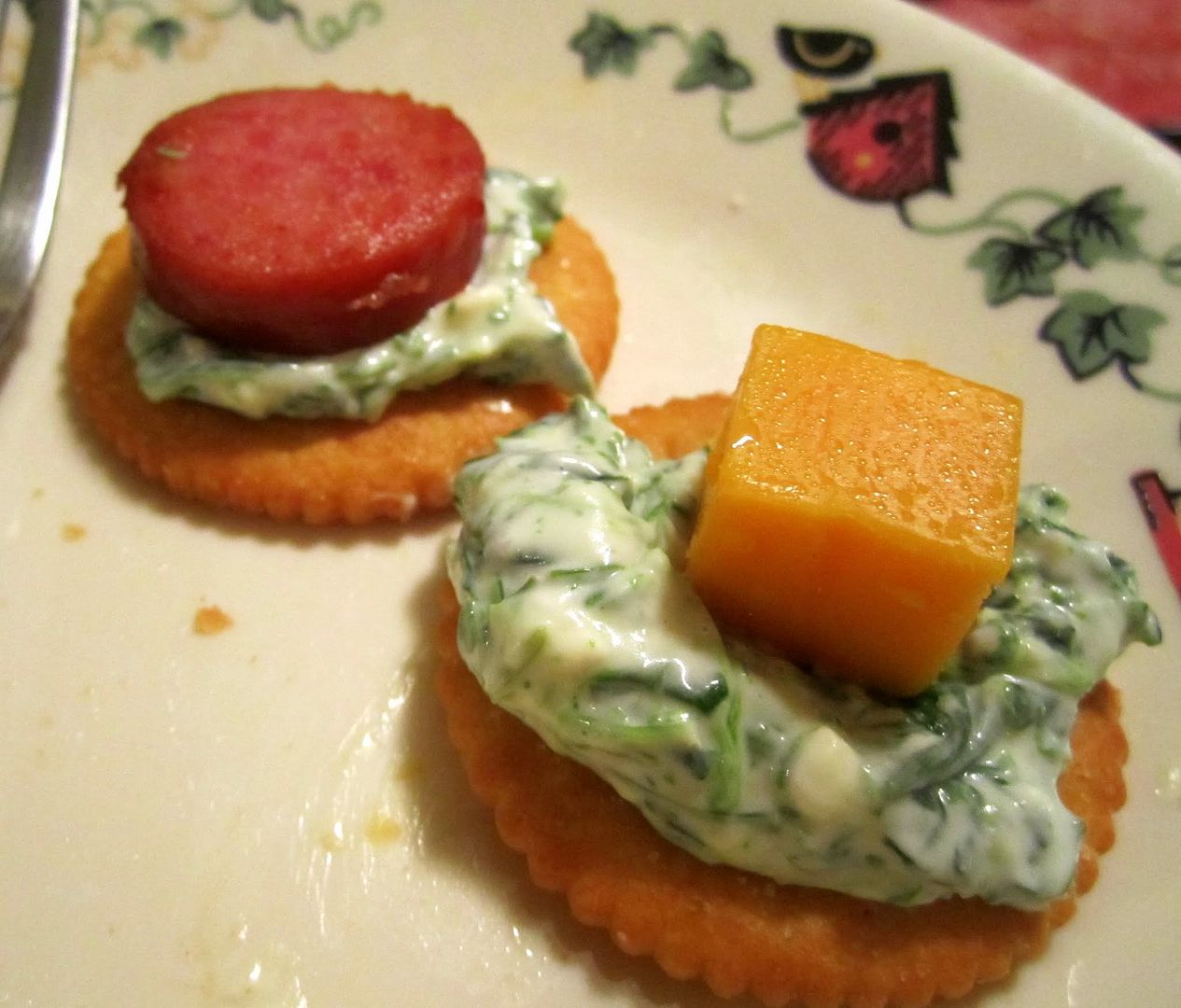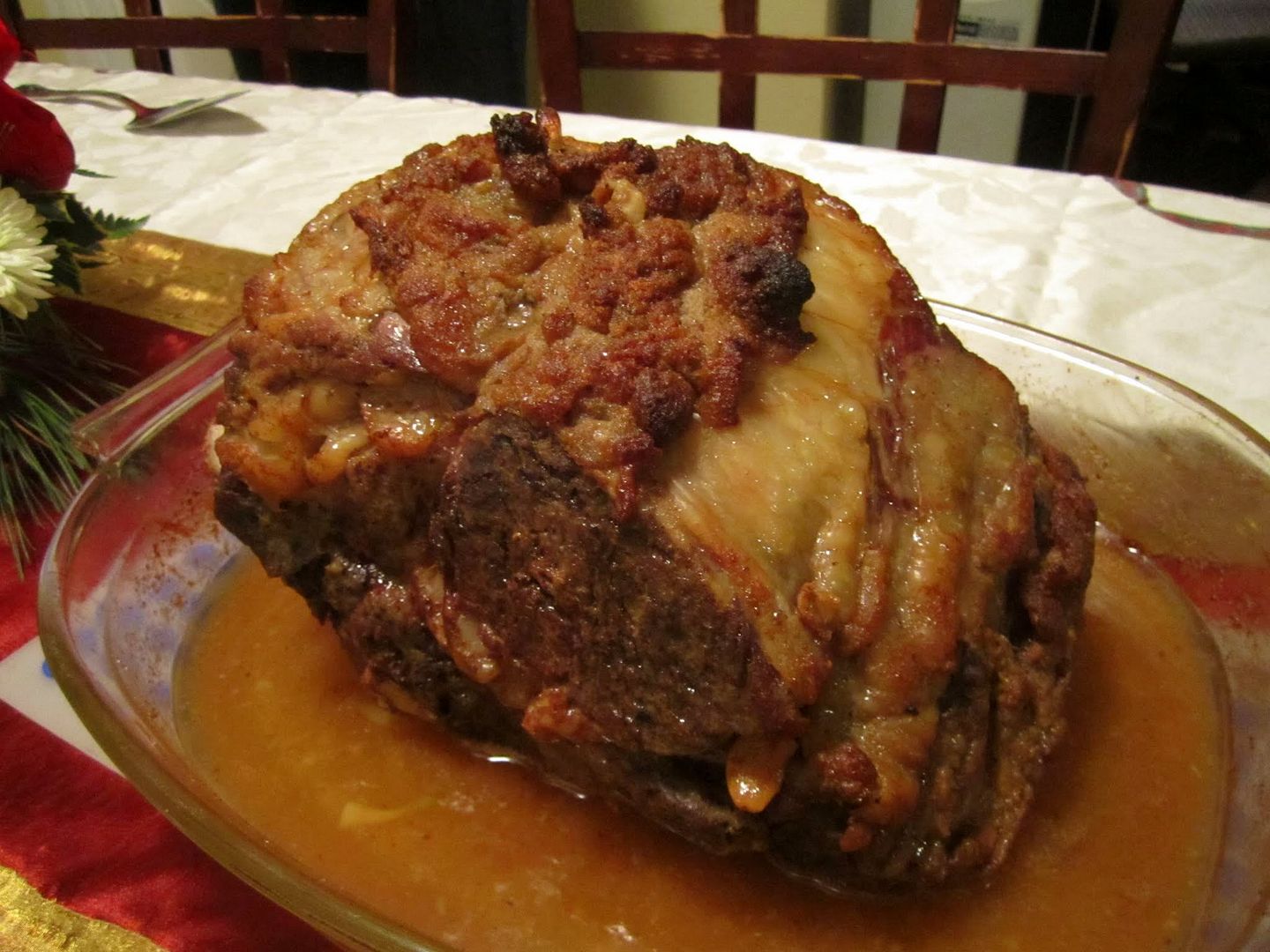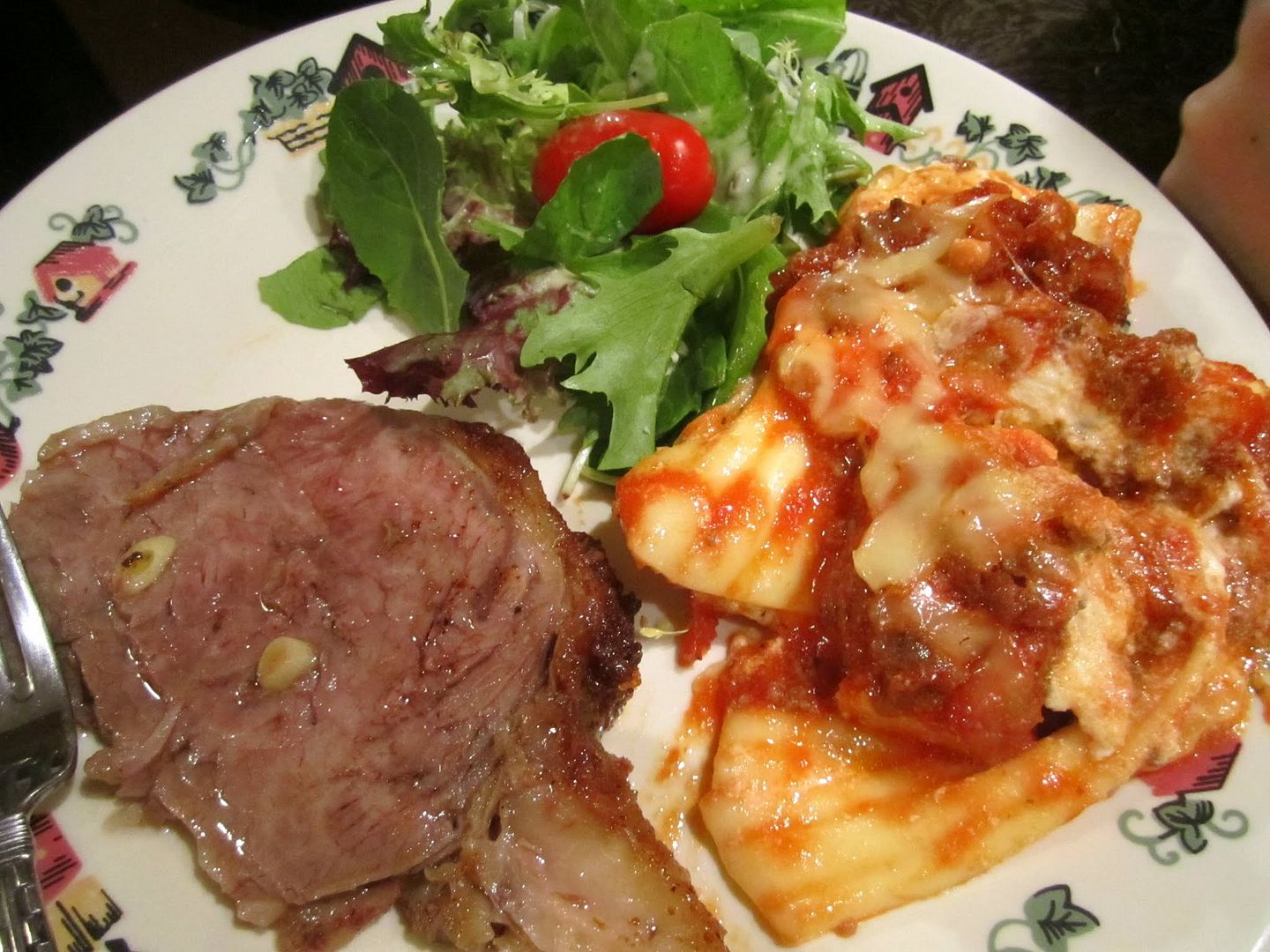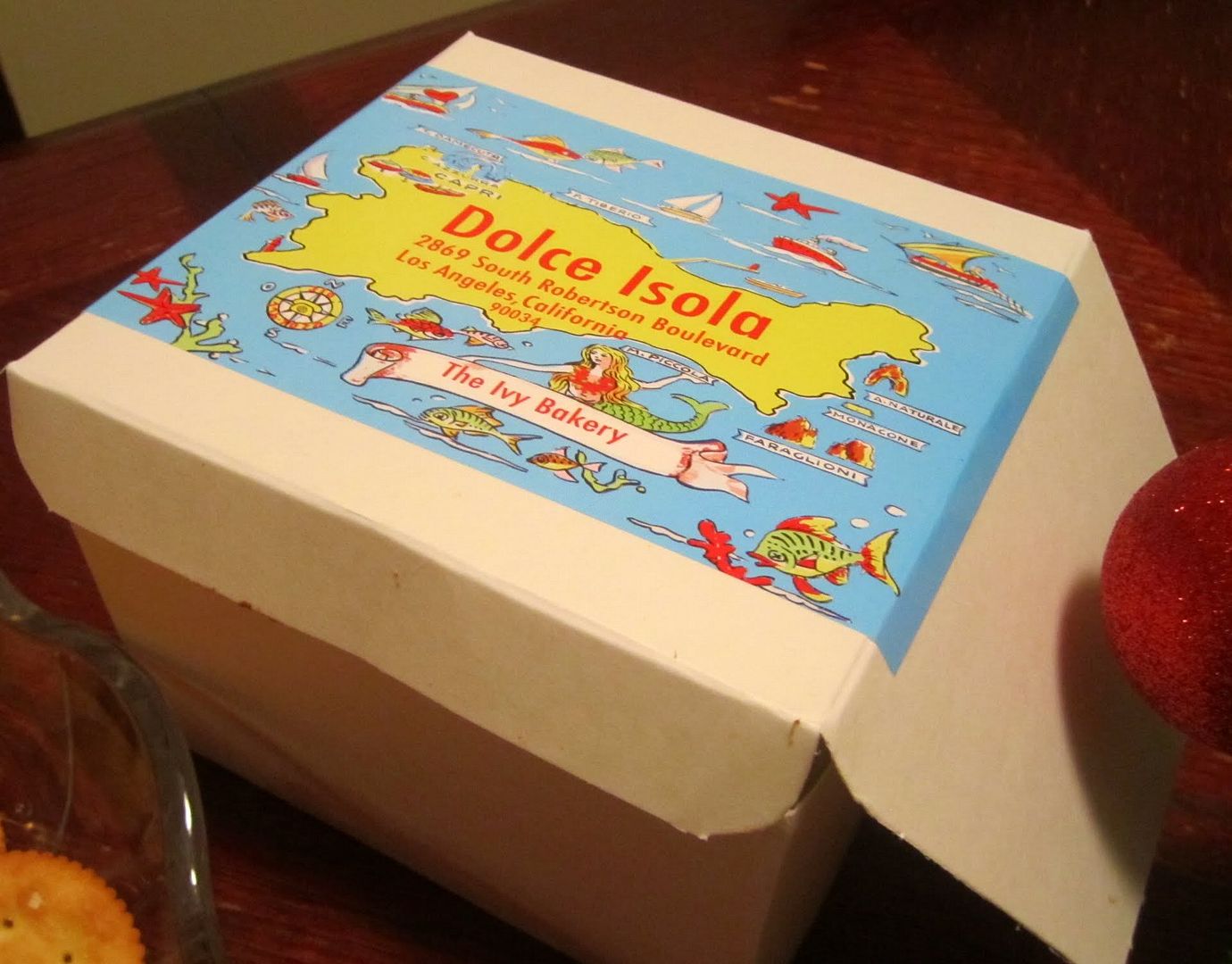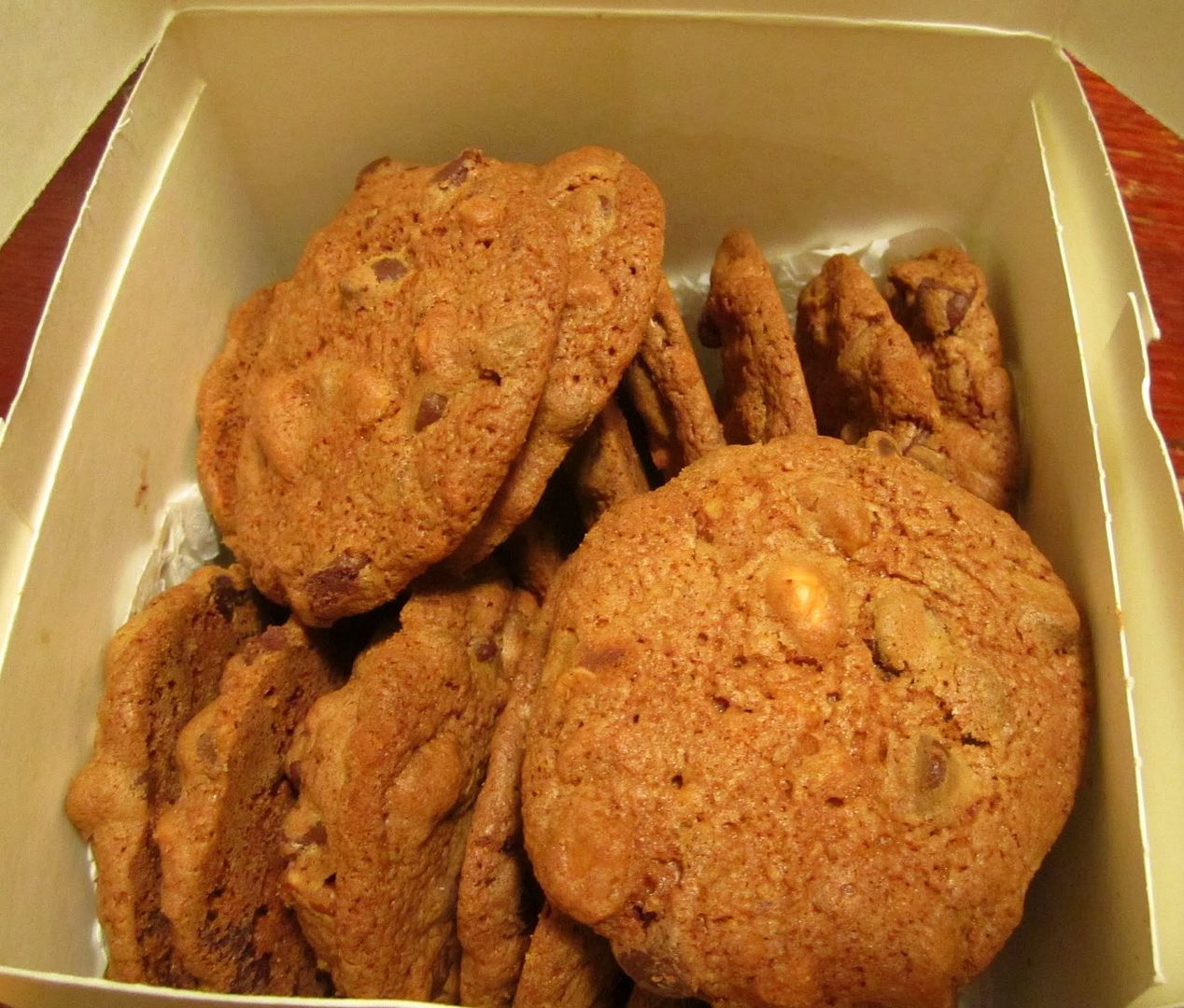 Christmas morning
was spent with my Kiko, and we had
sugar
for breakfast... pancakes, cookies and eggnog HA! We also exchanged presents. I got him his video game he's been wanting, while he got me a Crock Pot. I can't to try some slow cook recipes.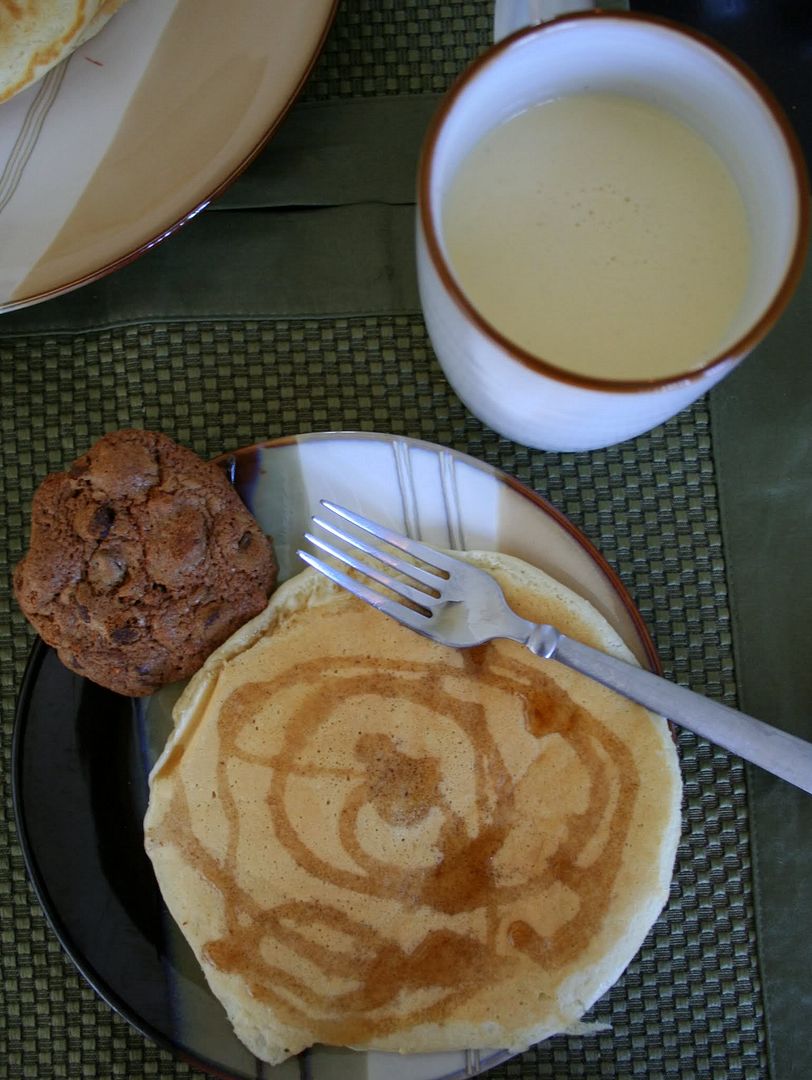 Then, we had
Christmas dinner
with his family
.
His sisters are awesome cooks, and I loved everything. We had roast beef, meat loaf, greens, corn bread, brussel sprouts, mashed potatoes and tamales. Jealous? You should be!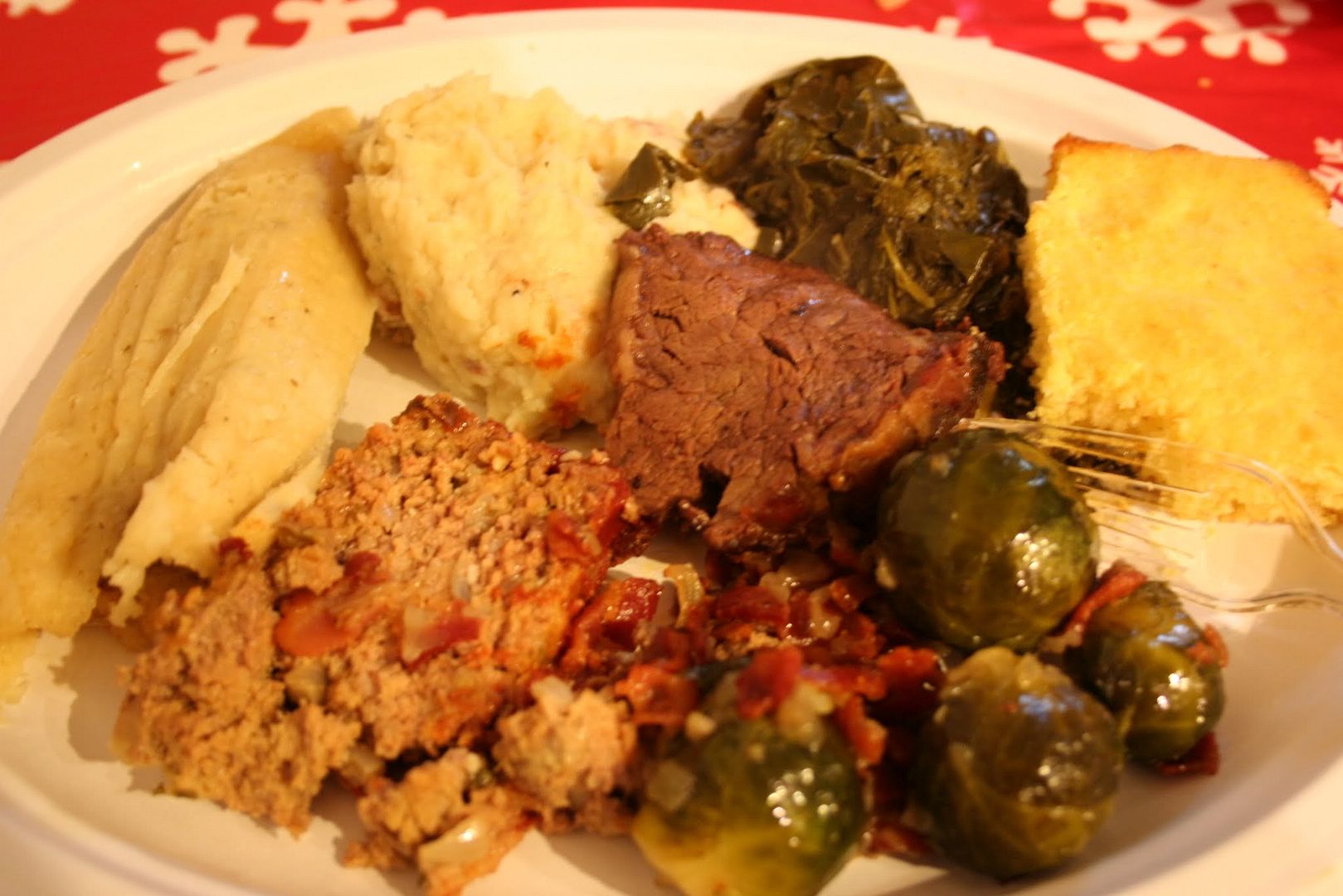 I wanted nothing more than a waffle maker (and crock pot) for Christmas, and I got it! Can you see how happy I am with my cheesy smile? Thank you, Santa! I mean, thank you, Nena and Kiko!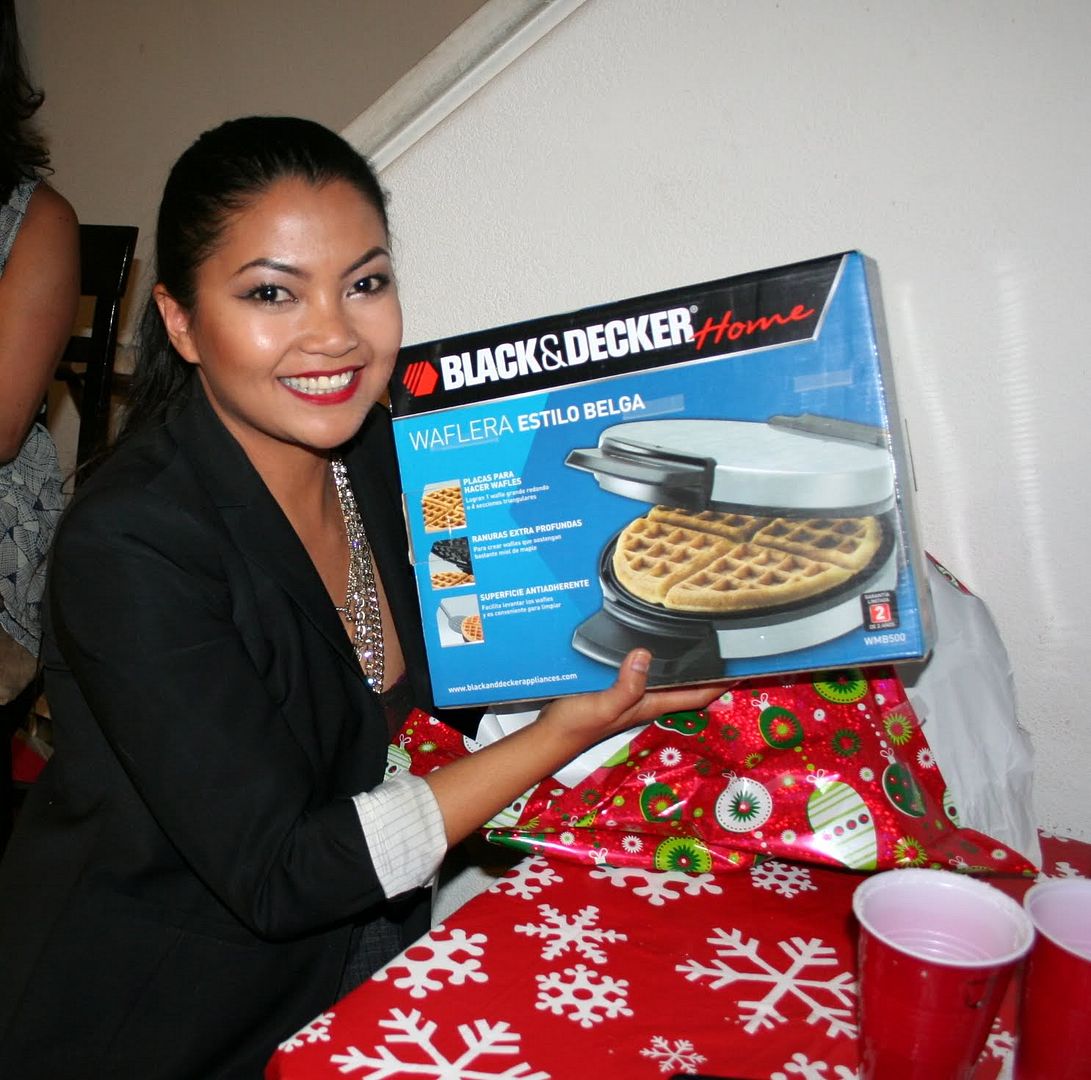 Whew, that was a long post. Thanks for bearing with me.
I hope all of you had an awesome Christmas day with your family and friends!