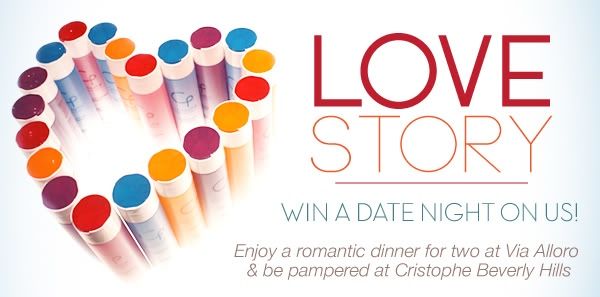 Here is an exciting Valentine's Giveaway for those who live in the Los Angeles and nearby counties.
February is the month of love, and we want to celebrate by hosting a fun couples' giveaway. Partnering with Via Alloro, a delicious Italian restaurant right around the corner from Cristophe Salon Beverly Hills, a wonderful date night could be yours. Savor a scrumptious dinner for two with a hundred-dollar gift card; after getting refreshed and renewed at Cristophe Salon. You and your loved one will be pampered at Cristophe Salon Beverly Hills, a special package designed for this contest alone. Open to all couples in-love and best friends forever, share with us your love story.
One lucky couple will win this fabulous date night to celebrate you two in love.
To Enter:
*This contest is also open to best friends, instead of first date it can be "First Hang Out."
Contest will
end February 29, 2012 at 12am PST.
Winners will be announced March 2, 2012.
Please read details of prize along with terms and conditions after the jump before entering.
*For an extra entry re-tweet the Love Story giveaway @CristopheSalon
*pampering at Cristophe Salon Beverly Hills includes:
Female Winners: *makeup application, manicure, trim hair, blow dry.
Male Winners: haircut, facial or manicure.
-makeup application excludes airbrush and lashes
*dinner at Via Alloro includes:
$100 gift card for food only
No Wine/Liquor/Alcohol beverages
Dine-In Only
Valid Monday – Wednesday Only
Tax and Tip and not included.
Terms and Conditions:
* Participants must be 18+
* Open to U.S. residents only
* Contest ends February 29, 2012 12am PST
* Winner will be announced March 2, 2012 11am PST
* Winner must claim the prize within 24 hours or a new winner will be selected.
* Total estimated value of Love Story contest $500.
* Winner is responsible for transportation to and from the salon and restaurant when redeeming their prize, along with parking.
*Pampering package at Cristophe Beverly Hills must be redeemed within 6 months by booking an appointment before August 1, 2012.
*Via Alloro gift certificate expires in February 2013.
* All persons working at or related to any of the Cristophe or Villa Alloro enterprises cannot participate in the contest.
*Winner can not have already won a prize hosted on the Cristophe Blog within a year of their first winnings.
GOOD LUCK!!!