Doll like eyes and purple lips is what I wore at my date with Baby Cakes over the weekend. I know, it's a bit extreme for a date night look. The white eye liner and lots and lost of mascara makes my eyes look super big and the purple lips is just way too bright and loud. But hey, we've been together forever, so I wear whatever I want and I don't really care if he's going to appreciate my natural beauty or not. Wow, that sounds rude. But I hope you know what I mean.
GET THE LOOK
Reviva Labs face primer applied evenly through out the face. This will make the foundation apply smoother and last longer.

MAC Studio fix fluid in NC42

applied with a damp Beauty Blender all over the face until you get an even application.
Set it with

MAC Mineralized Skin Finish Natural

in Medium Deep.
Urban Decay Primer Potion

applied on the lids to prevent the colors from creasing.

Wet n Wild Color Icon I Heart Matte palette

: apply white all over the lids up to the brow bone and brown and flesh on the crease with a fluffy blending brush to create a soft definition.
Line the upper lash line with

Sonia Kashuk gel liner in Ebony

using an angled liner brush.
Line the water line with

Jordana eye liner pencil in white

and set with a white eye shadow. This will create the illusion of bigger eyes.
Curl lashes and apply a generous coat of

L'Oreal Million Volume Lashes mascara

on the top and bottom lashes.
Joey NY blush on the apple of the cheeks using a stippling brush.
Moisturize well with

Blistex lip balm

.
Apply

Wet n Wild Color Icon eye liner in purple

as a base for the lip color. This will give the purple under tone.
Top it off with

Wet n Wild Mega Last lip color in Dollhouse pink,

focusing on the center.
Lightly outline of the lips with the purple liner and blend with a lip brush so it doesn't look harsh. This will create kind of like a 2 tone effect. Purple on the outline and pinky purple on the inside.
And this is the outfit I wore. It's just as loud as the makeup lol. And love this top I got at
San Pedro Wholesale Mart
for $5. The lace and pattern is bright and crazy!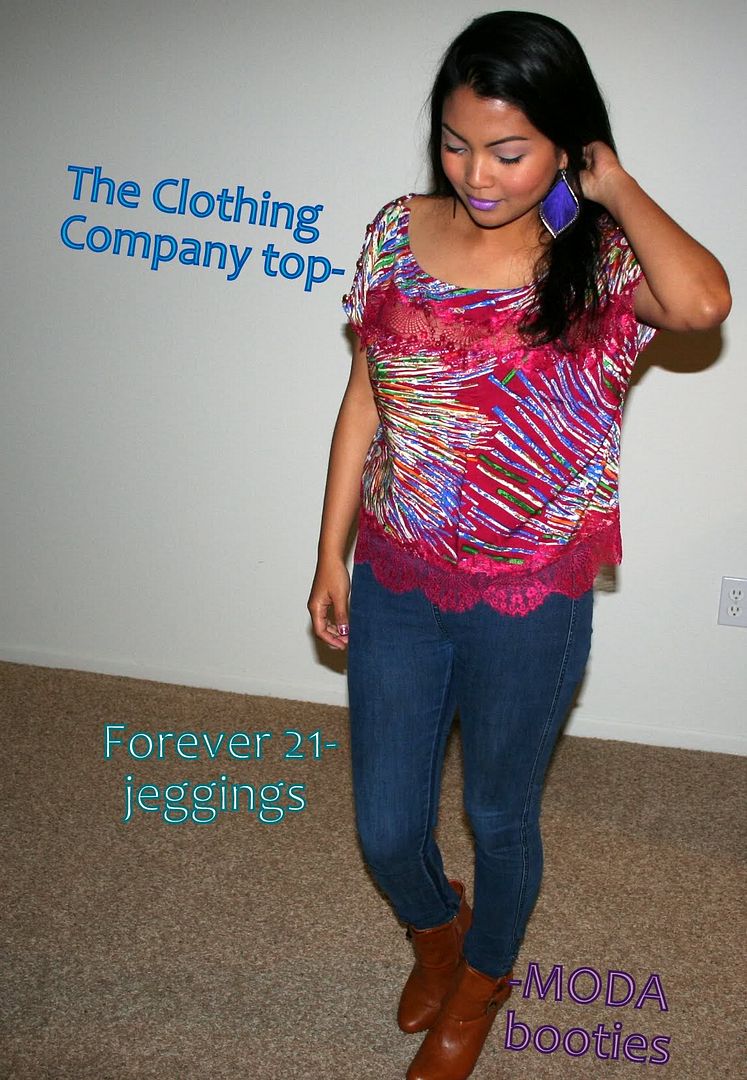 By the way, just want to say thank you for all your greetings on our engagement. I'm still pretty giddy and excited lol.
Have a great week!!!
DISCLOSURE:

Products mentioned are
given to Everyday Makeup blog for editorial purposes, either directly from the manufacturer or from the agency that works on behalf of the manufacturer. All reviews on Everyday Makeup blog are the honest opinion of its author and editorial samples do not, in any way, affect the outcome of product reviews.