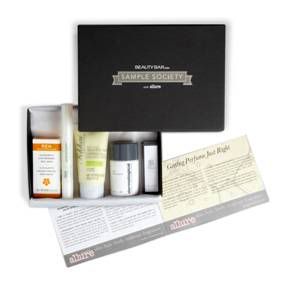 I noticed so many monthly subscription services are becoming more and more popular these days. What's not to like? You pay a small fee every month and you get products straight to your door or mailbox. For example, I'm subscribed to Birchbox and Myglam and I pay $10 a month and they send me 4-5 deluxe beauty samples. It's a great way to try different products and see what works for you without braking the bank.
Sampling Society is a monthly subscription service where you pay
$15 a month
and you get 5 deluxe beauty samples
"from the chicest makeup, fragrance, skincare and hair care brands".
The samples are said to be big enough for more than once use, so you can really test the products.
Members also will receive a $15 off coupon code they can use on BeautyBar.com towards any products from the month's featured brand, and a one year subscription to Allure magazine.
I've never tried this service before, but I think I'm going to consider. $15 a month is affordable and the promise of 5 deluxe/big product samples is attractive!
If you want to learn more about this service to click
HERE
Have you heard of this service before? I would love to hear your thoughts.