Happy Friday!!! While most people are out and about on a Friday night, I'm at home blogging! It's sorta my day off and I took advantage of this day to swatch makeup and take photos. Fun! Seriously, I don't mind. I love blogging and I'd rather be in front of my computer editing a blog post and photos than be out. Does this mean I'm old?
Anyway, I'm so excited to share with you a new makeup line I recently tried. I was given the opportunity to try
Drama Queen Cosmetics
. It's a fairly new company that makes professional, high quality and super pigmented makeup. They are Paraben free and animal cruelty free. Click
HERE
to learn more about the brand.
Here are the eye shadows I got...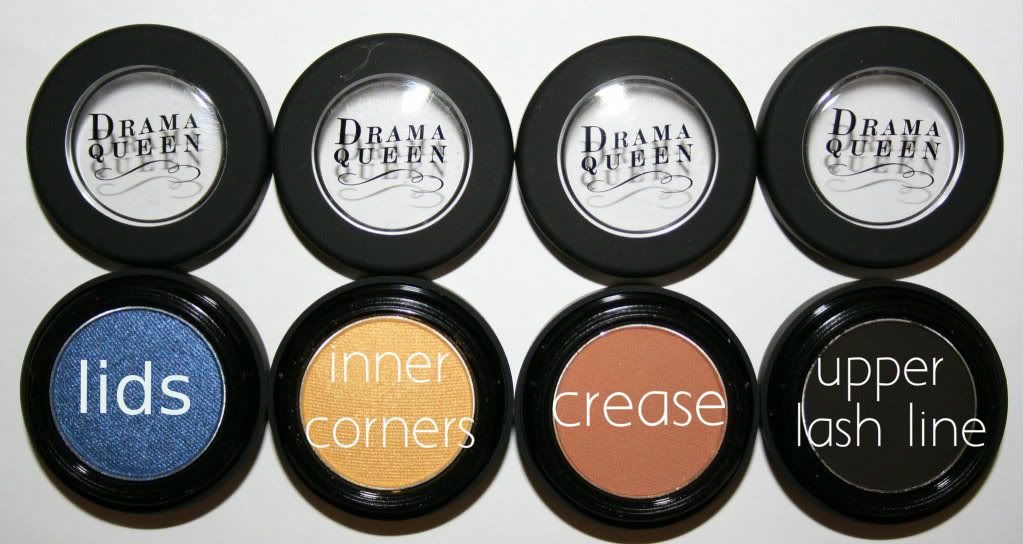 I'm a sucker for eye shadows, so I was drooling over these as I swatch and play with them. I chose...starting to the left...

Sapphire

,

Canary Diamond

,

Love Lox

and Nocturne

. They all have different finishes. They are gorgeous and pigmented! I love the packaging. It has a high-end look to it. Reminds me of Smashbox cosmetics single eye shadows with the same amount, size, twist cap and rubberize feel. Cool!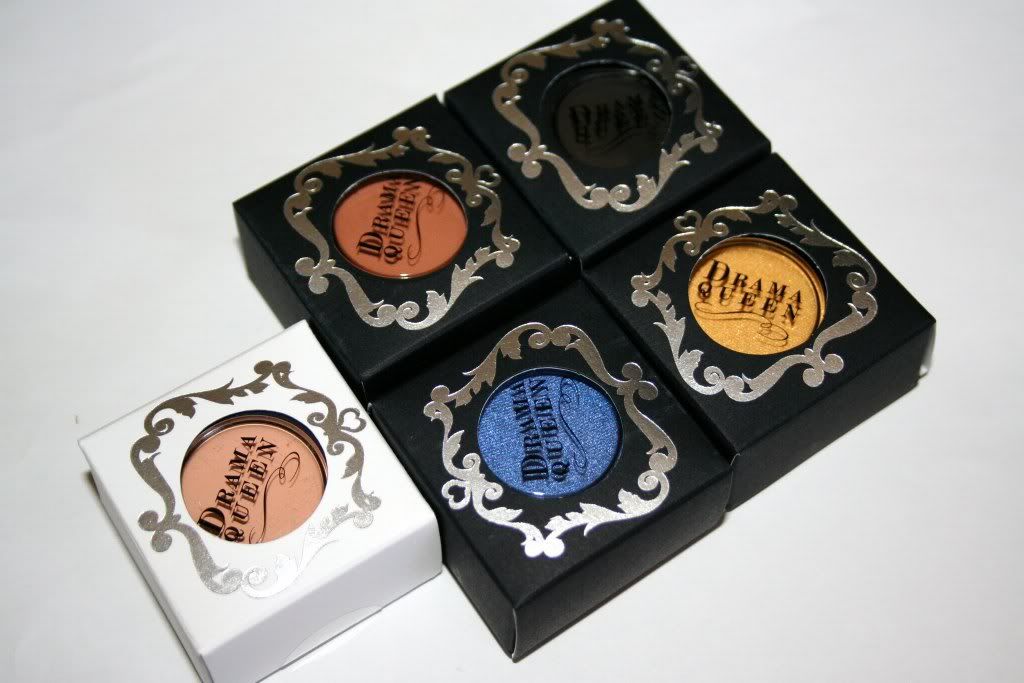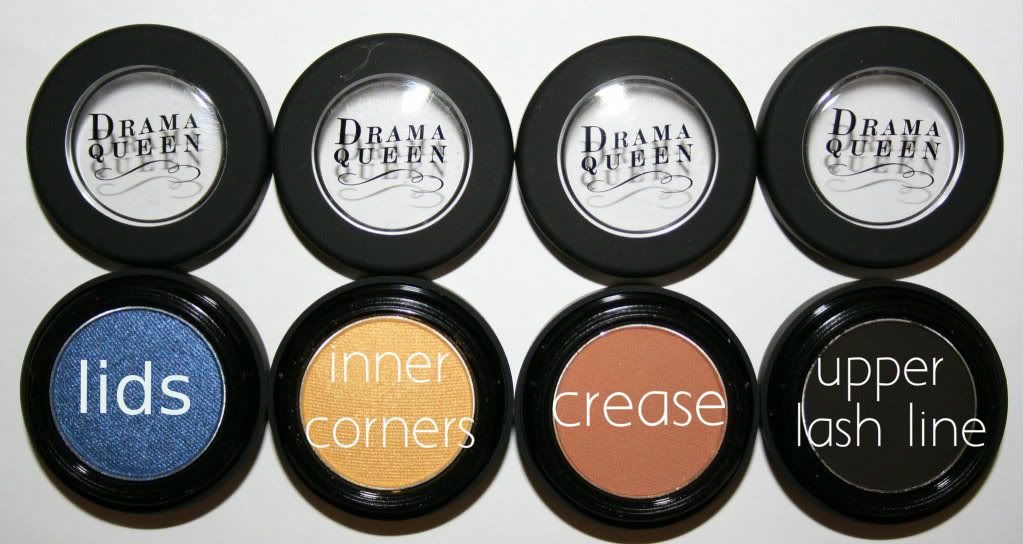 Swatched heavily on my arm underneath Drama Queen Cosmetics Vivid Effect Shadow Primer.

Sapphire

,

Canary Diamond

,

Love Lox

and Nocturnal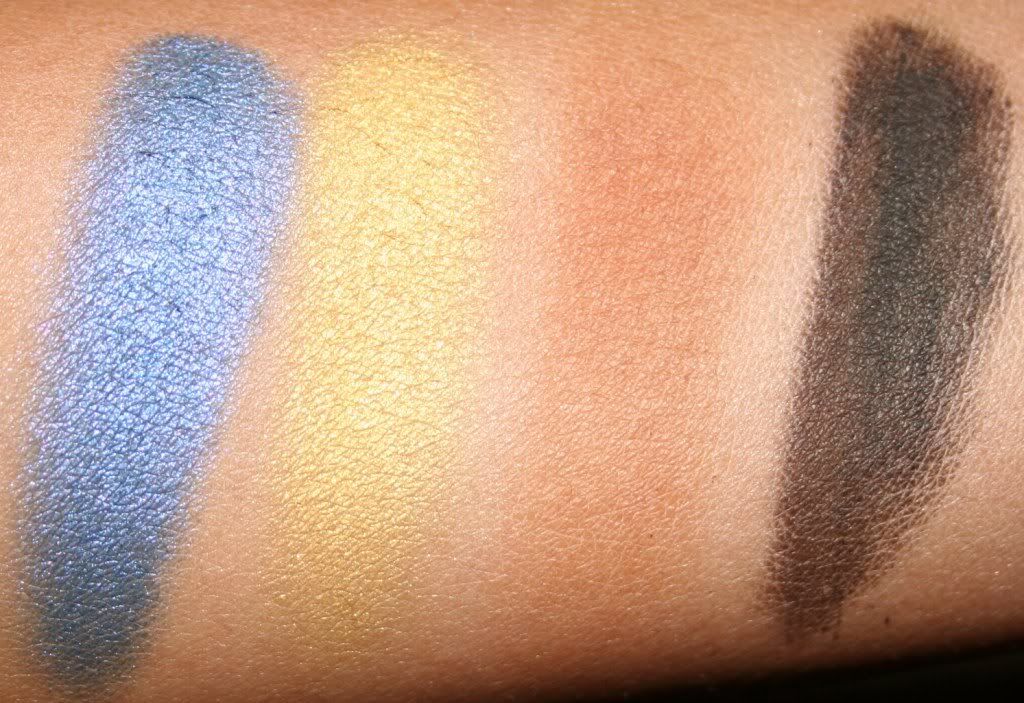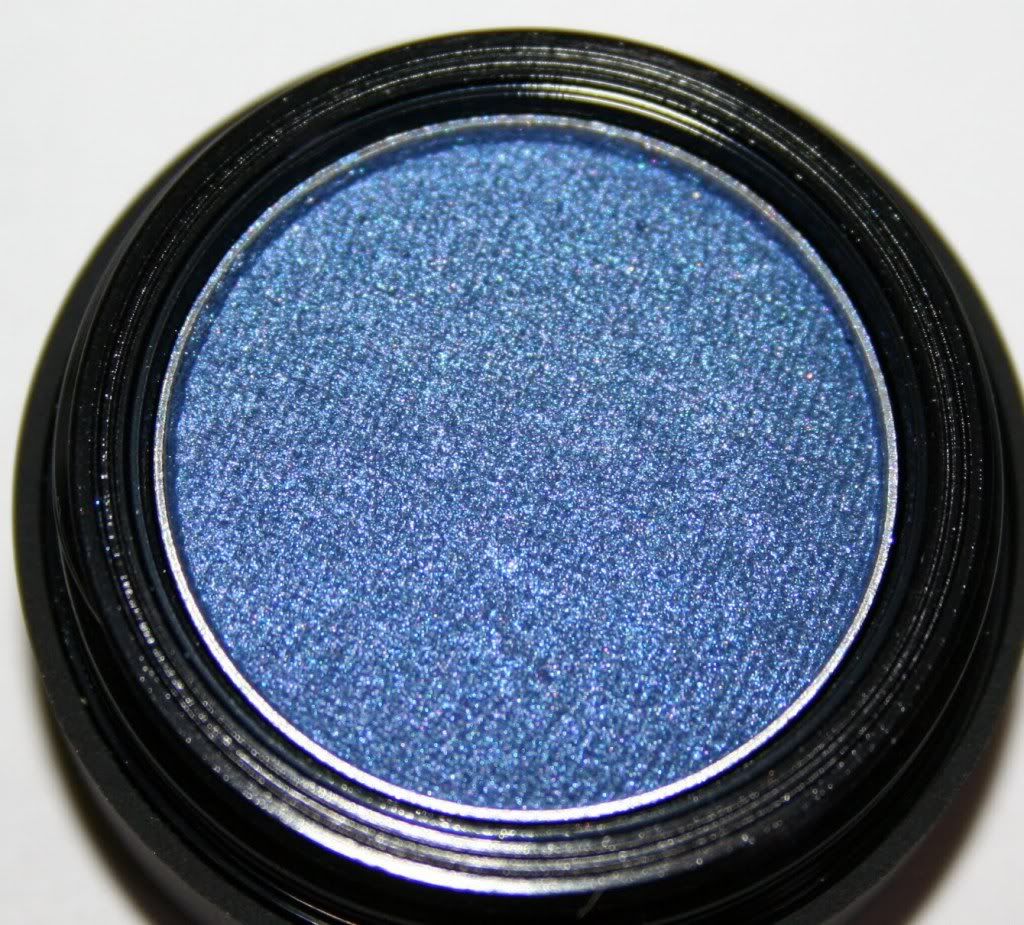 Sapphire
$15
, a luminous shimmery night blue, almost like a periwinkle blue on the eyes. Great on it's own as an all over the lid color for day and night time look. The color is even more vibrant when applied on a dark base.
It's smooth and easy to apply and blend.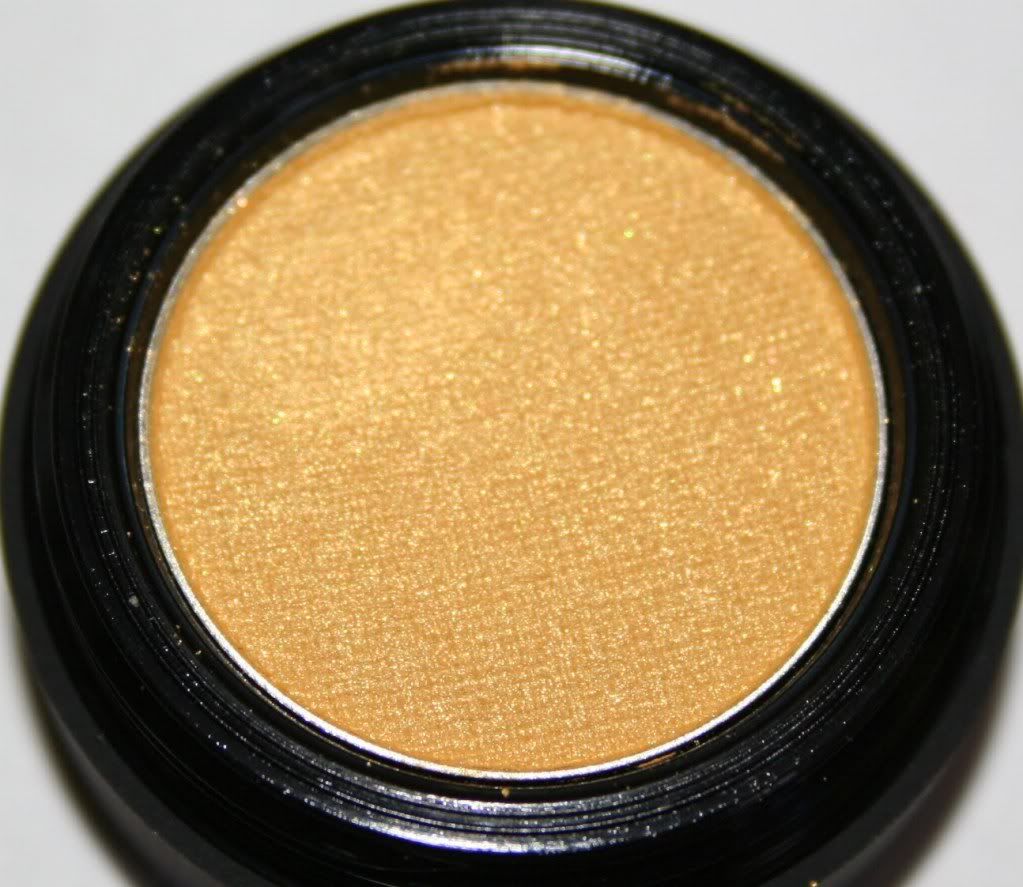 Canary Diamond
$15
. A high pearl sheer yellow gold. It's not an
"in your face"
type of yellow, but it's still a gorgeous color. Can be used as a highlight on the brow bone or pack on the color for a gorgeous shimmery lid color. The color also change depending on the base you use. Gold base brings out the yellow even more!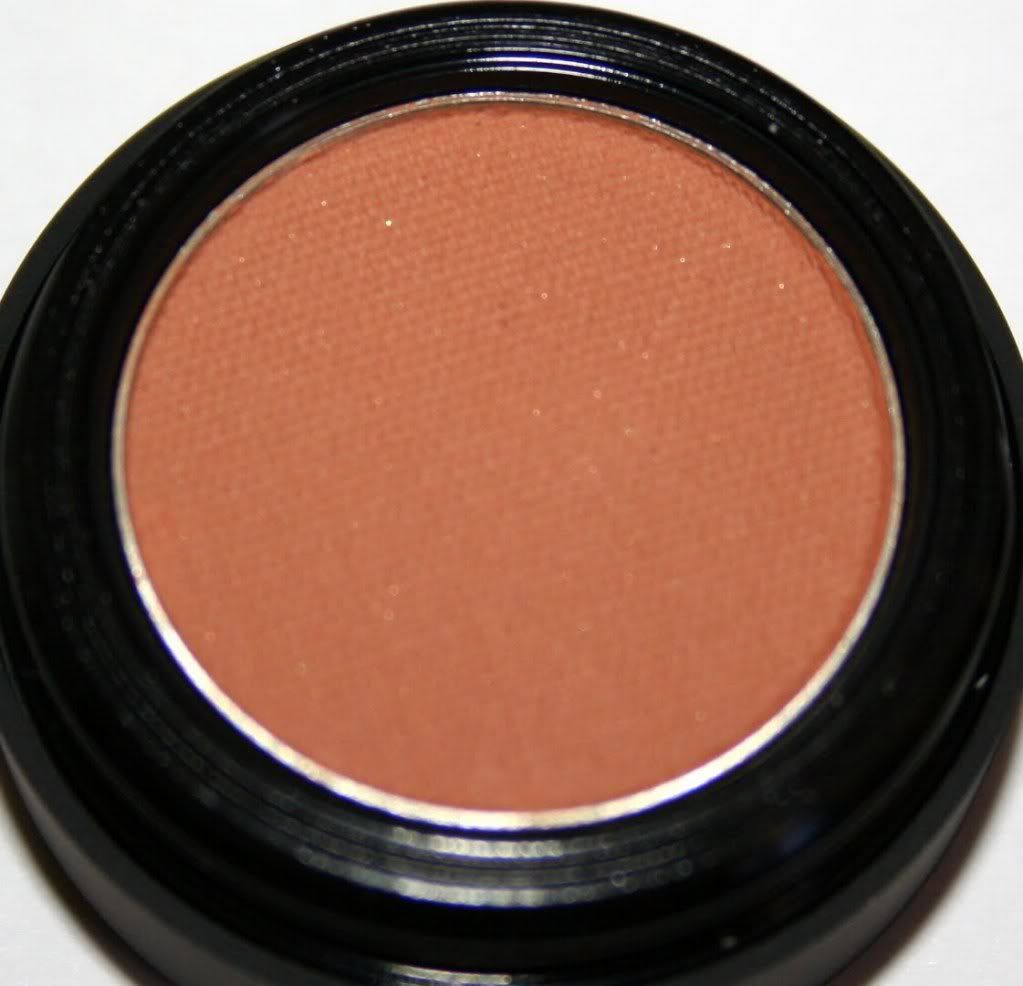 Love Lox
$15
, a matte soft brown eye shadow. You can see a few shimmer in the pot, but it's matte. It doesn't have any shimmer and looks very natural. The texture is smooth and easy to blend on the eyes. Perfect for a soft contour on the eyes or a blender/transition color.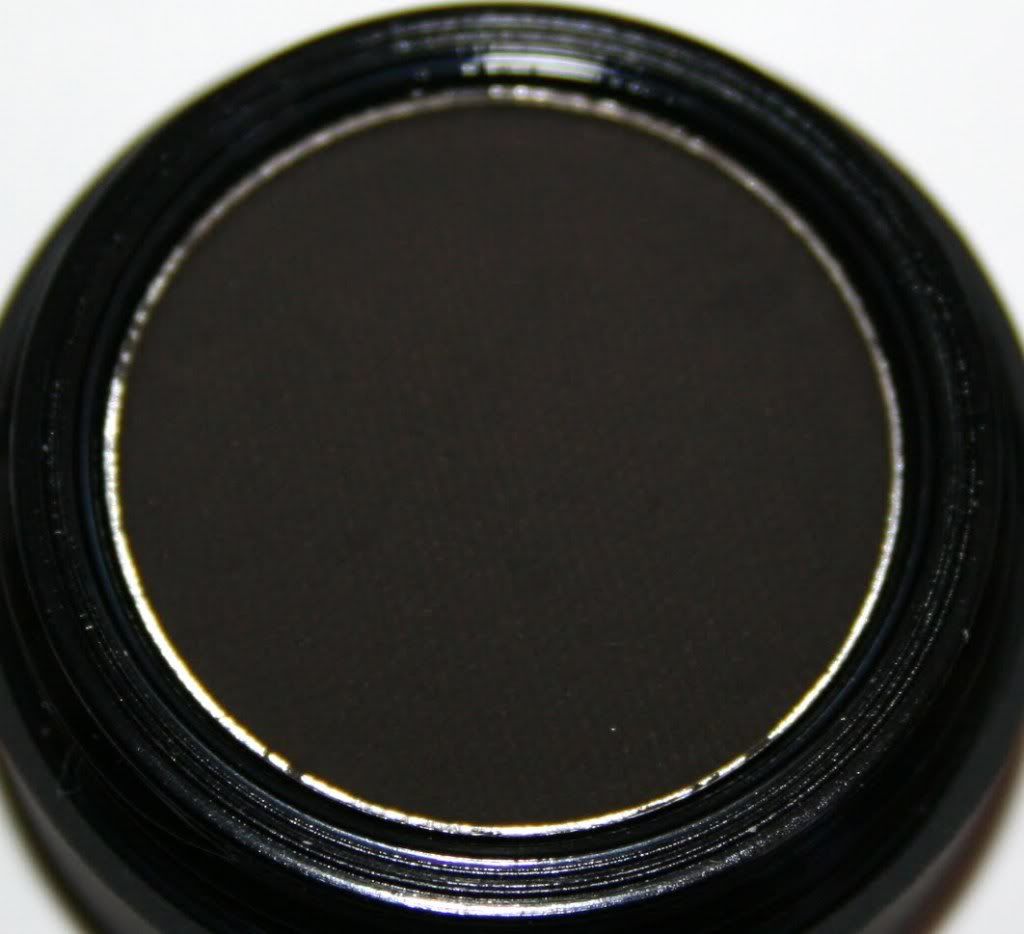 Nocturne
$15
, a matte black eye shadow. It is my least favorite out of the 4. It was not as intense as I wanted to be. It looks dark grey on my eyes and not black. It was also difficult to swatch. I had to rub the pot many times with my finger to get the intensity I wanted. Wetting the shadow with water or applying on top of a black base will definitely help bring out the color!
Here are some makeup looks using Drama Queen Cosmetics
(taken from DramaQueenCosmetics.com)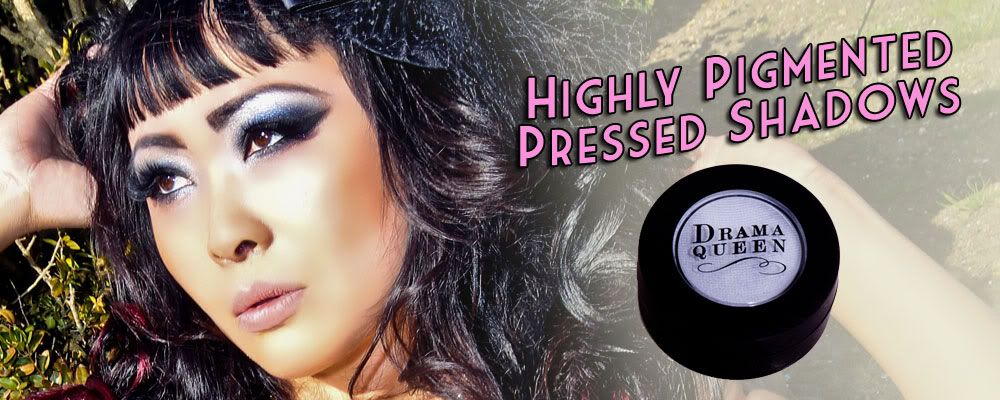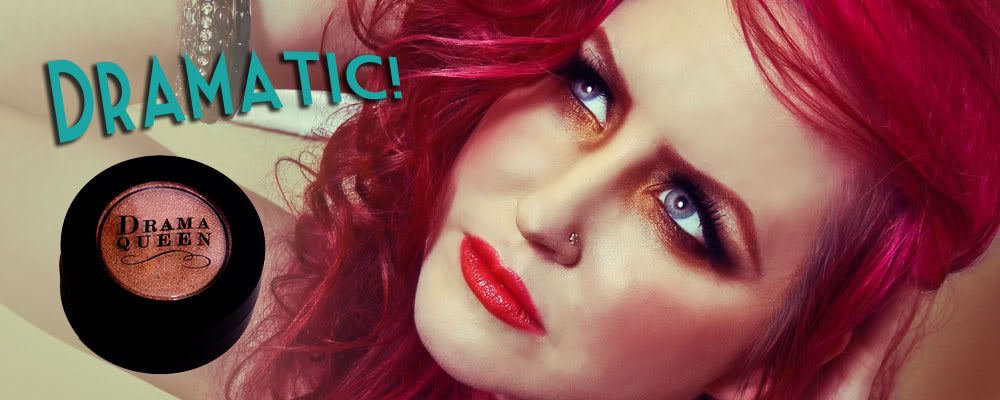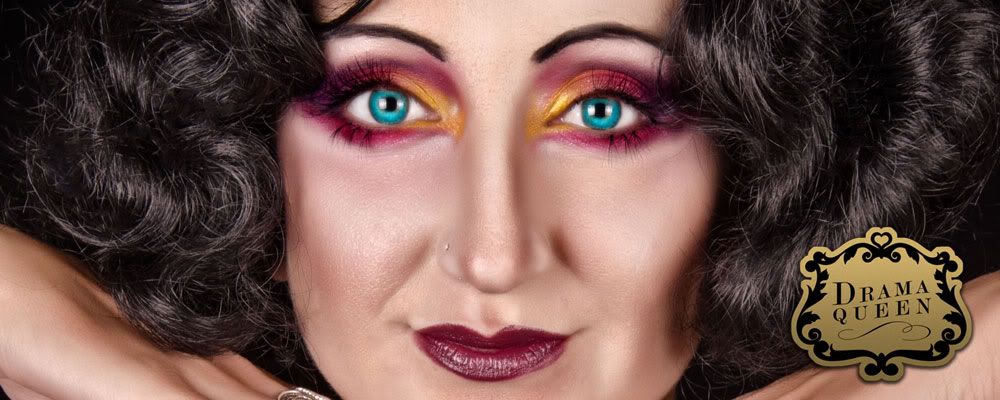 They also sent me an eye primer as a bonus!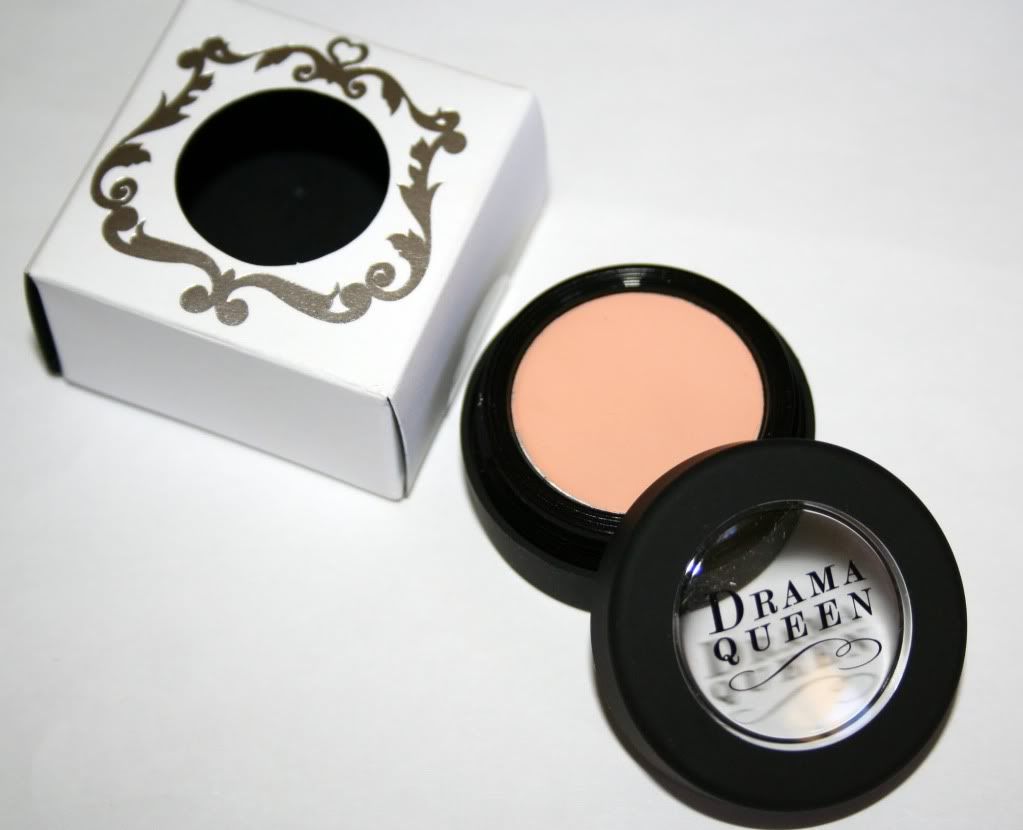 Drama Queen Cosmetics Vivid Effect Eye Shadow Primer

$15

. I love a good eye shadow primer and this was amazing! P
robably one of the best eye shadow primer I've tried. The texture is smooth and creamy just like a concealer and dries to a matte finish. It really brought out the true color of the shadows and was able to keep them from creasing and fading for at least 5 hours.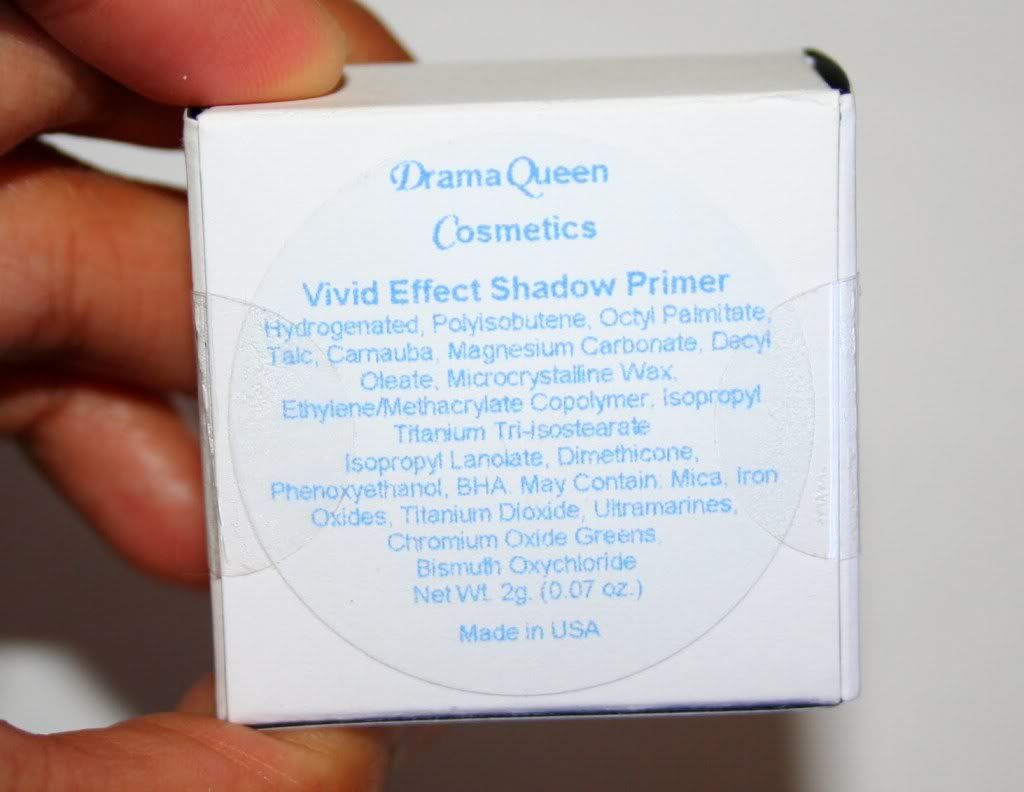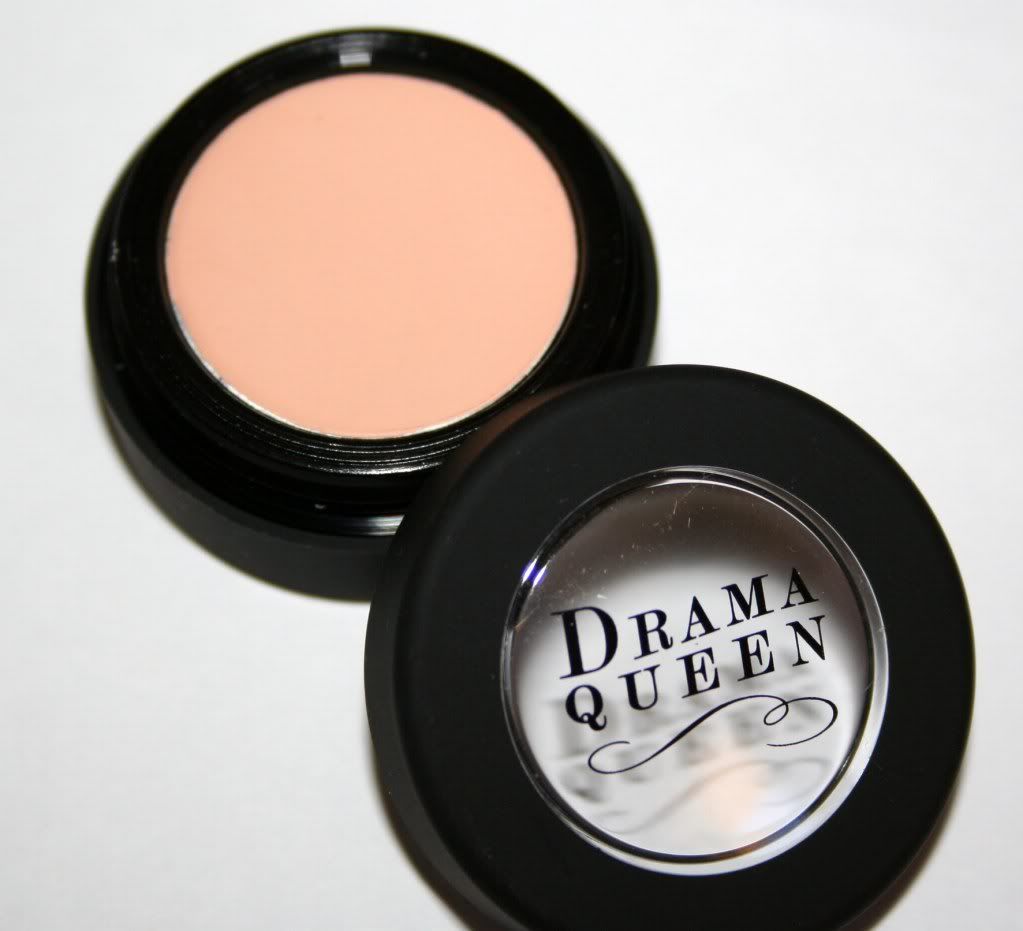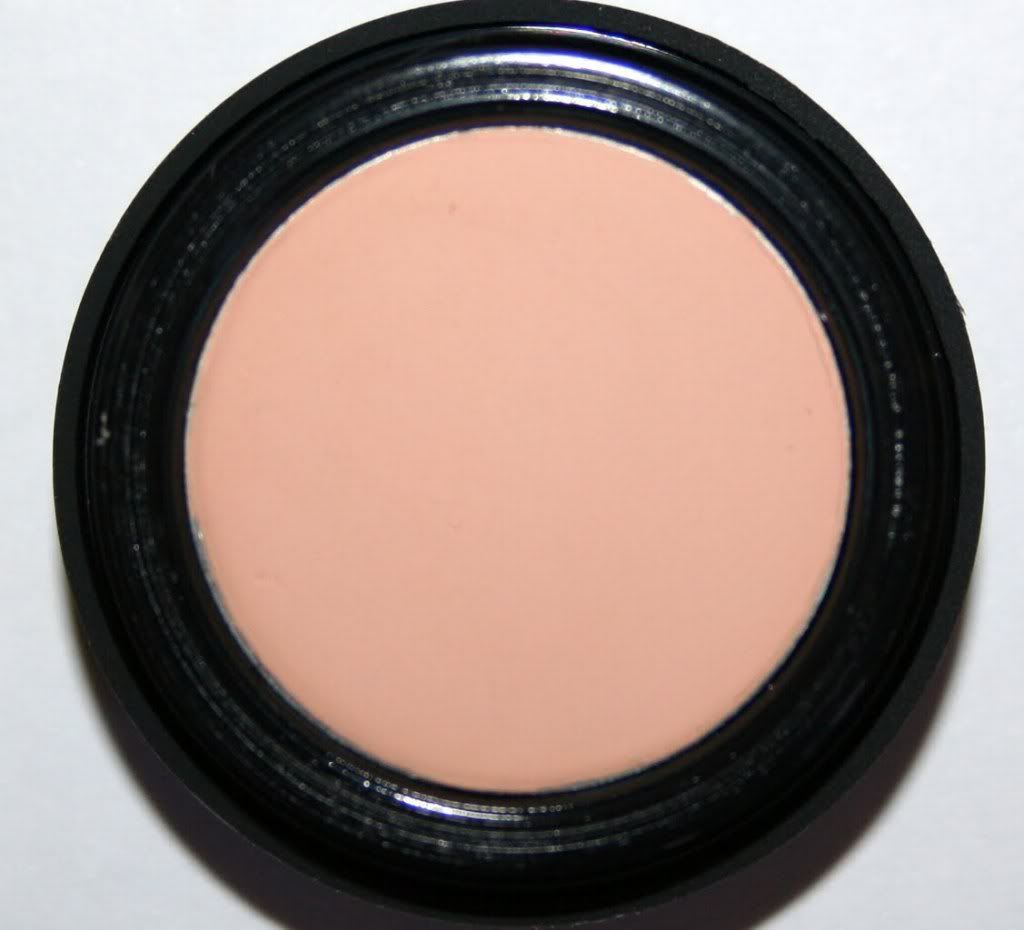 Swatched heavily on my arm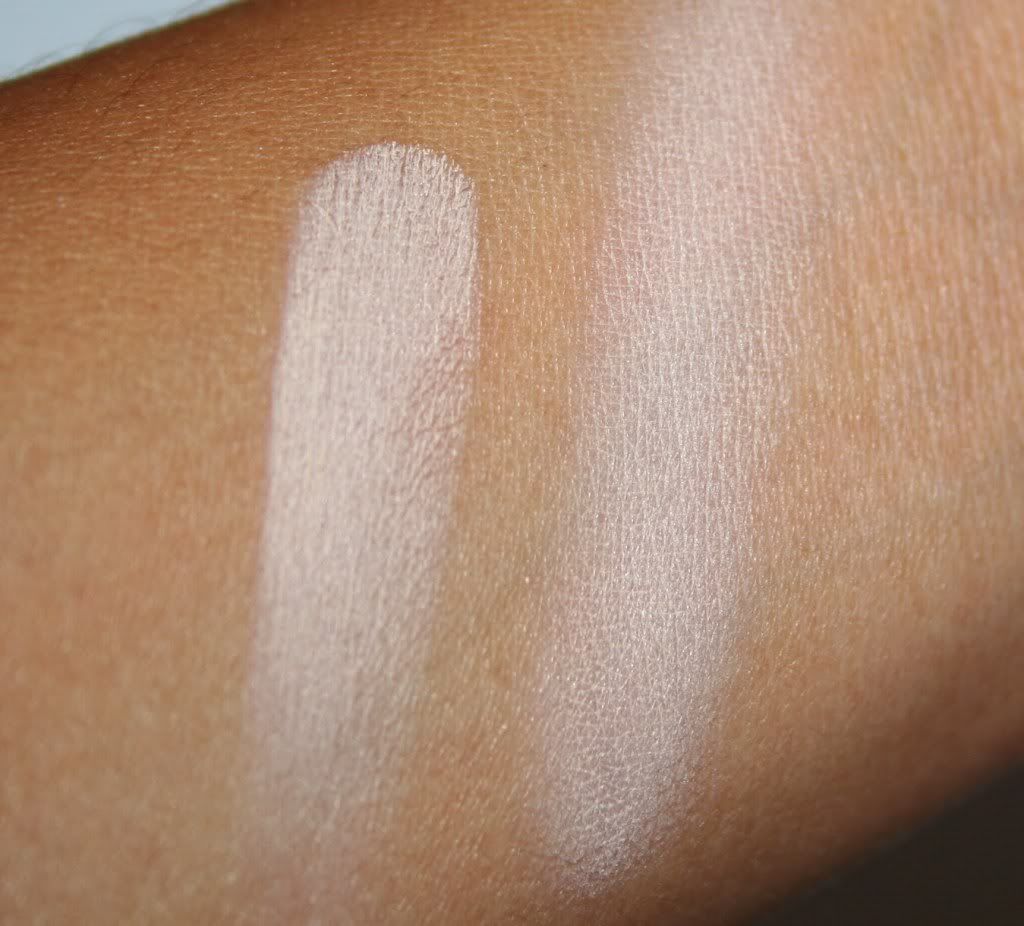 Overall, I'm very pleased with all the products. I can definitely see Drama Queen Cosmetics becoming very big and popular very soon! The eye shadows and primer can definitely stand against all the high-end brands. I just hope they re-formulate Nocturne because it has so much potential to be awesome!
What do you think of Drama Queen Cosmetics?
I would love to hear your thoughts!
DramaQueenCosmetics.com
Like Them on FACEBOOK
DISCLOSURE:

Some of the products are
given to Everyday Makeup blog for editorial purposes, either directly from the manufacturer or from the agency that works on behalf of the manufacturer. All reviews on Everyday Makeup blog are the honest opinion of its author and editorial samples do not, in any way, affect the outcome of product reviews