Everybody deserves a little bit of time to themselves, and it's important to find time for this. Pampering yourself doesn't have to involve spending a lot of money, there's nothing better than coming home to a hot bath, so why not go one step further and really treat yourself with some lovely bath products or spa-style treatments. Scented products, whether fruity or floral are always lovely to use, and The Body Shop has a great range of bath and body care products; perfect for spoiling yourself after a long hard day!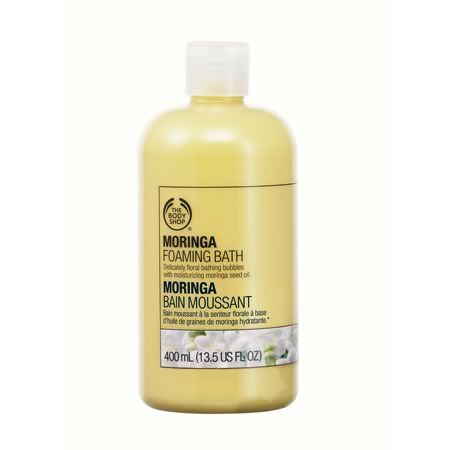 If you fancy sliding into a scented bubble bath, you could add a dash of The Body Shop's Moringa Foaming Bath, which has a lovely flowery scent and is very gentle on the skin, which is great for those of you with sensitive skin! Add a few candles, pour yourself a glass of wine and put on some soothing music - what more could you need for a relaxing evening?!
To add a little bit of luxury to your bubble bath, try using a face mask whilst you're soaking in the bubbles. An exfoliating face scrub is great for smoothing, moisturizing and cleansing, and if you can find a scrub that contains oatmeal such as The Body Shop's Honey and Oat 3 in 1 Scrub Mask, then even better! Oats aren't just a great source of fibre, they are full of natural cleansers, which help to gently clear pores, and they're great for fighting dry skin.

Once you've let all your cares wash away in the bath, it's always lovely to give your skin a bit of extra attention and you're spoilt for choice with so many
body wash
products: moisturisers, body scrubs, cleansers and toners. Body scrubs and exfoliators are ideal for making your body feel super smooth and completely clean and make you feel like you have literally scrubbed away the day! Body butters are an essential item for every girl, and smell absolutely delicious. The Body Shop have an extensive range of body butters in some amazing flavours; strawberry, satsuma, pink grapefruit and chocomania to name a few!
It's so important to take some time treating yourself, and a luxurious bubble bath combined with a few yummy smelling body care and
bath products
is definitely one of the best ways to do this!
DISCLOSURE:

This is a sponsored post. The article was written
for Everyday Makeup blog for editorial purposes, either directly from the manufacturer or from the agency that works on behalf of the manufacturer.