My wedding makeup is probably the most important makeup I've done on myself. All eyes were on me (and El Hubby Cakes too, of course lol), so I had to look flawless and almost "perfect". I was actually nervous because a week before my wedding, I had a dream that during the ceremony, my makeup was literally melting off my face like pouring caramel. So gross. It became more gooey and muddy when I tried to wipe it off with my hands O_o. OMG, as soon as I woke up, I text messaged my best friend Mon to tell her. I was so worried and scared out of my mind, I almost cried. LOL. That's why I wanted to make sure that my wedding makeup was on point. But is it possible? Is it possible to create the "perfect" makeup? Well, with the right products, tools and technique, it is!!! I can honestly say that my wedding day was the most beautiful I've ever felt. Oh and yes, I did my own makeup. Why hire a makeup artist when I can do it myself and do it best.
I will do a video tutorial on it when I get a chance, but for now, here's what I did...
Skincare is just as important as the makeup. Having great skin is the first step in looking
"perfect".
A month before the wedding, I stopped eating junk food and drank lots of water. From my experience, what I eat reflects on my skin so I had to really make some changes with my diet. It was quite difficult for me because I love food! We're always eating at work and I always cook the most yummy and not so healthy food. My Instagram is proof of my love for food since 60% off all the photos I post are FOOD! So, I cooked healthier and completely change my diet. (
Atleast for a little while haha)
I ate lots protein, less carbs and devoured lots of greens and colorful vegetables and fruits.
Also, the skincare regimen I was using really helped to keep my oily/combination skin under control. I used The Body Shop Seaweed skin care line.
The Body Shop Seaweed facial wash- a gentle facial wash that washes away dirt and impurities.
The Body Shop Seaweed toner- I love this stuff!!! It removes traces of dirt and makeup that the face wash was unable to remove and it preps the face for the moisturizer.
The Body Shop Seaweed Mattifying Moisture lotion with SPF 15- A light weight and non-greasy day time moisturizer. It helps control the oil on my face.
The Body Shop Seaweed Night Treatment- A light moisturizer for night time. Love this too!!!
FACE:
I bought new HD foundation and concealer at Sephora. My everyday foundation and concealer at the moment was okay, but I wanted something that will make my face look great in photographs and HD or high definition makeup was the way to go.
Make Up For Ever HD liquid foundation in N128- Amazing foundation I've ever tried. This stuff magically cover imperfections. I applied it using a buffer brush and blended it in circular motion until it's evenly distributed through out my face.
Makep Up For Ever HD concealer in 335-

Luckily, I didn't have any blemishes or pimples to cover up, so I used it mainly for my light under eye circles. It's liquid, so it's very lightweight and didn't cake.
PUR Minerals powder mineral foundation in Tan-

I used a fluffy face brush to dust a little bit on my face just to set the makeup in place.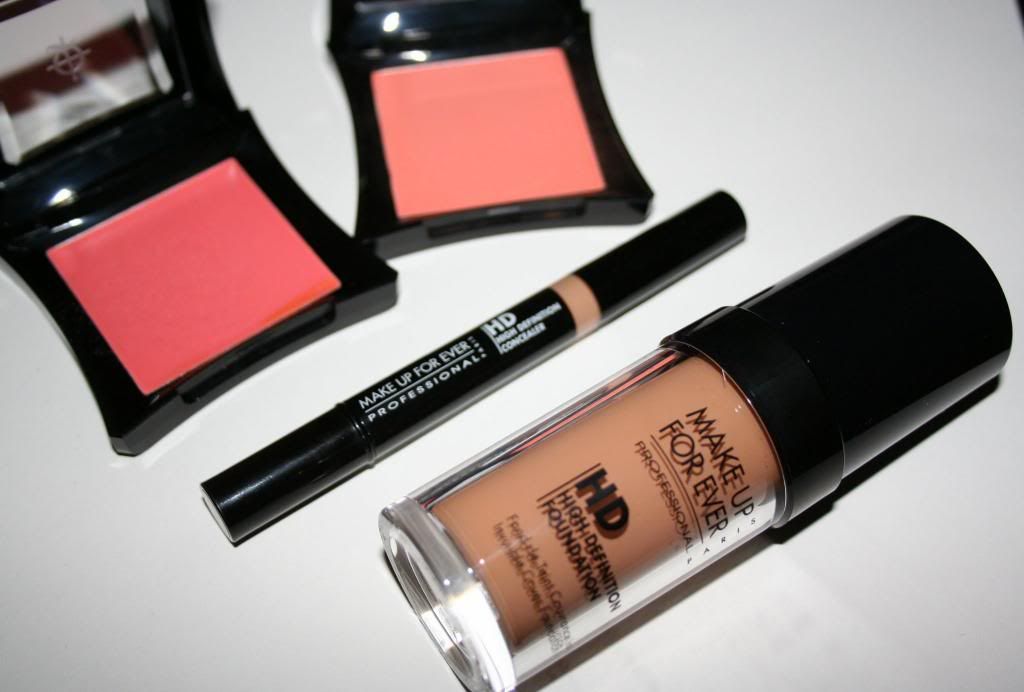 BROWS:
Eyebrows frame the entire face and has the ability to change how one look. Thin brows makes me look older while thick brows makes me look young. I wanted my brows to look just right. Not too thin, thick or too dark.
Wet n Wild Brow Trio in Brunette- My favorite brow trio. Love how it comes with 2 shades of brow powder, one light and one dark and a wax to keep the hair in place. Using an angled brush, I applied the lighter shade on the inner half of my brows and the darker shade on the outer half. Then, I used a spooly to blend the colors for a natural look.
EYES:
Wedding eye makeup to me should look natural. I used earth tone and neutral eye shadow colors to enhance the eyes.
Urban Decay Eye Shadow Primer Potion- The best eye primer ever. I applied a little bit on my lids to prevent the eye shadows from creasing and fading.
Urban Decay Naked 2 palette- This palette has everything I needed to create a simple neutral look. I used foxy (matte beige) all over the lids and brow bone, tease (brownish taupe) on the crease, a mix of busted and blackout (shimmery dark brown and matte black) on the outer corner to add more definition and bootycall (shimmery champagne) on the inner corner of the eyes to add brightness. Click HERE for my complete review and swatches.
Sonia Kashuk gel eye liner in Ebony- I find gel liners last more than waterproof eye pencil. Using a small angled brush, I applied it on the upper lash line and water line.
CHEEKS:
I wanted a subtle peach color on my cheeks to add warmth and a healthy glow to my face. I bought 2 Illamasqua peach blushes at Sephora. They are so gorgeous, I couldn't resist!
Illamasqua cream blusher in Rude- Is a warm coral pink cream blush. I dabbed a little it on the apple of my cheeks as a base.
Illamasqua powder blusher in Lover- A true peach blush. I applied it on top of Rude. It was such a pretty combo. This technique allowed the blush to stay on longer.
LIPS:
I kept it natural just like the eye makeup. Kiko and I kissed a lot. I didn't want a bright lip color to stain his lips.
Aquaphor lip treatment- My new favorite lip moisturizer. I applied it on my lips to prevent it from drying.
Wet n Wild Lip Liner in Willow- My favorite natural nude lip liner. I applied it all over my lips as a base.
L'Oreal lipstick in in Pink Tranquilo- A pretty nude pink color applied on top of the lip liner.
And that's my "perfect" wedding makeup. Gosh, I didn't realize how long this post is until I finished writing lol. Thank you for reading.
Oh and if you want to see more pictures of my wedding, click
HERE
.