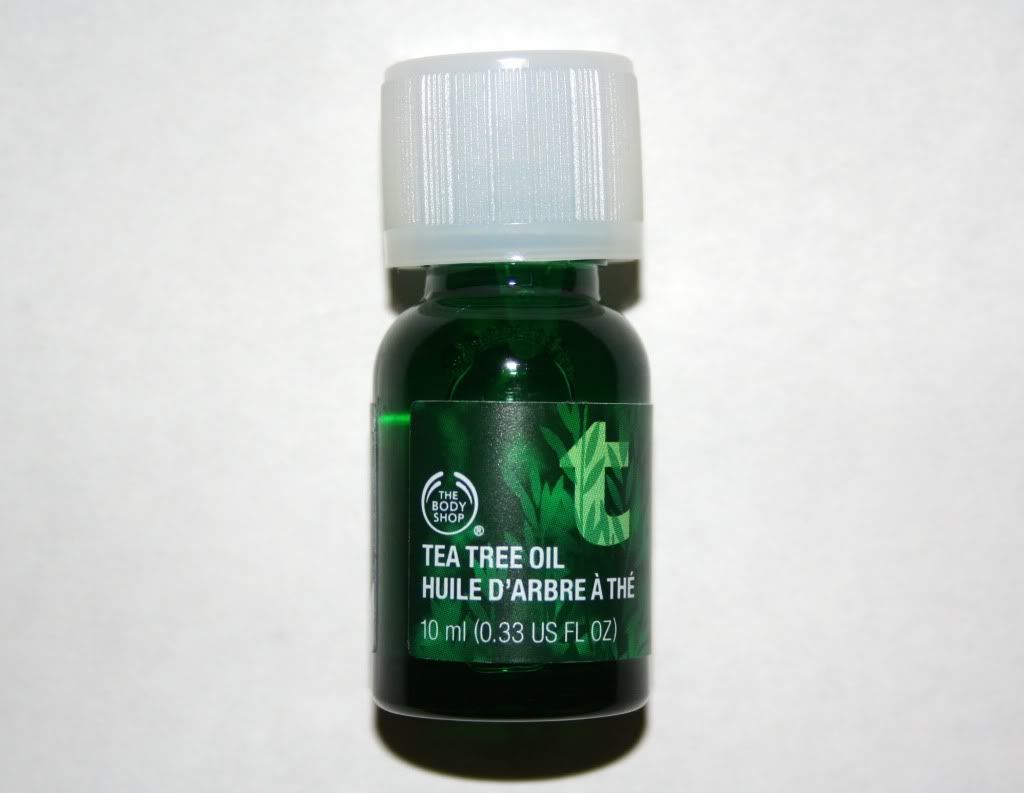 I'm happy with my skin at the moment, but the monthly breakouts I get from my period are really annoying. Good thing I have Tea Tree Oil from The Body Shop to help me get rid of them. It's a spot treatment for acne, pimples and blemishes. It works amazing for me. It's the only thing from their Tea Tree line that doesn't dry my face. I used to work at The Body Shop
(yes, I'm finally admitting it lol)
and it's one of the best sellers in the store. Our clients swear by this stuff and they always stock up whenever it's on sale.
The Body Shop claims,
"Targeted care for blemishes skin, Can be used direct on skin or facial. It's soothing, has antibacterial properties and does not dry out the skin."(taken from www.TheBodyShop.com)
Besides acne/pimple treatment, I remember clients used to tell me they use Tea Tree oil for dandruff and treatment for keloids. I've only used it as a spot in treatment for my pimples and it works great. It takes about 2-4 days to see results. Not as quick as I want it to work, but it works! It just takes a little time.
INGREDIENTS:
Water, Alcohol Denat., PEG-40 Hydrogenated Castor Oil, Polysorbate 20, Melaleuca Alternifolia (Tea Tree) Leaf Oil, Limonene, t-Butyl Alcohol, Calophyllum Inophyllum Seed Oil, Citral, Leptospermum Petersonii (Lemon Tea Tree) Oil, Denatonium Benzoate, Tocopherol.
Some may think it's pure Tea Tree oil, but it's not. It actually only
has 15% Tea Tree oil and the rest are Lemon Tea Tree oil, Brazil Nut oil and the ingredients listed above.
I've never tried pure 100% Tea Tree oil so I can't say how it compare. I'm assuming it's more effective, but I'm pretty happy with The Body Shop Tea Tree oil because it works for me.
HOW:
It's pretty easy to use and can be added to any skin care regimen. Wash your face, tone, moisturize and dab some on your finger or a cotton swab and apply directly onto the blemish, acne or pimple. It's a clear liquid with a strong Tea Tree smell. It's smells like menthol and herbs. I suggest using it at night when you're not expose to the outside elements.
PRICE:
$9.00
. It's very affordable and you get 10 ml of product. It will last you for while depending on usage. I've had mine for 4 months and the bottle is still full. You can get it at any Body Shop stores or online.
(It's currently 50% off online right now! Click HERE)
Get ready to be grossed out lol.
Here are some photos/results of my pimple 2 weeks ago using the Tea Tree oil.

Day 1:
A huge pimple right in the middle of my forehead. Great! A little bit of the white stuff or puss is slightly visible and it was painful ugh! El Hubby Cakes was begging to pop it!
Day 2:
I saw a big difference. It didn't go away, but the pimple dried a little bit and it was less painful.
Day 4:
I skipped day 3 because it looked the same as Day 2. Day 4 looked so much better. It's completely dry and almost gone.
OVERALL THOUGHTS
I really like it. It's one of my favorite products in The Body Shop. I highly recommend it if you have Acne, pimples or blemishes. It may take a few days to see results, but it works!
What do you guys think?
Have you used The Body Shop Tea Tree Oil before?