If you read
my wedding day
post then you probably know that we only spent a little over 3k for the entire wedding. I told myself and promised El hubby cakes
(El novio at the time)
that we will have a beautiful wedding without spending too much money...$120 wedding dress, $35 veil, $15 flower centerpieces, free food from family and friends and etc...The only thing I really splurged on was my makeup. I invested on good quality high definition makeup that will make me look amazing in photographs. It was a splurge but I didn't spend a single cent since I used the Sephora gift card prize I won from DulceCandy87 contest on Youtube
*evil laugh*
.
I went to the Sephora in Hollywood and Highland here in Cali where I received the best customer service. The girl who helped me was so nice and sweet. She recommended the Make Up For Ever foundation and concealer. I've heard so many raves about the brand, so I was very excited to try it. She helped me find the perfect shade and I literally fell in love at first application! I bought it a long with the concealer and Illamasqua blushes.
Here's what I got...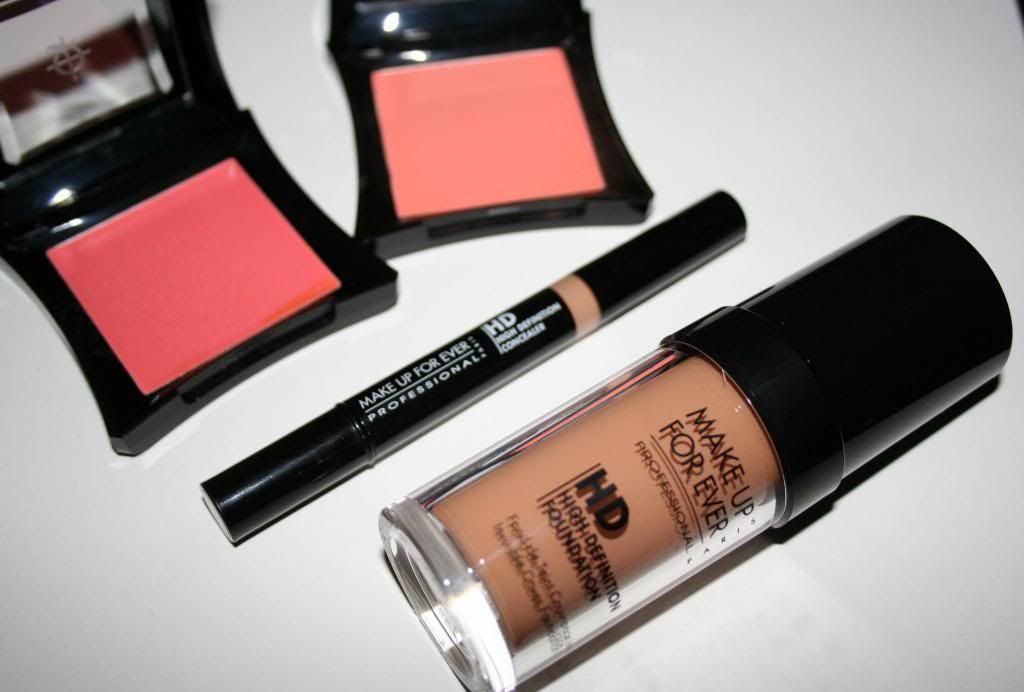 1. Make Up For Ever HD foundation in N128 $42
. Hands down my new favorite foundation. It made my face look flawless and fresh. Amazing! It's the perfect match for my medium/tan skin tone. It has a neutral undertone. I'm yellow undertone, but it still looked good on me.
2. Make Up For Ever HD concealer in 335 $29.
Medium beige concealer that instantly brightened my under eyes. It was very easy to apply and blend too.
3. Illamasqua cream blusher in Rude $26.
My first ever Illamsqua product. It's amazing. Crazy pigmented and applies smoothly. I couldn't decide between Rude and Lover so I got both. Rude is a warm coral pink that added a nice warm flush to my cheeks. It's so pretty, I'm gonna die!
4. Illamasqua powder blusher in Lover $26.
The most gorgeous vibrant peach/apricot blush! It's just as pigmented as the cream blush. Love it.
I will do a seperate post on how I did my wedding makeup using all these fabulous products.
Have you guys tried any of these?
Do you like them as much as I do?