Hey guys, I just want to share a recent makeup job I did on my beautiful friend Erika. She's going to be one of the bridesmaids at her friend's wedding and she asked me if I could do her makeup. She showed me a photo inspiration of the makeup she wanted. It was a sultry, kinda smoky eyes but she wanted it to look appropriate for a wedding. I did my best to recreate it.
Here's what I did...
FACE:
Prepped her face with The Body Shop Vitamin E moisturizer. She has combination/oily skin, but had dry patches at the time. The Vitamin E moisturizer smoothed out her skin nicely.
Applied a little bit of MakeUpForEver face primer to make her makeup last longer
Using a damp beauty blender, I blended

Graftobian HD cream foundation all over her face. This foundation is amazing and the beauty blender is perfect for blending it out. It was medium coverage and was able to cover a little bit of her blemishes and redness.
Covered the pimples and under eye circles with Sheer Cover concealer duo in light/medium using a concealer brush.
Dusted Ben Nye setting powder lightly all over the face to set the makeup.
Urban Decay Primer Potion was applied on the lids to prevent eye shadows from creasing. Best eye primer ever!
Used a mix of Urban Decay Naked 2 palette and Wet n Wild I Heart Matte palette for the eyeshadows. Peach flesh color from WnW above the crease to add warmth/transition color, UD Bootycall on the lids, UD Snakebite on the outer 1/3 of the lid, UD Black out on the over V and crease to add definition and smoky effect, UD Foxy on the brow bone and Matte Brown from WnW on the outer half of the lower lash line.
Stila cream eye liner in Black was used to line the upper lash liner and water line. Cream/Gel liners last longer than regular eye liner pencil. I love it!
She brought her own false lashes so I don't know what brand but they look pretty natural.
I used a mix of Mac blush in Gingerly and Milani Mosaic blush in Sweet Cheeks and applied it on the apple of the cheeks blended up to the temples with a stippling brush.
A light contouring on the face using Milani Mosaic blush in Sunset Spice was applied under the cheekbones and forehead.
Aquaphor lip treatment to prep her lips. This stuff is amazeballs! It's moisturizing and prevents the lips from getting chapped.
Concealed her lips with Wet n Wild Color Icon lip liner in Willow and topped with a clear shimmery lip gloss.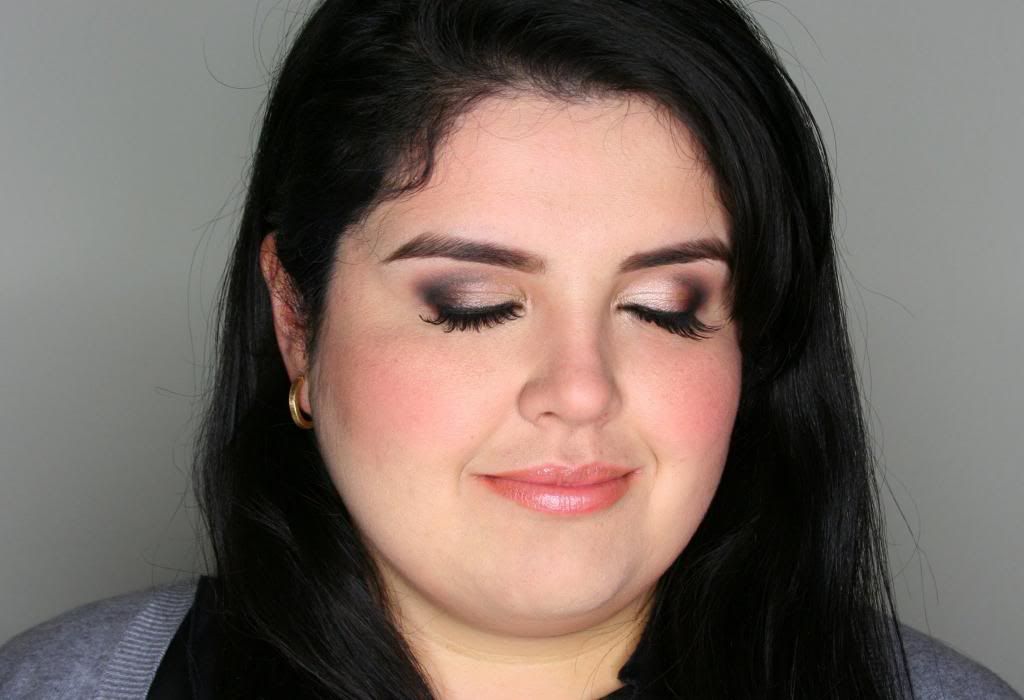 Here's a closer look of her eyes.
She was very happy with the outcome and so was I. The makeup was very defined and a little smoky like what she wanted yet it still wedding appropriate.
Here are some more photos we took that we posted on Instagram. My goodness, I'm so addicted to IG, it's not even funny. If you have one, add me!
@everydaymakeupblog