Hi guys, here is a review of my very first drugstore BB cream. BB creams is all the rage in the beauty community. Originated in Germany, then became popular in Korea and now here. Pretty much very cosmetic brand I know has come out with some kind of BB cream. BB stands of
"Blemish Balm".
It's supposed to treat blemishes, but now they're for so many purposes.
The Physicians Formula Super BB All in 1 Beauty Cream stands out to me. It claims to have 10+ benefits.
Smoothing, Moisturizing, Protecting, Firming, Priming and Filling, Perfecting, Concealing Brightening, Line Softening and Long Wearing.
..Whew, that's a lot!
Read on for my complete review...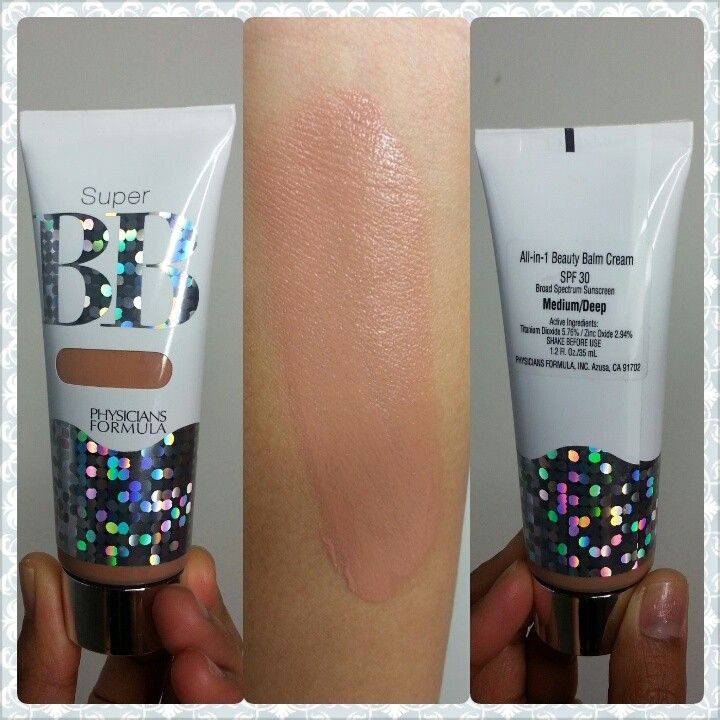 Product Claim/Description
Physicans Formula says,
"All-in-1 Miracle Cream!
Ultra-blendable and lightweight cream effortlessly glides on, instantly infusing moisture, refining skin's surface and providing protection from the environment. Skin looks and feels smooth, glowing & naturally flawless.
Ultra-versatile beauty balm simplifies your morning beauty routine by delivering the benefits of Moisturizer, Foundation & SPF protection in one easy to use product!"
(taken from Physicians Formula website)
Let's go through the claims one at a time shall we...
1. Smoothing- To me, this is the same as priming. It applies smoothly and evenly on my skin. I really like it!
2.Moisturizing- It claims that it replaces moisturizer. Ok, that's just silly lol. I do find it to be non drying, but there's no way it can replace a moisturizer. Still use a moisturizer!
3. Protecting- Can't go wrong with a good SPF 30! Love it. It's a great makeup to wear everyday!
4. Priming and Filling- It claims to have have a built in primer in it. Maybe it does because it applies so smooth and very easy to blend. It doesn't seep into pores and the few fine lines I have.
5. Perfecting- It does a great job in evening out my skin tone. But I still need to set it with a powder to get that lil' bit of extra coverage I need.
6. Concealing/Brightening- Like what I said, it evens out the skin tone, but it doesn't cover up any blemishes and pimples. I still need to use a concealer. The best part is the brightening property. It gives my face a nice and healthy glow. I received compliments at work on how my skin looks great!
7. Line Softening- Can't really say much on this because I only have a few fine lines. However, it didn't crack or seep into few fine lines I have.
8. Long Wearing- I agree! I wore it at work for picture day and it looked great! I had it on from 7:30am to 3:00pm and the foundation remained perfect! Even El Hubby Cakes complimented how my skin looked when I got home!
SHADE
The shade I got is in
Medium/Deep
. It only comes in 3 shades. I was torn between Light/Medium or Medium Deep. There was no way for me to test the colors since the makeup/packaging was sealed. I took a chance and chose Medium Deep even though it looked like it would be too dark. To my luck, it matched my skin perfectly. But I have to tell you that it kind'a left my skin this weird grey cast, but once set with a powder, it was perfect!
TEXTURE/FINISH
The texture is quite thick and has an odd greasiness to it. But once applied on my face, it feels nice and moisturizing. It gives my face a dewy finish so I would only recommend it if you have dry or combination skin.
COVERAGE:
Sheer to medium. You will definitely need a concealer to cover up blemishes and pimples. Set with a powder for more coverage.
PRICE:
It retails for
$14.95
. It's a typical price for a drugstore foundation but you can get it at a lower price using coupons. I got mine at CVS for only $7.49 before taxes using coupons, then I got
$10 extra care bucks
back SCORE!!!
See the photo below
.
PACKAGING:
The fanciest/flashiest (if that's even a word) BB cream squeeze tube/packaging I've ever seen. And I love it! Stands out from the rest! Make sure you shake well because oil and makeup tend to separate.
Here's what it looks like on me. Taken with my Samsung Galaxy S3 phone.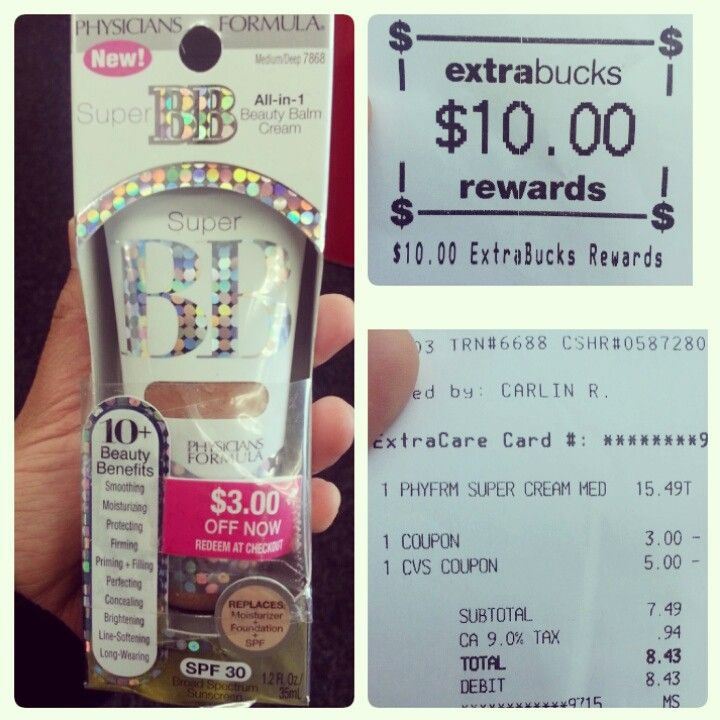 OVERALL THOUGHTS:
I love this BB cream. Yes, it has like a gazillion claims, but works very well for me. Just make sure to set it with a powder.