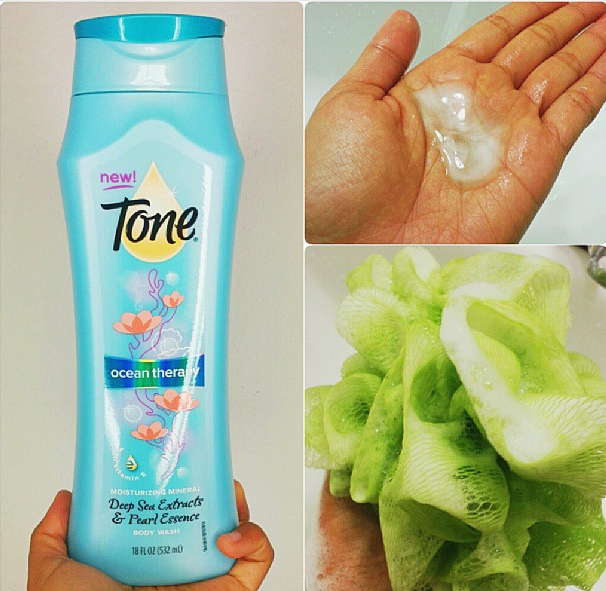 Hey loves, I'm not sure if I like Sundays. I mean, it's still my day off, but I don't like the fact that it's the day before Monday, which means I gotta get back in the grind at work tomorrow ugh! Good thing I have this new body wash to help me relax. What I like to do after a long day at work is take a nice warm shower or bath and lather myself with a good body wash. Recently, I had the opportunity to try the new Tone Ocean Therapy body wash. It was sent by
All You magazine
. It has
moisturizing minerals, deep sea extract and pearl essence
. To me, it smells like Summer nights. It smells like the times when I used to go to the beach right when the sun is about to set with the cold breeze of air on my face that smells sweet and salty at the same time. It's so calming and relaxing.
Tone skin care
says,
Tone

® Ocean Therapy™

Body

Wash

is rich in vitamins and minerals

This skincare product is infused with a treasure trove of precious pearl and sea kelp extracts, plus Vitamin E

Just a dollop creates a mineral-rich lather that leaves your skin luxuriously soft and replenished

The unique ingredients in

Tone

® Ocean Therapy™

Body

Wash

allow the luxury of a deep sea spa treatment every day
Produces a rich lather and rinses clean

Using

Tone

®

body

washes gives skin that fresh and clean feeling without leaving it dry or tight
The rich creamy lather makes

Tone

® a perfect

body

wash

to use every day and is gentle enough for the whole family
The

body

washes clean well leaving skin healthy without requiring a lot of product to get a good lather

The high quality premium product is perfect for shaving
GIVEAWAY!!!
5 lucky people
are going to their own Tone Ocean Therapy Body Wash. Thank you to
All You
magazine for making this giveaway possible! If you're not familiar with All You magazine, it's a magazine that features food, shopping, beauty, lifestyle, fitness, coupons and ect. It has tons of coupons inside that the magazine pretty much pays for itself. Check it out. You're going to love it! Learn more about them
HERE
.
Only open to U.S. Residents
If you're under 18 years of age, I must get an email from your parents saying it's okay to send your prize just in case you win.
The

5 winners

will be chosen at random by PunchTab.com
Don't forget to ENTER their Spoil Yourself Sweepstakes on Facebook
HERE
Toneskincare.com
AllYou.com